We can almost smell Blighty!!

Adventure_iceland
Sun 31 Aug 2008 20:22
Good evening viewers, Kev from Red Watch here.
Sadly for me Red "Bay" Watch is back on mother missing all the action and fun up on deck. Despite anything that has been said or written about the cleaning and cooking duties we perform on mother watch, when I return home I will be just as useless around the house as I was before I left (sorry Jane)!!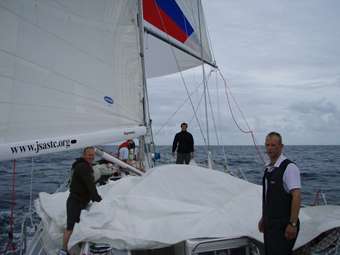 All hands on deck to fold the No 2 Yankee
Over the last 48 hours the Watch leaders have been putting their teams though the Competent Crew training; with Daz and Paul testing to there normal high standards. This has also been a good refresher for us day skippers teaching Knots – Points of sail – May Day calls – Safety at Sea – Parts of the boat, the list goes on and on. Our man Scratch (Greg) has come along at a rapid rate of knots and with Red Watch leader's style of teaching, he now looks like a McDonalds employee with 5 Harken Stars embossed in his forehead. Andy, Tom, Mike and Lou have also excelled themselves, with more testes to come. Oz, over the last couple of days has prepared a little lesson on Man Over Board drills to recap the crew on this vital safety drill.
Greg swatting up to be top of the class!
Red Watch took over watch at 0001hours this morning to be met by an excited Tom pointing into the darkness shouting, "Dolphins, dolphins, look at all those 'naughty word' dolphins." We stared into the black sea, thinking Tom must be going mad, but after a few seconds we could see lots of dolphins running (I mean swimming) alongside the boat. It looked like we were being attacked by loads of white torpedoes, another fantastic sight on this trip.
Pure Concentration!
As the morning progressed we found ourselves in the middle of up to 11 trawlers, none of which managed to catch us. Whilst picking our route through the fishing boats, which we think were long lining, we saw 4 whales venting, with one big puppy surfacing off the starboard beam; an impressive sight to see. Now here I am down below cooking and cleaning, whilst on deck the suns shining, surfs up and we are making a good course to Lands End; it's a simple life out here!
Skipper is down the other end, so we're hiding!
In a few days time, what has been our home will have to be completely stripped out, cleaned from bow to stern, the inventory for the yacht fully checked with all damages recorded; all ready for a new crew to make Adventure their new home, for voyages to come.
---