Panama Part Two.

Catacaos
Graham Shaw
Tue 29 Mar 2011 20:12
THE PANAMA CANAL
Many sailors are worried about the unknown before transitting the Panama Canal. It is a world famous marvel of engineering, enabling ships to knock thousands of miles off voyages, and yachts to do what we are doing (going round Cape Horn would not be something we would do in Catacaos!) In reality the Canal is probably much smaller than most people would think - a total of 41 nautical miles from end to end, with three locks lifting you up a total of 26 metres at the Atlantic end, a lake and a cutting to go through, and three locks to drop you back down the 26 metres to the Pacific Ocean. Properly organised, with good crew, it should present no problems, and indeed of probably three hundred locks I have been through, our transit was one of the smoothest and most relaxed I have ever done. The locks are 1050 feet long and 110 feet wide, and to make the most of this, many ships are built to those dimensions, giving rise to the name "Panamax" ships. Obviously these ships pay heavily (up to $200000 and more for passing through here), and take up all the space, so the likes of us understandably have to wait. What happens is that yachts and other small craft are fitted into the locks behind smaller ships which don't take up all the room. In our case we were behind a ship of only 460 feet in length - "we" being a total of five yachts. The yachts were rafted together in a pair, and a group of three, and entered the first of the three Gatun Locks around 8pm, making it up onto Lake Gatun by 10pm. Here we moored up for the night, before setting off again the following morning at 6.30. Each yacht is required to have four linehandlers (one person at each corner of the boat to handle the ropes securing us to the lock walls.) This obviously meant that we had to find extra willing helpers. It is common practice for crews of other boats to volunteer thier services as linehandlers whilst waiting for their own transit date. Partly to pass the time, but mostly to gain an insight into the process before taking their own boat through. Lorraine had already been through as a linehandler on a New Zealand yacht called Beyond, so knew the ropes as it were, and I had been through on a delivery trip back in 1994. We were joined by Chris and his daughter Hilary from the British yacht Salamander, and Richard from the Australian catamaran Boundless 1. They proved to be excellent company and very competent, leading to a very relaxed and successful passage through the Canal. Chris and Hilary nicely complemented Richard's arid sense of humour!
Every ship that goes through the Canal must take a Pilot on board, who assumes full command of that ship (the only place in the world where this is the case), but yachts are just required to take an "advisor". These people are effectively "yacht pilots", but are there in an advisory capacity. Their knowledge and experience is essential to the process, however.
Below are Richard, Hilary and Chris, our "linehandlers", as we approach the first set of locks.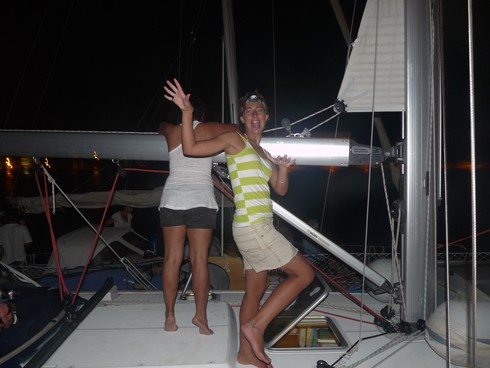 Above is Daisy from the crew of yacht Lolo, which formed the middle boat of our "raft" for going through the locks.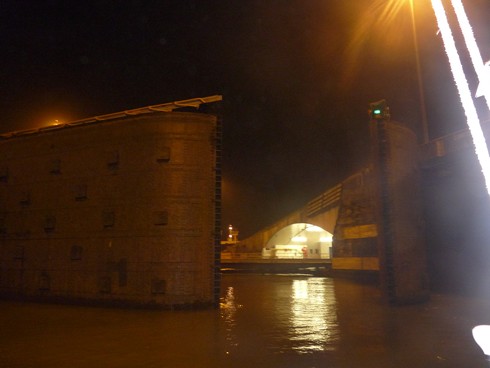 Lock gates closing behind us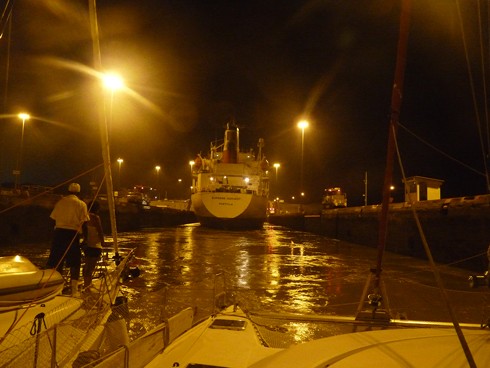 Entering the lock, with three yachts rafted together, and a reefer ship ahead of us.
Jose, our pilot (advisor) for the first part of the canal transit. He disembarked when we moored for the night on Lake Gatun, and we were joined by a new pilot the next morning.
Richard and Chris discussing the finer points of linehandling. Or more likely some other nonsensical banter.
Sunrise on Lake Gatun before we set off on day two of our transit.
At some points the canal is quite narrow, so we pass closer to ships than one would normally!
Below, Roy, our pilot on the second day.
Entering the Miraflores Locks.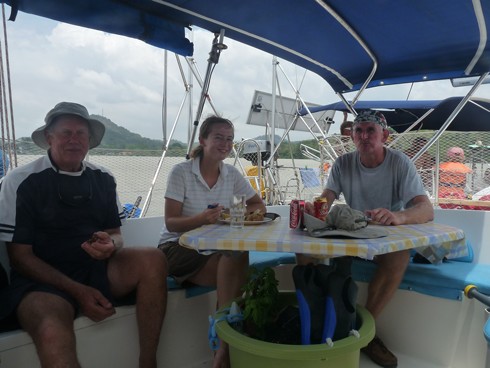 The crew needs to be fed and watered.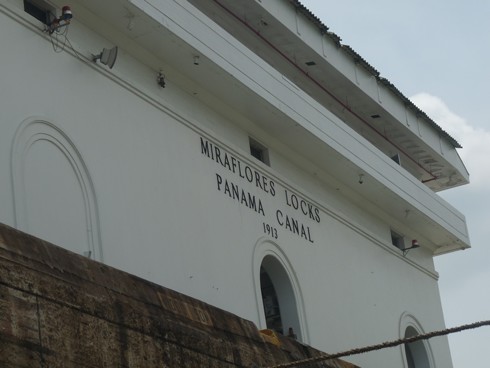 The Panama Canal is soon to celebrate it's one hundredth birthday. They are currently in the middle of a massive expansion process, dredging the lake a bit deeper, and building new locks alongside the existing ones, which will we around 50% longer and wider, allowing much larger ships to pass through.
Hilary the linehandler, making the most of her gap year!
Chris the linehandler, clearly making the most of something.
Richard at the helm of Catacaos.
Well, here we are now in the Pacific Ocean. There are a few jobs to be done over the next day or two, and then we head out towards the Galapagos Islands. Currently there looks to be very little wind for this passage, so we will fill every available container with diesel and head off under motor.
---