More Marquesas: Hiva Oa, Tahuata, Oa Pou and Nuku Hiva.

Catacaos
Graham Shaw
Mon 6 Jun 2011 19:10
What dramactic scenery - everywhere it is so beautiful. We have so far only found one white sandy beach, but that will come later. It has been fun packed, with a visit to Hanamenu on the north coast of Hiva Oa, which is a little settlement, two permanent-ish people live there with lots of weekend houses. They have a lovely fresh water pool, which was a little chilly, with soap provided for all the smelly sailors that come visiting. Their main income is from the coconut made into copra oil, they just package the coconut meat in hessian sacks and take them around to Atuona when the ship comes in. We were the only boat in the anchorage, which was a first for us since the Bahamas last year. It did not last long though: the following day more boats arrived, and there was yet another gettogether.
We then proceeded to Oa Pou. The sailing was very changable, from no wind to lots of wind, in many different directions. We managed to twist our spinnaker round the forestay which took 40 mins to sort out, going in lots of circles. We caught no fish, again, and lost more hooks. The town of Hakahau is lovely, very busy. We managed a good walk around, with a pizza between - the only eatery here. Everyone drives around in flash 4 x 4, due I understand to the fact that all these island are subsided by the French goverment, hence the islands having a very rich feel to them. I am sure as we proceed to further islands outside French influence we will see a very different side. Strangley the Polynesians seem to object to being referred in any way as being connected to France? Anyway, Lucas had a great time on the beach with the local boys and girls.
Last Saturday night a fete was put on, which was great as all the cruisers got together and had a night of food and dancing. I think we all made up about a third of the guests. I'm not very sure what I ate last night -all was a mistery as we have no translation for Marquesan. A good time was had by all as you can see the photos below. An odd tradition in the Marquesas is that the first born child is always brought up as a girl, regardless of gender, so there are a lot of transvestites here. I have to say it is very odd, these very tall women, with big hands, all dressed up with make-up and so on. They are very feminine as well, more feminine then their female counterparts. All very strange?
The following day we made a short run to Nuku Hiva, had a beautiful sail here. We again caught no fish, and still keep on losing tackle. it must be the big mahi-mahi that we keep catching!
In a few days We'll be off to the Tuamotu archipelago, and we are very much looking forward to this. It should be three-day sail, all down wind of course.
Below, the traditional Polynesian outrigger war canoes and fishing canoes, paddled as by their ancestors for thousands of years. Except today the canoes are made of fibreglass, often have corporate sponsors' logos writ large down the side, and all the paddlers wear PFDs.
The settlement of Hanamenu on the north coast of Hiva Oa.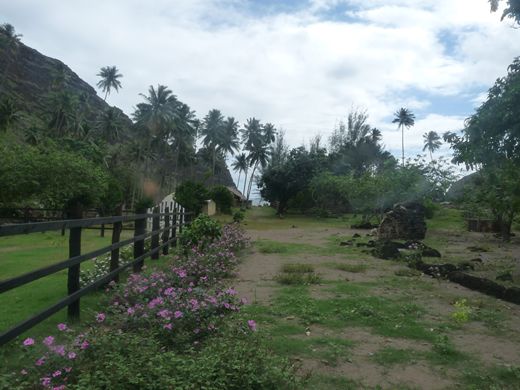 This chap is one of the few permanent residents at Hanamenu. He and his wife tend the wild horses and cattle, and chop coconuts up (what he is doing here) for copra production. They take the sacks round to Atuona in their small aluminium open boat once a month when the copra ship arrives to collect it all. Coconut oil is extracted from copra, and is used in the manufacture of soap, margarine and nitroglycerine, amongst many other things.
Nothing goes to waste - the horses eat leftover coconut (not sure if they look good on it?), and the shells seem to end up as building materials.
Gray and Lucas among ancient ruins at Hanamenu
A natural spring and pool of the purest water you could imagine. It was icy cold!
Catacaos anchored at Hanamenu. The following day there were about a dozen boats in the anchorage!
Looking back towards the village at Hanamenu
The village of Hanamenu is really only accesible by sea, yet the modern world is here. The Polynesian family living here may appear to live as traditionally as their ancestors did for however many millenia, such as here in this palm-frond hut, but note the satellite dish on the right!
After leaving Hanamenu on the north coast of Hiva Oa we sailed the sixty miles across to the Northern Marquesas and the island of Ua Pou. This island is famed for its magnificent scenery with towering mountain spires.
At the town of Hakahau on Ua Pou
We may be in remote places, but there is still no escaping officialdom. There are no Customs or Immigraion officers in the Marquesas, so one has to check at the Gendarmerie.
The anchorage at Ua Pou.
Below there follows pictures from the Soirée Dansante we attended at the village hall in Hakahau, Ua Pou.
Gail (s/y Riri) and Chrissy (s/y Sharkita)
Chris, Sue and daughter Hilary, of s/y Salamander
Sandy and Colin of s/y Papillon
Zedanka and Jack, s/y Kite
Gordon and Joy, s/y Promise
Gray, and Gail (Riri). Yes, really - Graham dancing!
Chief Mate and Cabin Boy, s/y Catacaos
Don and Kay, s/y Karinya I
Simon, s/y Sharkita
Sonia or David - which one is more drunk?
Dave and Chris, s/y CD
Lucas asleep on Daddy, with Tim of s/y Bonaire.
Finally, below, more of Ua Pou's spires as they disappear into the distance on our way towards Nuku Hiva.
---