Stop worrying!

Catacaos
Graham Shaw
Sat 12 Mar 2011 15:07
We are about seven and a half thousand miles from Japan, and have no intention of going anywhere near there. However, thank you to all those who have emailed expressing concern. The tsunami devastation sounds horrendous.
Currently we're anchored in the San Blas Islands, waiting for a space at the Shelter Bay Marina at the entrance to the Panama Canal. We have a reservation for next Tuesday, and then we have to begin the big paperchase preparation for transitting the Canal. When we know our date for going through the Canal we will post it on the blog, so if anyone is really bored or just has too much time on their hands, you can look at the live webcams on the Panama Canal website, and watch us going through the locks. When we've got some internet access again, I'll look up the website and post a link on here. Then as soon as we have a date for our transit, I'll post that as well. I should be able to give a good idea of what time to look at which webcam. Watch this space.... In the meantime, some recent pics:
This is BBQ Island (obviously not the original Indian name!) in the Holandes Cays, part of the San Blas group of islands. There is a Kuna Yala Indian family living on this island, tending the coconut trees. Will write more later about the indigenous Kuna Indians and their culture and traditions, believed to be the best preserved tribal heritage in the whole of the Americas. Apart from the intrusion of the likes of us, their way of life has almost remained unchanged for centuries (if not millenia). Actually, that's not quite true - a number of them now apparently have cellphones. The only trouble with that is that they have no electricity to charge their batteries, so this is where the visiting yachtie comes in - I'm told there is a trade for whatever they can offer (fish, coconuts, etc) in return charging their phones! I hope this is not the start of a slippery slope for a unique people.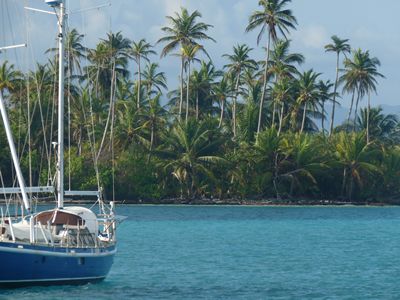 The "Swimming Pool" Anchorage. (Again, probably not the Kuna name for it)
Me and Lucas in the extremely warm water of the Holandes Cays.
---