And onwards south

Catacaos
Graham Shaw
Wed 7 Oct 2009 18:28
We headed down to Connecticut river again, found a lovely spot North Cove
with free, yes FREE docakage for the night in this lovely cove - unheard of in
USA, in fact they give you three free nights, we only stopped one as we
wanted to get to the warmer weather. Next day a early start to City Island
to pick up some diving weight belts we had an eye on when we visited last time,
funny enough they had gone down in price. Spent the night in City Island
and the following afternoon we headed back to New York.

As we were proceeding towards New York the coast guard annouced that the
main passage was closed we had to use the east passage. The UN building ( I
think closed as important people were there) so the outside passage was
taken which was nice to see a different aspect to New York.

Spent the night in New York, went ashore as lashing with rain, and visited
Times Square, Toys R Us which was great fun for Lucas, too many toys, and of
course we did buy him one or two, or were they for Gray?

That night the wind blew up and all the boats were swinging all over the place,
because the anchorage is so deep a lot of chain out so lots of scope to swing,
especially into each other, which a few boats did.

The following day we proceeded to Sandy Hook, New Jersey, what a lovely place, went
ashore and had some fun, especially in the play park with Lucas. Decided to
return to boat as the sky was turning very dark, returned back in time for the
heavens to open and 39 knots of wind to appear out of nowhere. Three boats
dragged next to us, lucky not into us, it is amazing how quickly in wind how
quickly dragging can turn into a disaster, lucky we were in the right
position.

Early start the next day down to Atlantic City for an overnight stop, then
proceeded to Cape May another early start, then overnight, then another early
start to Cheasapeake City, this is no good not use to all these early stars.

What a sail down to Cheasapeake City hoping to the Spinniker up but far too
much wind, goose-winged all the way to the canal entrance, hand steered as
the auto would not cope. One point we managed 11.2 knots, flying along, in
the end two reefs in and still 8.5 knots speed. We managed a hour less on
the way back than on the way up (and the tide was against us!)

Found a spot in Cheasapeake City which was cosy, but by the end of the
evening there where another 2 boats near us so very cosy. We bumped into some
people who we had met in Atlantic city on the way up, so managed to get
together for some beer, nothing new there.

Following day proceeded to Fairlee Creek, which I have to say looked just
like the Bahamas, just 20 degrees cooler, again lovely spot, had some
visitors from another Cat, confused about our flag, and had the boat really
come across the Atlantic, we get a lot of this???

Decided to proceed on to Baltimore, fine sail there, forecast giving 10 to 15
knots we had 30 knots and a awful lot of fishing pots on the way, gray was
swearing lots, as we had to keep coming down, which was no improvement on
our course, so more tacking to be done. Good on the keeping fit front, though.
Managed to get there well after we had planned, I managed not to hit a huge ship
turning (gray getting very nervous at this point). Anchoraged at Inner
Harbour in the centre of Baltimore, which is a about as close as you can get
to the Centre, right under the Baltimore World Trade Centre building.

We met up with the crew of Seawalk again - Isabelle, Sergej, Katie and Alec,and it was lovely to catch
up, and nice to see their lovely boat with it shiny new coat of paint.
Of course a few beers, or was it whisky, had and we put the world to rights
as usual.

We are now in Annapolis waiting for yet another boat show to start (tomorrow). The Annapolos show is alledgedly the largest boat show in the world. We are spending the day on the boat today as the wind is forecast up to 45 knots and the anchorage is very crowded. Best to keep an eye on everything - lots of boats swinging about ot dragging their anchors!

Since getting a brilliant new wifi antenna, we have now installed Skype, so if anyone wants to call us on that I think the skype name is catacaos1 - it should be fairly easy to find.

P.S. from Graham - on the way west from Newport we stopped in New London, where we found a ship called the Jessica W, which some readers will remember as Condor 9 which used to run between St.Malo, the Channel Islands and UK when I worked for Condor Ferries back in the early nineties. She now runs out to Block Island in Long Island Sound. See photo attached.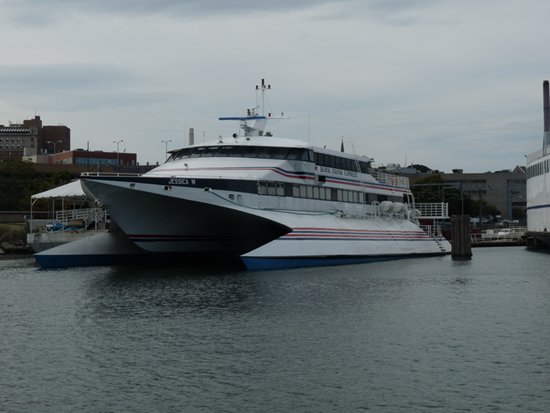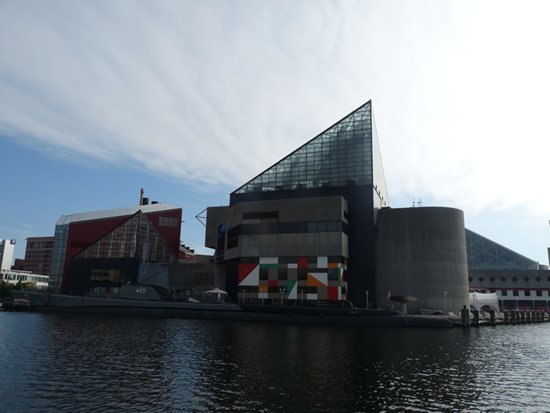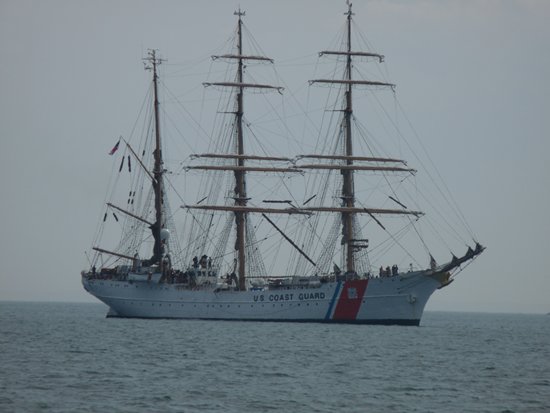 ---