Panama Part One.

Catacaos
Graham Shaw
Tue 29 Mar 2011 12:50
Things change very rapidly in Panama: formalities, rules, regulations, arrangements, schedules, times, prices etc frequently seem to change every day without warning. So it was even before we arrived. We received an email whilst underway, a few days before arriving, advising us that our booking at the Shelter Bay Marina was not available, and suggesting that we went elsewhere first. We decided to deviate to the San
Blas Islands in the autonomous Kuna Yala Province, having originally planned to go there later.
This is a typical San Blas Islands dwelling - small huts topped with thatched palm fronds. These extremely low lying picture postcard islands are protected by reefs and barrier islands, which are in great danger from rising sea levels.
Above is an example of an island which is rapidly just becoming a reef. Global warming live in action right before your very eyes. In the pilot book we have been using, the surveyor notes that each time he revisits the San Blas area, there are islands which he has to remove from his charts.
Very fresh fish at the Lemmon Cays, San Blas Islands
Kuna Yala Indian in outboard motor powered dugout canoe.
VIew from San Blas with mainland Panama in the background.
The Kuna Yala Indians make money selling Molas - intricately woven pieces of cloth, depicting tribal designs and stories, some of which can take hundreds of hours to produce. Above are two Kuna Yala approaching us in their dugout canoe, to come and sell their wares. Below, a small selection of what was on offer. The tribe are apparently second only in stature to the Pygmies of East Africa. (So Lorraine and I fitted right in!)
After a few days in the San Blas Islands, we received word that a berth was available for us at Shelter Bay Marina which is near the city of Colon, at the Caribbean entrance to the Panama Canal. We set out from the islands, making an overnight stop in Portobello. This is a natural harbour, discovered by Columbus on his fourth voyage, which became the most important trading port in the Americas. Apparently at one time a third of the world's gold passed through Portobello, and naturally the place was heavily fortified. Many of the ruins remain today, with some areas having been restored. Below, Lucas and I exploring one of the forts.
The famous and much worshipped statue of the "Black Christ" at the church of San Felipe de Portobello. Pilgrimages are made from all over to come here.
Typical Panamanian bus, here in Portobello. If you think a lot of effort has gone into the decor of it, there must be an equal amount goes into perfecting the amount of noise these things make. They are all ex-US yellow school buses, with highly tuned engines lacking silencers (mufflers for US readers) and sound systems to rival any nightclub.
Next stop Shelter Bay Marina, to begin the paperchase that preceeds the transit of the Panama Canal. The marina is a little haven of tranquility in an otherwise dirty and dangerous place. It is a gathering place for boats waiting to go through to the Pacific, so we have bumped into many old friends and familiar faces all heading in the same direction. Our Breton friends on the yacht Charade had arrived some days earlier, and it was nice to catch up with them again before they set off to the Canal. Below, young Romain saying goodbye as Charade pulls out of the marina. Lucas was sad to see him go - it is always much better fun to play with someone else's toys!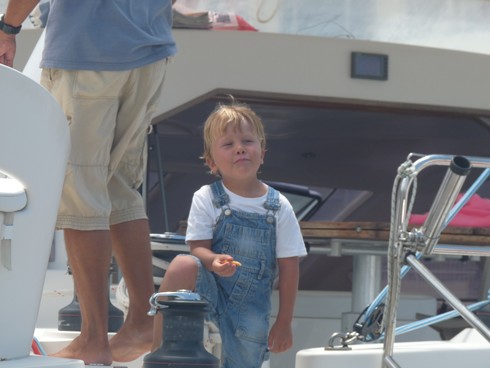 Above, Arnaud from Charade, as we all wave our goodbyes. They are now in the Galapagos Islands, and we shall not catch up with them again until we arrive in the Marquesas Islands in French Polynesia, almost halfway across the Pacific.
During our stay in Panama, a former Vice President passed away, and a national day of mourning was declared. One of the requirements of this was a ban on the sale of alcohol, which meant that the restaurant at the marina was all but deserted. The only significance of this is that I thought the notice they posted in the window was worthy of a photograph:
On that note, I will stop there, as this is getting to be quite a large file to send to the website, and will continue in Panama Part 2.
---