Ready for the off

Catacaos
Graham Shaw
Sun 28 Dec 2008 18:54
Hi all
For all interested, Graham, Lorraine and Lucas are off travelling on Catacaos, our Fountaine Pajot Athena 38. This blog will enable you to follow our progress across the oceans. You can also see exactly where we are in the world, which will be updated regularly. Anyone who wants to call us you can reach us on our satellite phone 00 88 16 31 67 08 62.
Progress so far:
We travelled down through France to Spain then to Portugal. Caught a ferry from Portugal to Gran Canaria via Maderia. We arrived 2nd December and have been fitting out the boat with Graham's new toys – he has been in his element.
Las Palmas, Gran Canaria: Done some sightseeing while Graham working. Picture of the largest crater in Gran Canaria and have been to the highest spot (1946m above sea level – in the clouds and very cold). Beautiful scenery – not for the faint hearted, especially if you have a problem with heights.
Gareth has joined us on the 15th December, to help and to finish kitting out the boat. The poor lad has been up the mast an awful lot – rewarding him with beer and food. Just need to find him a good woman.
Currently waiting for trampoline which is being held up by Spanish Customs – nothing changes Customs still difficult where ever you are in the world. Once received and fitted we will be on our way off to the Caribbean – Sunny hot times.
Lucas is taking everything in his stride – has not thrown himself overboard yet –but give him time. Pressing all the wrong buttons. The boat is fenced in which help us so he can wander around at his own leisure. He has found his sea legs.
MERRY XMAS TO ALL AND HAPPY NEW YEAR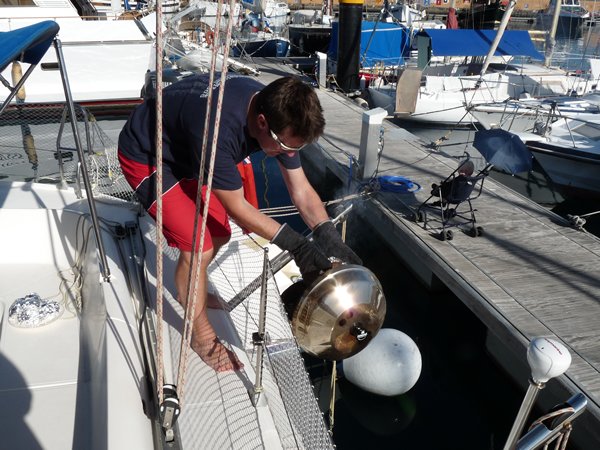 ---