Antigua to BVI

Catacaos
Graham Shaw
Thu 29 Apr 2010 19:31
On our last day in Antigua we watched the parade of classic boats with
Nicola and Mikey
from Pandora, Angie and Mike from Tuppence, Ali and Shane from Talulah, and
Welly and Keith from Rappau. So as you can imagine lots of fun drinking
and cheering as the boats as they passed by, from a very perfect spot in
English
Harbour. Mikey and Nicola had to exit early on as Mikey was playing that
evening in the Life Bar, our evening entertainment - with a backdrop of
photos of the day's racing.

Mikey put on a sterling show, and a good time was had by all, maybe too
much.
Gray suffering the next day and blamed someone for forcing a rum on him (or
was that two or three?) Anyway, off to the BVI which would take about 28
hours.

Some nice wind to start with, as we passed the start line for the racing
that day, overnight it went light so the following day the spinnaker came
out of mothballs - last time we had it out was in the States last year
on the way down to Norfolk VA.

Wearrived in BVI checking the flight info that my Mummy would be able to
come.
Sorry for all those who had problems, lucky for mum she had the first flight
out in 6 days, very fortunate.

For those who do not know the BVI, it is a group of islands that have nice
warm
running wind and relatively calm water, ideal for sailing, plus lots of
places
to stop on the way, super snorkeling, and of course diving as mentioned
previously in blogs - they have the famous wreck of the RMS Rhone. For all
the divers
there are over 80 sites to dive here. I do
think the BVI is the perfect diving sailing vacation, the only problem is
the
BVI is one of the most expencive places in the Caribbean. Oh, and you have
to
learn to speak American.

This was the first time in the many visits to the BVI that we managed to get
to the full moon
party, great fun worth the wait. Lots of fire, fire dancers, stilt walkers
and of course music. See photos.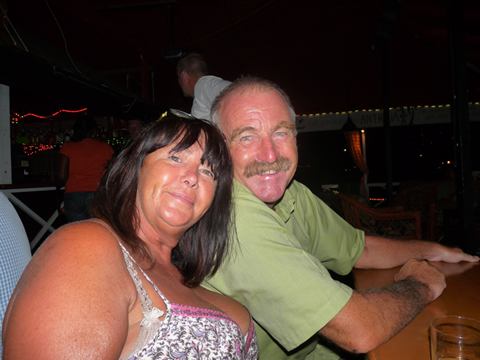 ---