Canada at last!

Catacaos
Graham Shaw
Mon 19 Jul 2010 14:57
Have we mentioned there are lots of lobster pots here? Well add thick fog
and it gets even more fun. Thank heavens for our chart plotter and radar - we would be
lost without them. The fog comes in very quickly and it is like pea soup.
We had to take a handheld GPS ashore - to find the shore - and then for our boat on return -
it really is that bad. When it clears the scenery is very beautiful. We
have been unable to sail very well, as you spend all your time steering around the
pots, very intense on watch keeping. We did not transit at all in the dark
as that would be asking for trouble.

From Portland we ended doing lots of short hops. First Boothbay Harbor, then
Rockland then Camden then North Haven then Stonington then Southwest Harbor
then Bar Harbor then Little Cranberry Island. All of these places are very
charming and pretty. Everyone is very friendly (and think we are
Australian!) At North Haven, which is one of the many islands off Maine,
we met Scott and Kitty who have circumnavigated twice, lovely people, very
interesting to hear there stories. They have been very helpful.

At a lot of these places we arrive in thick fog, so we generally do not know what
they look like, until (or if) it lifts. We were in Stonington for a day and
just as we were leaving, they started up the local event of lobster boat racing. I think they
delayed the start until the fog lifted. Lots of black smoke coming out. We
ended spending more time in Bar Harbour which is quite touristy but still
has not lost it's charm. Also we were told that President Obama was visiting
on the weekend, so all the locals were very excited.

We decided to move to Little Cranberry Island as the anchorage was a little
smoother, we arrived in thick fog, again we felt our way there. This is a lovely island with a big play park next to the school, which
of course makes Lucas' day. This was where we met a lovely family - Amy, Steve
and Myles. We met Amy as she was looking for her basset hounds who had gone for a walk on their own. She kindly invited us to
their house, which was beautifully postioned on the water's edge, with beautiful views of
Mount Desert Island. They are thinking in the future of doing a little
tour around like us, so it was good to share the dos and don'ts. They came
and joined us on the boat, with a super gift for Lucas - he is so spoilt.

From there we were waiting for a weather window for the leap to Canada. It was an overnight trip, crossing the mouth of the Bay of Fundy (where they have the largest tidal range in the world). We left in thick fog, it lifted a little but then came back in. Had a few sighting of seals and sharks but no whales. At Cape Sable the
water temp went down to 6 degrees C, it was bitterly cold, still thick fog.
Thankfully lobster season has finished in Canada, so there were no pot markers to avoid.

We arrive early morning in Shelburne Harbour (note that the Canadians can spell proper), who were celebrating their "Founders Day". There were
lots of stalls, with local works, rowing races, greasy pole, and boat
racing, and we were invited for a free fish supper in the yacht club. I mentioned that the Shelburne Harbour Yacht Club has plagerised the website of our yacht club back home - their address is SHYC.ca , ours being SHYC.je (St.Helier Yacht Club). Anyway, they had a boat procession at night with all the boats lit up,
very clever. I also managed to go racing the next day on a Tripp 40. It was
lovely to meet all the local people and get to know a few of them.

So here we are in Shelburne, trying to work out some sort of itinerary for continuing north and east...

Lorraine.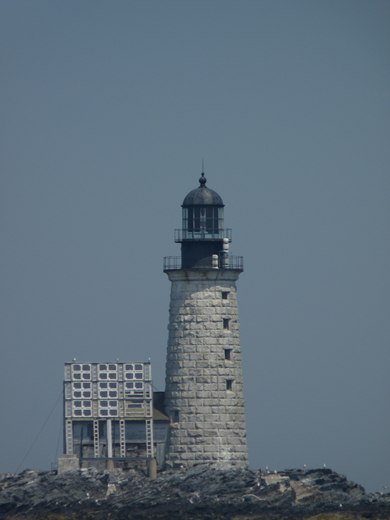 ---