Haulout

Catacaos
Graham Shaw
Sat 6 Mar 2010 14:01
12:00.0N 61:45.7W

I don't know why the automatic position update hasn't been automatically
positionally updating lately, but here we are back in Prickly Bay, Grenada,
again. I've put the position on manually so everyone can see where we are
on the map.

We left Julie and Steve at Martinique airport Wednesday before last for
their flight back to Paris. They arrived home Thursday, no doubt ready for
a rest (from eating and drinking!) It has been great having them with us,
as it has been with all our visitors, but for now we have no more guests
lined up. It's been quite hectic with people since about the end of
November, and now everybody has gone we have to decide what to do next....

The first thing was to get back to Grenada to get the boat out of the water
to do the antifouling paint on the underside of the hull. In this climate
the stuff grows on the bottom at an alarming rate, so the antifoul has to be
redone anually. We made the trip from Martinique back to Grenada in just
over 26 hours, motorsailing all the way as there was very little wind (quite
unusual round here), but as it was calmish we were visited by lots of
dolphins, and Lucas (and Mummyand Daddy) always get excited seeing them. We arrived
back in Prickly Bay just in time to clear Customs, Immigration and Port
Health, and just in time to miss the end of the rugby on the big screen at
De Big Fish. There's none on this weekend, so we have to wait another week
for more - Ireland v Wales next Saturday 1030 our time is the next one.
The Six Nations championship seems very popular amongst the cruising
fraternity, and the bar is always full. When we were in Antigua someone
gave Lucas an England Rugby shirt, so he wears that to watch the games, but
we're not really sure who he should support - when it comes to the Six
Nations, he has quite a choice of teams: he is descended from english,
welsh, and italian stock, was born in France and has a Scottish surname....

Anyway, back in Grenada everything has happened fairly quickly: we hauled
out on Monday, and by Thursday we were back in again, following two coats
of antifoul (bottom paint as they call it round here), a small repair to the
keel, gearbox oil changed (which stupidly can only be done with the boat out
of the water), zinc anodes repalced, dinghy repaired, and various other jobs. We were all very glad
to be afloat again, feeling the breeze coming through boat - it was very hot
and sticky in the boatyard, and the quantity of mosquitoes had to be seen to
be believed.

There are still quite a few other jobs to sort out - mostly electrical, and we are waiting for the electrican who repaired the wind generator and the alternator to get back from a trip to the US. Hopefully we'll find out on Monday when he'll be back, and then we can make a plan as to what we're doing (!) Plan A was to head west to Panama, go through the canal, and keep heading west - Galapagos Islands, Marquesas, Tuamotus, Society Islands, Cook Islands, Tonga, maybe Samoa and Fiji, and the down to New Zealand. We are getting a little tight for time now with this, but one of the biggest concerns is that we are in an El Nino period, which basically results in disruption to the Pacific weather systems. Plan B would be to head north again for the duration of the Atlantic hurricane season, back to the States and Canada, then back down here again next winter, and revert to plan A for next year. Watch this space folks.....

Graham.

P.S. The other job to do is to get the dinghy repaired PROPERLY - we got it back yesterday (several hundred EC$ later) and on getting up this morning we find it be just as deflated as usual! I feel a row with the boatyard should be scheduled for Monday morning!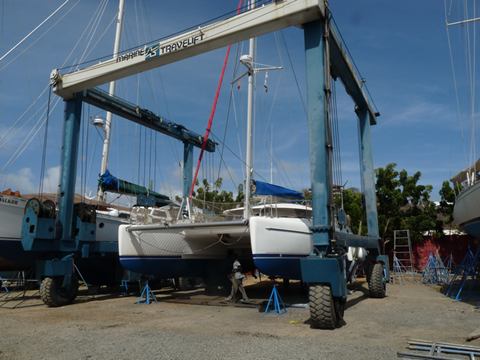 ---