Still in the BVI

Catacaos
Graham Shaw
Thu 13 May 2010 14:50
It's all fun and games in the sunshine. We showed my Mum the sights of BVI,
which she loved. A different beach each day. Also dragged her snorkeling a
number of times. Every time out snorkeling we seemed to see the hot
spots: rays, baracuda, turtles, lobsters, tarpon, shark suckers, and one
small
shark, plus an array of colourful fish, with some lovely coral, in very
clear
water. The eagle ray pic was taken as the sun was just going down.

In Jost van Dyke we were anchored near a crowd of Americans, who we met
later in the local bar after some retail therapy. Two of the people were on
their honeymoon, the other 7 were along for the holiday - not sure if I
fancy all these people on honeymoon with me. The wedding party were
having a great time, but not sure about the bride and groom. We were
invited
over for a beer, and as we were so close it seemed silly to take the dinghy
so we decided to swim. Mum offered to look after Lucas, who was tucked up in
bed as
it was late at night.

Normally most people get out of the water but I actually prefer to be in the
water, so with beer handed to me and a few companions, we put the world to
rights. This is the first time they have all been down to the BVI together
but they often all go on holiday together in a large Lake in Colorado
on a house boat. Anyway as the night went on Gray went home and of course I
will still putting the world to rights with my English accent with the
lads -still in the water, plus beer and cigarette at the same time, - I did
get
told off for using the word fag (not a good american word apparently).
Anyway returned home after many hours treading water ( I did have my
flippers on). We are a bit hazey on how long I was in the water it is
between 5 to 7 hours. Dennis if you are reading this you have to forward
the pictures and comfirm if possible if you were in a state to remember how
long I was in the water for. I also hope the newly weds are still married.
The next day I was a little wobbly on my legs but no hangover, clearly the
way to go not getting a hangover, do a work out while drinking. By the way
who invented Jaegermeister? Wicked stuff!

We ended up the following day meeting up with our friends Yves and Dominique
on
Rusee de Jersey, their Kelt 39, who we first met in Newport Rhode Island.
So lovely to
catch up with them again. Bless my mummy she made canaloni for all of us.

We also met up with Wellie and Keith on Rappau (Keith being the man asleep
on blog pic), they managed to leave their boat papers and passports in St
Maarten. Clearly too much rum. Luckily enough a friend was following them
up.
We were on our return
to the Immgration dept., as they had stamped our departure date for two
weeks after we arrived (presumably the standard amount of time people stay
here), so we had to
apply for an extension, at a huge cost of 30US dollars - I was spitting -
it
was a good thing Gray went to the Customs office. I have to say they have
been awarded the worst Custom Officers in the Caribbean by the Pandora
Awards, but I really feel they need to be told in person, they are like not
other Customs we have come across - yes worse than the French Customs in St
Malo.
They are rude, unproductive, unhelpful, they have a air about them that they
think they should be treated better than royalty, generally they treat you
like you some thing not nice on their shoes. Gray's word for it is surly.
It is a
shame because this is the first impression you get of the islands when you
arrive, personally it would put me off coming back - but yet we do as it is
such a lovely place.

We also met up with a lovely couple Will and Tamsin on their Sigma 33,
Elmarleen. Will has just
completed his third trans-atlantic trip in twelve months, and is soon to
make it four
times. Will's first crossing was competing in the Ostar (single-handed
translantic race), and won. He then went
back across to Europe to pick up his girlfriend, they then both crossed back
to the Caribbean and they
are on their way home, back across the atlantic yet again. They also got
engaged
in Antigua, the night we were watching Mikey at the Life Bar.

We have had to fork out for a new motherboard on our wind indicator - boat
expenses
never stop. Mikey and Nicola emailled us the other day with a good one for
the word BOAT: it's really an anacronym for Break Out Another Thousand - it
is so apt.

Why we are still here is that we are waiting for a weather window to go to
Bermuda, the wind is just not blowing in the right direction, so we stay in
the BVI until it does - it will be sooner or later. What nicer place to be
stuck in? There are a number of boats heading for Bermuda, probably around
the same time: Rappau, Spruce, Bravo 2, Rusee de Jersey and Elmarleen - we
are
the only multihull - who's taking bets?!!!!

Yes, just in case you were wondering, we are doing far too much socialising
at the
moment so it will be good for a long stretch at sea for a detox!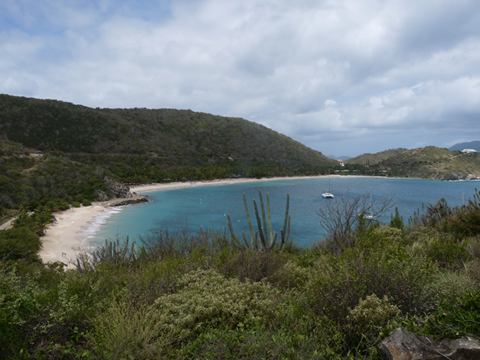 ---