Fw: Hudson River back to New York, Hell Gate to Long Island Sound

Catacaos
Graham Shaw
Thu 27 Aug 2009 22:15
We moved on from Catskill to Athens, a little anchorage which was lovely and
peacefull. A beautiful galleon replica appeared out of nowhere. We were
woken up the next morning at 6am by a power boat race, I think we anchored
on their start line!!!

Off back towards New York as Hurricane Bill had passed the previous night.
We had a number of squalls on the way back, and a lot of debris in the river
a number of log and planks, you could have built a small house with.
Arrived back in New York the next day, did a quick visit back to pick up a
few provisions and a new DVD player as our one is on its way out (Lucas
pressing the buttons too much I feel). Also they were dirt cheap. Managed
to find a english section in a the supermarket and picked up a load of
cordial/squash, which seems to be non-existent in America.

Next day down towards Long Island Sound, through Hell Gate. Joining us were
the Seraphim folks, so some good photos with our boat in. Hell Gate is
known for the rip currents that flow though there, some interesting steering
moments. Tide was with us so we flew down there. Lovely to see the skyline
of Manhattan from the another perspective. Ferries flying all over the
place, lots of wake throwing us about, all good fun. We ended up at City
Island and took a jolly in the town, found a boat jumble and Gray was very
excited (ah men!!) Thankfully nothing was to be had just a pile of old
expencive junk. But the day was not over, another boat shop was found and
items purchased. Who says men do not do retail therapy?

We set off towards Charles Island, stalking Seraphim, with Spinnaker flying,
good sailing day - first time the spinnaker has been up since we arrived in
the States.
Challanged the Seraphims to a race down, they didn't even have their
spinnaker up, so was a little unfair, they did jump into action and put it
up,
but by then the lead was too great. I'm sure they will thrash us on a beat.

Hurricane Bill has passed now we have Hurricane Danny coming in on us, in
fact directly at us, at our present location. This one is more
unpredictable so not sure which way to run. So we decided to go off up the
Conneticut River. Due to hit in two days time, so keeping a close eye on
it.
We might have to go into a Marina and dismantle the boat, take sails off and
tie
everything down, for insurance reason (and common sense-Ed.). The shame of
all of this is we left
the Carribean to stay out of the hurricane area, the safest place at the
moment
is in the Carribean. It's unusual for hurricanes to track this way,
especially twice in less than two weeks. The last one to hit New York City
was apparently in 1985.


Photos: the boat in New York, first photo with a spinnaker flying, prison
ship (which I didn't know existed), Gray steering through Hell Gate (look no
hands), me posing as my mummy has forgotten what I look like, galleon
sailing,
Seraphim passing under the bridge with cable cars. Another light house, see
America by light house - my new book!! Clouds over the hills at Athens.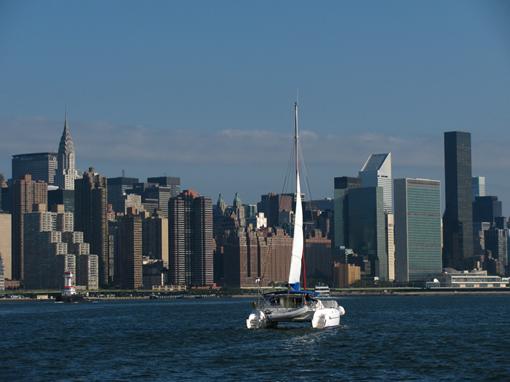 ---