New York -Hudson River

Catacaos
Graham Shaw
Fri 21 Aug 2009 19:01
No internet for a number of days so apoligises for not replying to e mails.

Off again sight seeing - ended up in Maritime museum, which was more of a
museum for model boats, some very good ones at that, we did however have a
tour of a the Peking, a cargo schooner which was shipped from UK on its last
voyage to it resting place on Pier 17. Also toured a light ship, which was
very interesting. We went to the maritme museum to see the (advertised)
exhibit re the
evacuation for 9/11 by sea, but unfortunately it was closed four years ago??

We also have met up again with Seraphim - Nicola, John, Jack and James.
Managed to get together and catch up on all, plus Lucas has some friends to
play with again which is nice for all of them, and for Graham to talk to
some sane people.

After discussions with John and Nicola we had decided to move on the next
day to Long Island Sound. Unfortunately a very large thunderstorm hit the
surounding area we were in, very scary John acutally videoed it, brave John.
There were forks coming down every where. Cracking off the sides of the
river, and bouncing off the river. Visibility down to nothing at time, only
28 knots of wind but all the boats were flying about in the anchorage. It
was the closest we come to a thunderstorm of that magnitude - even Graham
was uneasy!!!! Anyway John has put the video on youtube so you can feel the
heart of it. The catamaran in front of us was hit by another boat, not
badly
but no one was admitting it. Canadian boat lost all it electrics in a hit.
Over a hundred trees were came down in Central Park.
Next morning John and Gray got together re concern of Huricane Bill heading
up towards Long Island which was where we were heading. Change of plan was
decided on, up the Hudson river out of the way of the Bill due to
hit New York on Saturday - so off we motored. Stopped in a nice little
place did not realise we were on someone's mooring, got moved on and
anchored.
The folks from Seraphim joined us again, and we proceeded on up the river,
with John watching out for Bill on the internet. Sorry I thought all
Huricane were named after women, because when they arrive they are wet and
wild and when they leave they take your house and car (sorry I am a sad
girl). You're safe now - it's the only huricane joke I know!!

Stopped at Hyde Park Landing which is where F D Roosevelt was buried, did
not
do any sight seeing, but maybe will on the way back down the river. Today
at Catskill
Creek.

Photos: some very special estates along the river, most of them behind the
trees;
West Point miltary academy; also a replica medieval castle built as
a resort in 1918 which had a fire in 1969, no landing permitted though; and
of course a few lighthouses
just in case you missing out on them; Brooklyn Bridge with Gray and Lucas,
and of
course the boys on the Peking; a treat for Lucas - seaplane landing, and
trains running up either side of the river.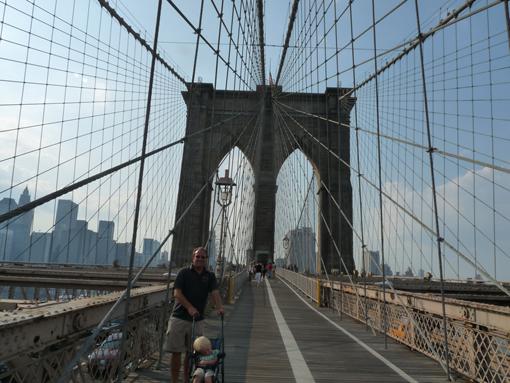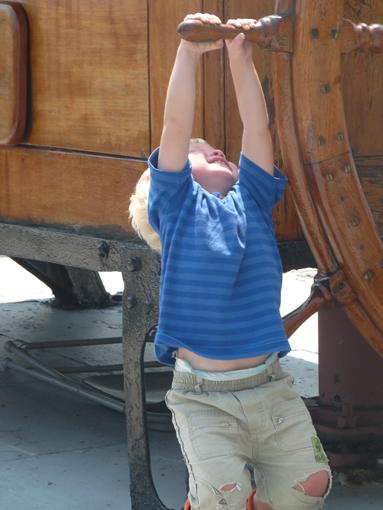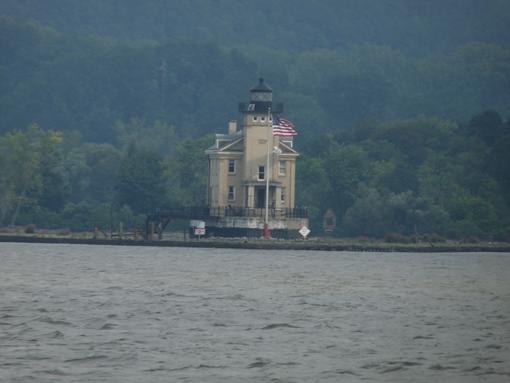 ---