St Barts to Antigua

Catacaos
Graham Shaw
Wed 2 Dec 2009 13:09
After four nights in Gustavia, St.Barts we had to tear ourselves away from all the niceties of French restaurants, French supermarkets, French wine, French bread, French cheese and so on, and set off again, this time towards Antigua. We decided that another overnight trip was the thing to do - just that little bit too far to make the whole distance in daylight, so the only option is to leave before it gets dark, and then arrive after sunrise. The main reason for this is that none of the navigational lights (on buoys, lighthouses, transit markers, etc) that you need for entering somewhere unfamiliar in the dark, can be relied on in this part of the world. The pilot book we use describes the entrance to English Harbour, Antigua with numerous lit buoys and two sets of lit transits, making it all sound very easy to get into in the dark. Then it adds that at the time of their visit prior to writing the current edition NONE of these lights were working! This is fairly typical, unfortunately. Longer overnight trips are also a bit easier for Lucas - he just goes to bed as normal, and then wakes up somewhere new, and Lorraine and I have been able to concentrate on sailing the boat.

On arrival at English Harbour we anchored, then went ashore in the dinghy for the usual Customs/Immigration palaver. This actually cost more than in St.Barts, for anyone who thinks St.Barts is expensive. Our crew list was not good enough here - Lucas had to go on a separate list because of his age, so I had to fill out two sets of the immigration forms (I would say in triplicate, but they actually have six copies - I don't know what the "iplicate" word for six is!). Then two forms for customs, then one for the port authority, and so it goes on. And then we had to go back later to pick up our copy of the clearance form because the senior customs man wasn't there. Again, this is all fairly typical!

Next thing to do was the laundry, as there wasn't one in St.Barts - too posh a place to have a laundrette! Lorraine did all the washing while Lucas and I went walking out to one of the many forts in this area. It turns out this is the most expensive laundry in the world (US$10 a go!), although we were assured it was the cheapest laundry in Antigua!

English Harbour is dominated by Nelson's Dockyard, much of which has been restored, and is now occupied by local businesses - sailmakers, marine electronics, dive shop, bakery, expensive laundrette, bars, restaurants, and about five thousand T-shirt vendors. The latter do well out of the truck loads of tourists and cruiseship passengers who are bussed in here every day. The whole area is very nice, and it is only a short walk to supermarkets, etc.

The day after we got here Bron (Lorraine's mum) flew in to join us for a holiday. She has been enjoying the slightly different weather than she left behind in Devon. We went out for lunch the following day, and had a meal in a restaurant next to the Dockyard, run by a French couple from Vannes, which was excellent (obviously). We will definitely go back there! We also hiked up to Shirley Heights - quite a climb, but worth it for the view (or for the cold beer at the top).

It has been said that cruising on a yacht is effectively just doing boat repairs in exotic locations. This is quite true - Lorraine went up the mast to clean the track where the slidey bits that hold the sail to the mast go, and discovered that the wire forestay (which holds the mast up) was starting to come apart at the top, so we have had to enlist the services of the professionals for this one. Allegedly they will look at it tomorrow, but this is the Caribbean, where the Spanish concept of manana makes the locals here wonder why anybody would be in such a rush. Anyway, the riggers are going to do an inspection the rest of the rigging, which hopefully will be ok. Watch this space....

Then, while I was in the starboard engine room investigating again our persistent battery undercharging situation, I noticed water leaking from the exhaust hose. This was easily remedied with a EC$54 foot long piece of rubber pipe. And so it goes on!

We are paying fairly close attention to the Montserrat Volcano Observatory website ( www.mvo.ms ) at the moment, as it is believed another eruption may be imminent. We are at a safe distance from it, but we can see it from the anchorage. The cap on the volcano's dome may apparently collapse again, with unknown consequences for the folk who live on the island, which was devastated by the first eruption in modern times in 1995, and then again in 2004. We visited the island earlier this year (see blogs from April), but it is off limits for now.

That's about it for now....we're off to the French restauarnt for lunch!

Graham.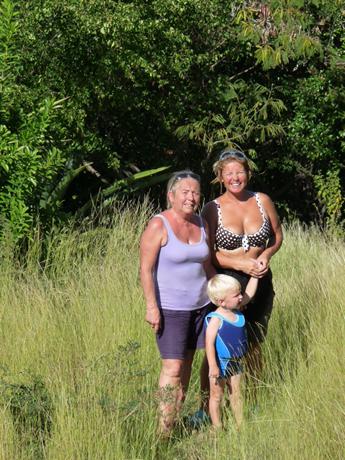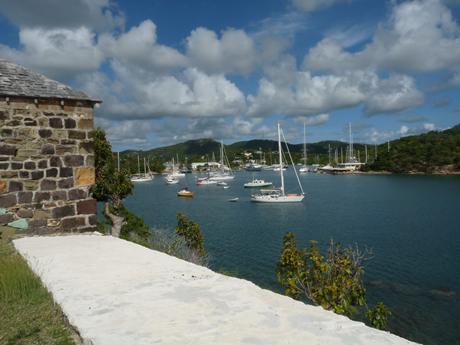 ---