Newport, again.

Catacaos
Graham Shaw
Tue 8 Sep 2009 13:37
Barrington was very nice, people nice and friendly and super shops.
Unable to anchor so we paid to go along side, and how cheap - $30 for
the night, the cheapest by far yet. This also included using there
facilities and the swimming pool. So we had a dip, oh my that was cold - as
cold as the water in Jersey. Lucas did enjoy himself after he stopped
shivvering, and it was heated, we are so spoilt these days with the water
being so warm just not this far north. Sorry, no Barrington Yacht club Tee
shirt - will you forgive us Jim??

Decided to go back to Newport for the Racing weekend and Irish Festival.
Got stopped by the police, as they have nothing better to do, in a inappropiate
moment, very shallow, Gray's words were "what do you want?!!!" We also managed
to hit something on the starboard side, pretty hard. Depth sounding
2.5metre. Not sure what we went over, doing about 6 knots at the time. We
do not think any damage on the keel, we need to check out when we have some
good visibility in the water. No point at the moment as we would not be
able to see anything.
Had problem with outboard which had to come to many pieces. Just turned out
to be dirty fuel which we think we bought up the Hudson River, I don't think Lucas was so convinced
though.
There was racing for 6 and 12 metre class boats - I have taken a few photos of these
beautiful craft. Before the race start there were a procession of classic
boats, which we were very fortunate with them passing right next to us. We also met a
fellow Jerseyman, John Sharp, who anchored not far from us. We managed a get
together and Graham and John recited all the people they knew, which happened
to be almost all the same people. We had a lovely evening with John and his
tales of his sailing adventures, very interesting and informative for a
novice like me. Most being that the furtherest north he has taken his boat
is 81degrees 21minutes North a place called Svalbard, way above the artic circle for all
those who do not know where that is (further north than any cruising yacht had ever been). Which was amazing for me also far too cold for us both, what adventure!

Next day off to the Irish festival, arrived a little early for it but we had
plenty of time to take in all the tat one could buy. Some great bands - one
in particular was a Scotish band, yes I did say Irish festival. They were
very good some Proclaimers' songs which I think never quite made it in the
States, and some execellant English bashing jokes. Most of the
bands were from Canada, obvoiusly with Irish descents somewhere, but most of
them wearing the Gaelic parafanalia. The mad man on the violin came
right up to Lucas while sound asleep, he did not stir, sleep through any
thing. A good day had, Graham of course keep the Guinness end up, I think he
thought he was at the London boat show Guinness stand. We had to wear verified
age ID bracelets, even though they did not ask to verify our age - we
really are that old now.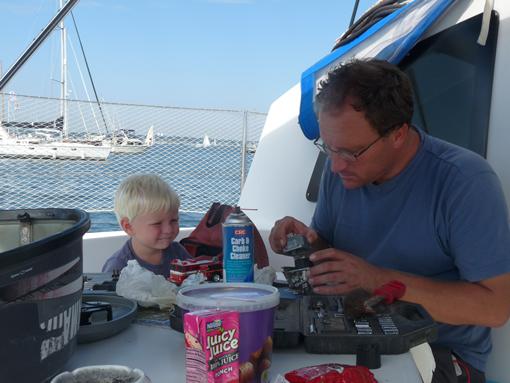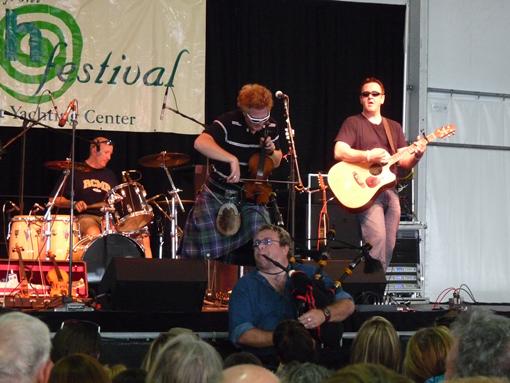 ---