The Final Blog

Catacaos
Graham Shaw
Wed 21 Dec 2011 06:52
Well guys I think this is it, the final blog. We have covered nearly 30,000 nautical miles around half of the world, travelling from Spain's Canary Islands all the way to Australia, via the Cape Verde Islands, Barbados, Grenada, Carriacou, Union Island, Peitie Martinique, Petit St.Vincent, The Tobago Cays, Mayreau, Canouan, Mustique, Bequia, St Vincent, Dominica, Antigua, Monserrat, St Lucia, Guadaloupe, Les Saintes, Martinique, The Netherlands Antilles, Saint Martin, Anguilla, British Virgin Islands, St Barts, Sint Eustacius, Saba, Nevis, St Kitts, Turks and Caicos Islands, Bahamas, all of the east coast of the USA, most of Nova Scotia in Canada, including the wonderful Cape Breton Island, Bermuda, Bonaire, The San Blas Islands, Panama, The Galapagos Islands, French Polynesia - Marquesas, Tuamotus, Tahiti, Moorea and the windward Society Islands (Raiatea and Bora Bora), The Cook Islands including the remote Palmerston Atoll, Niue (small country most folk have probably never heard of), the Vava'u Group of islands in Tonga, Fiji, Vanuatu, New Caledonia, and finally Australia. We have stopped at over 100 different islands, let alone the hundreds of stops on mainland USA and Canada, and have totted up 61 stamps in our passports. The journey has taken us 3 years, and it feels like yesterday we left. The time has gone by so quickly. We have visited some lovely places, and have too many favourites when everyone asks us "which one?". We hope to return again to some of them soon. We have also met some lovely people on the way who have made the trip even more enjoyable.
After three years we felt we needed a holiday (!). We are currently touring New Zealand by land in a campervan, which is beyond beautiful: the place is very magical and the scenery spectacular. We took a train from Mooloolaba where the boat is now, down to Sydney, then flew to Christchurch in the South Island of New Zealand. On the way we have met up with some sailing friends for the last time - Evita before they return to the UK. Also we met up with some friends who have moved a long time ago to this side of the world, some of whom we have not seen in 11 years Gaelle (ex-Condor colleague of Gray's) and Julie (ex-Condor and also ex-Bon Air Stables colleague of mine) for 17 years. So it has been lovely catching up with all the changes in those many years. On our tour of New Zealand we have caught up with sailing friends: Gruffulo, Northern Rose, Toucan, Steel Sapphire, Peagus of Jersey, CD, Don Quixote - which of course involves alcohol and food - nothing ever changes! This is all getting very sad as it is just sinking in there will be no more sailing for ages - back to reality!!!! We are currently at Gray's cousin Andre and his wife Carla with their children Cosmo, Blade and Zen (whom we had not met, as he is only 2 1/2 years old). We will be spending Christmas with my cousin, Sammy, and Steve at the bottom of South Island which I am looking forward to, and cannot remember the last time I saw Sammy - many years ago.
Some pics of all the exciting things we have been doing on touring Australia and New Zealand:
The famous Opera House in Sydney - just in case you did not recognise it from the land angle.
Sydney Habour Bridge with the gorgeous Evita children, Oskar, Eva and Raul.
Ian from Evita and Gray, without a beer in their hands for a change. Note the long trousers - first time in many years.
Us with Gaelle, at her house in Sydney.
Isn't he cute.
The Kookaburra and a Common Parakeet.
What a beautiful bird?
Christine, who we managed to catch up with while she was passing through Sydney on the way back to France after a week's work in Canberra (the capital of Australia, for all the heathens who did not know).
View of Sydney from the sea - as it should be.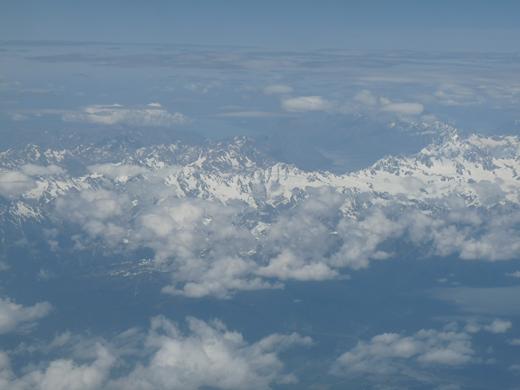 The snowy mountains of South Island in New Zealand - how beautiful.
The Australian beach lifeguards in action.
Bubbling mud pool in Rotorua - the whole place is one big smelly spa.
A boat clearly too big for Lucas, trying out the submarine next.
Above, at last we meet in person the Jackson family from the catamaran Pegasus of Jersey - we have only been chatting for the last couple of years on email and SSB. Finally a chance to gossip about mutual friends back home!
Connor enjoying the girls around him as usual: Ame from Gruffalo and Lynn from Steel Saphire.
Lucas premier on a scooter.
A photo will never do this place justice.
Doesn't he look like Graham?
The best play park in the world.
With Julie, at home in Wanganui, North Island NZ.
Their was a huge colony of sea lions just off the road on the coast near Kaikoura, South Island, NZ.
Where's mum?
What's left to say? How much we miss everyone who is continuing sailing, and of course we are very envious of them. What a lovely time cruising has been. Do it, do it now - don't just think about it - life is too short. We hope the blog has kept everyone entertained, and hopefully you have had a bit of an insight into our adventures over the last three years.
A little mention for all the lovely people we have met on the way, by sea and land, hopefully we will see you all down the road on land or by sea.
Finally we wish everyone a very Merry Christmas, and best wishes for 2012.
Signing off, the Catacaos Admiral, Captain and Crew.
Lorraine, Graham & Lucas.
(With special thanks to our Guest Editor).
---