Les Saintes and the new cooker

Catacaos
Graham Shaw
Fri 9 Apr 2010 19:12
16:15.0N 61:33.1W

After leaving Le Marin at the southeast corner of Martinique and a night
anchored off St.Pierre (of Mont Pelee Volcano fame) on the northwest corner,
we set off early on April Fool's Day bound for Marie Galante, an island
southeast of Guadeloupe. After motoring directly into the wind and sea for
not very long a decision was made to go up the leeward side of Dominica, and
make for Les Saintes instead. We had stopped here earlier this season, but
only for one day. This time we were there almost a week, principally due to
the fact that we arrived at the Marie to clear customs and immigration only
half an hour before closing time on Thursday, and them not being open again
until Tuesday. Good Friday is not normally a holiday for the French, but
the Fonctionnaires in Guadeloupe feel they work so hard for their money that
they deserve more time off. Anyway, this gave us a chance to do much more
exploring than last time, taking in beaches, snorkelling, hiking (Lucas did
very well), and all things French (pains au choc, cheese, bread, proper
supermarkets, etc.)

The stop at Les Saintes turned into a very sociable one: first we bumped
into Mike and Nicola aboard Pandora, a Hanse 470 which had been in True Blue
Marina in Grenada at the same time as us, back in January. We spent a few
enjoyable evenings drinking, eating, drinking, swapping boaty stories, and
drinking. Next a very familiar boat came and anchored near us - Rusee de
Jersey (see blog "Newport yet again" of 24th September last year).
Unfortunately Yves and Dominique do not have quite enough hulls to contend
with the swell where we were, so they had to move to a different part of the
anchorage. We caught up with them a few times all the same, and their
guests Alain and his daughter Camille, over from Quebec for a holiday. A
good time was had by all.

Until yesterday morning that is. I was cleaning the cooker hob (yes
really), when it started to fall apart from underneath. Don't worry, I
won't be doing it again! A closer inspection revealed much rust and a large
hole under the gas burners. Not very safe. A quick google revealed that
the parts are no longer available. After some investigstion, we discovered
that a chandlery (swindlery, as Mike and Nicola call them!) at Pointe a
Pitre in Guadeloupe had a suitable replacement, albeit at a not terribly
suitable price. So off we went, arriving late afternoon. Today's timetable
has been divided as follows: 10% fitting new hob, 90% shopping around for a
replacement olive (miniscule washer-like gas pipe fitting which should cost
about one centime), only being able to find one in a €12 kit of other bits
for which we have no use. Ho hum.

Anyway, we are now anchored just south of the Riviere Salee, which separates
the two main islands of Guadeloupe, having come up from Pointe a Pitre. On
the way we passed by the giga-yacht (apparently that is a real word) simply
called "A", which belongs to a Russian billionaire, who incidentally is
younger than Lorraine and I, and had the thing built for 300 million US
dollars. See attached photo. Back to reality, and we have to wait for a
bridge to open to let us through, which will be at 0500 tomorrow, so an
extra-early start for us tomorrow, and after navigating the river we will set off towards English
Harbour in Antigua. We will probably be there by the time you are reading
this, as there is no internet accessible from here. Forecast is for it to
be quite lively - more about that next time, I guess.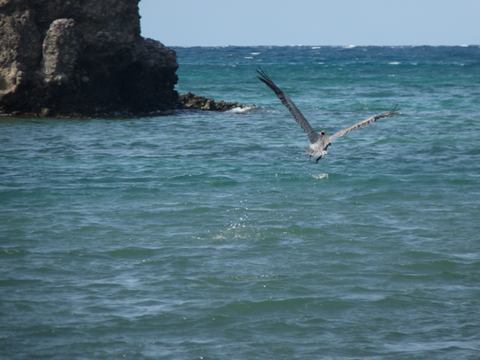 ---