Paradise - well almost

Catacaos
Graham Shaw
Sun 15 Nov 2009 23:26
Oh so lovely to be here, it was worth the 9 days at sea to be just here. I
had forgotten how blue the sea is and how white the sand is. We were
straight
in the water, Lucas very keen to be in the water too. There were tears when
he
had to come out, he has turned into a water baby.

We cleared into Virgin Gorda, then stopped at the Yanmar dealer to pick up
lots of engine bits
and pieces as well to replace all the things we broke on the way. We met up
with Linda & Steve from Jersey, who were very lucky to win a trip to the BVI
on a charter boat. They extended their one week to two, which was great for
us
as we could meet up. It was nice to catch up with the Jersey gossip, and
have some drinking companions. (picture with them on their charter boat on
the way to Norman Island)

We stopped a day in Road Town to do all the mundane items which needed to be
sorted, plus Gray's
front tooth fell out while snorkeling, lucky enough it ended in the snorkel
so he
just had to find a dentist to glue it back in. (this is why he is not
smiling in photo!) Also an important issue was to
find a phone that would work throughout the Caribbean.... +1284 342 8115 is
our new
number for all those people who want to phone, it also can send and receive
texts,
which makes life much easier.

We have done a lot of touring around the BVI, Virgin Gorda to Norman Island
to The Indians, Road Town, Soper's Hole ( where we met up with Steve and
Linda
again for a night out on the tiles), Diamond Cay, Sandy Spit (Jost van
Dyke), White
Bay, Cane Garden Bay, Privateer Bay Caves at Norman Island again, and back
to Road island to pick up some bits of
metal. So we have packed it in, but I have to say all I feel I have done,
is swim, snorkel and beach, so very relaxed. Gray did go to work yesterday
finishing the steel works on the back holding up all the new antennas. I
decided to make an effort and do some work so I scrubbed the bottom of the
boat,
to discover, we had sustained some damage to our keel (we think when we were
in
Barrington, Rhode Island) She will have to come out to be fixed, not urgent
but another
job for the list, next time we do the antifouling paint.

Today going to the caves Gray jumped in and was swimming for a while, Lucas
was about to go in, when Gray put his mask on to realise that a very large
Barcuda was sitting under our boat, and promptly jumped out again??? They
have
very nasty teeth but I have not heard of them ever attacking a person? He
did not go away and stayed while I went out to the caves for a good roam
around underwater. One was quite dark, a little eerie, luckily for me
someone
else was there.

Anyway that was enough of fun fun fun, will head off in a few days to St
Barts, if we can tear ourselves away from this lovely place. One down fall
very few cruisers, mainly charter boats so most people keep themselves to
themselves.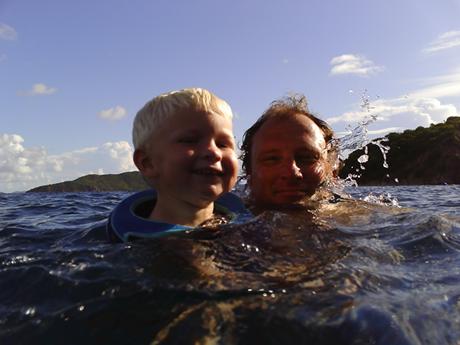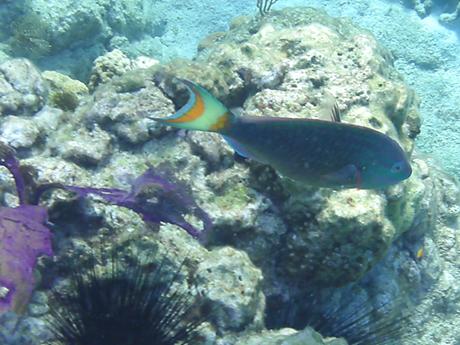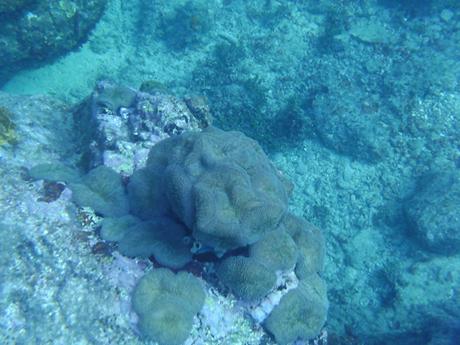 ---