Vanuatu and New Caledonia

Catacaos
Graham Shaw
Thu 24 Nov 2011 22:35
Vanuatu and New Caledonia - two countries which many folk will have never heard of. The last blog had us just arriving at the island of Tanna towards the southern end of the 80 or so islands which make up the country of Vanuatu. It has an odd history in that it differed from other Pacific island nations which were generally either part of the British Empire or ruled from France: it was jointly ruled by both these countries. The government was known as a condominium, though was often referred to as pandemonium. There were two police forces, two judicial systems, two education systems, and much chaos apparently. Anyway, it eventually became an independent republic (on Lorraine's 9th birthday, for anyone who's interested), though there are still French speaking schools and English speaking schools, and a lot of the people who can speak a language other than their own native language, are able to speak both English and French, although I got the impression that English was the more dominant of the two.
We were anchored in a small bay called Port Resolution, on the eastern side of Tanna:
Vanuatu is the most third-world of countries we have visited so far, with the people living in very traditional fashion. Below are dugout outrigger canoes which the men of the village use daily for fishing.
Man shore-fishing with bow and arrow: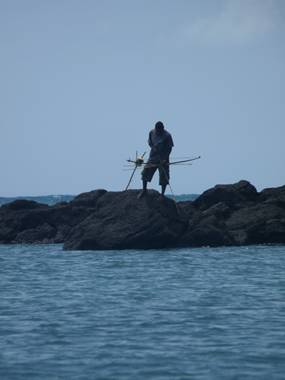 Port Resolution Primary School: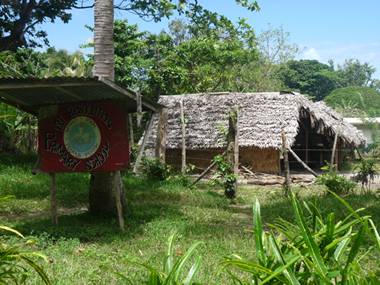 Below, one of many Banyan trees. These enormous trees are said to be the ones from which the modern-day "sport" of bungy-jumping originated. Instead of the chemically produced stretchy polymer rope used in commercial bungy jumping operations, the traditional Vanuatu version uses vines hung from the banyan tree, and young men are required to leap off with the vine tied round thier ankles, as part of a rite of passage into adulthood.
One very docile pig - those are puppies suckling from the sow!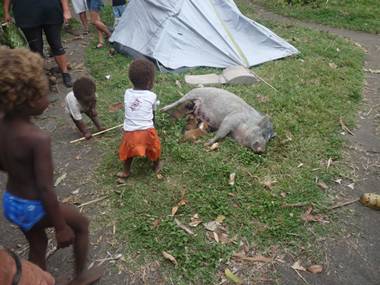 The highlight of a visit to Tanna is a trip to the volcano. A crowd of us yachties hung on in the back of a four wheel drive pickup truck for an hour over very rough dirt tracks to reach the base of the volcano, late in the afternoon. A few minutes later we had hiked to the rim of the crater, and were rewarded with the sight of steam and ash blowing out:
This is one of the world's few active volcanoes which you can get close to in relative safety:
As it started to get dark the display started to become much more colourful:
After four days in Tanna, we put to sea again, bound for New Caledonia. Two rough and windy days later we arrived in Noumea, the capital of Nouvelle Caledonie, as the country is known in French - it being an overseas territory of France. The population is split about half and half indigenous Melanesian Kanaks and Europeans. The main island, Grande Terre, is the fourth largest in the Pacific, at nearly 6500 square miles and with mountains rising to 5400 feet. Mining is New Caledonia's main source of income - there are many mineral deposits here, including the world's largest quantity of nickel, as well as signaificant amounts of cobalt, chrome, manganese, mercury, lead, silver and even gold. There's probably a clue here, if anyone is wondering why it is still ruled from Paris and it had not yet become an independent country!
It was nice to be back in French islands again, with no charges for customs and immigration, etc - most of the Pacific Islands are expensive in this respect, a hundred plus dollars in some cases. Also for us, the familiarity of a Champion supermarket, and Mr.Bricolage for a few odd boat repair items, was most welcome!
Having said that there was no charge for the formalities, we were required to be alongside for the officials to come aboard, which meant paying for a marina berth. We haven't been in a marina in a very long time, and decided that we quite liked the idea of electricity and water, and just being able to step off the boat onto the dock, and because it seemed pretty cheap, we treated ourselves to a week alongside:
Being alongside is a bit like living on the land. This was evidenced on Halloween night (Graham's birthday, for anyone who missed it) by the presence of trick-or-treaters - something you don't normally come across in an anchorage! These kids had obviously made a big effort, so were rewarded with suitable treats:
Lucas enjoying being ashore, and having some bigger things to play with:
There were quite a lot of kids on boats in the marina, so he made some new friends, and caught up again with some old ones. Much the same story for his parents!
The time in the marina was used profitably, cleaning and tidying the boat up, and fixing lots of little things and so on. After New Caledonia, our next stop is Australia, some 800 nautical miles further west. As most of our blog readers know, Australia is going to be the end of our journey. Somehow three years has flown past since we set off from Europe at the end of 2008, and the time is rapidly approaching for us to return to "normal" life. Lucas is going to turn five next year, so will need to go to school; and we have to come up with a plan to generate some more money, as funds are running low! We intend to make landfall in Australia at Bundaberg in Queensland, and from there we will cruise south to Mooloolaba over a couple of weeks, where Catacaos is to be listed for sale with a yacht broker (a bit like an estate agent for boats). We are optimistic that she will sell quite quickly, but whilst waiting for that, we plan to see a bit of Australia and also to fly to New Zealand to visit family and friends and travel round a bit. After that the most likely scenario is that we will return to Europe having made some sort of plan as to what we're going to do and where we're going to do it. Watch this space for details......
---