Onwards south we go

Catacaos
Graham Shaw
Sun 23 Jan 2011 13:39
Well Mummy arrived safely, and the wind was good so we thought we'd make a quick exit down to Guadeloupe. We ended up with another passenger, Philippe from the boat next to us in the anchorage, who was going to fly down there, but as we were going that way he jumped aboard . Little did we know he had been a chef for 28 years and also is a very good fisherman. Put to the test, he came up trumps: he caught us a Rainbow Runner which he turned into some very tasty sushi for pre lunch, followed by fillets for lunch, which were both yummy, and a first for sushi for my Mummy. She just hasn't lived eh? The idea not scare my mum to death sailing in the big blue water, was not to go out in more than 20 knots of wind. Now all those who sailed in the Caribbean last year would say this was a easy task, but this year it seems the forcasters have forgot to add 10 knots to their estimate. The first sail started out nicely, with up to about 18 knots, but by the time we reached Deshaies in Guadeloupe it was over 30 knots. It's a good thing my mum took it in her stride and took a Stugeron (anti-seasickness pill) just in case. We then followed the coast down to Les Saintes, but had to do a slight detour at the end, as we could not hold the course, and ended up coming up from the bottom of The Saints, again with the wind around the 30 knot mark. (forecast 20 knots).
We spent a number of days in The Saints, with a bit of hiking mixed in with lunch and a few refreshing beers, all the while waiting for the weather to calm down, and of course a bit of shopping.
We arrived into Martinique with a little better weather, but no fish - clearly not watching Philippe closely enough. We stopped in St Pierre, then Grand Anse d'Arlets, Le Marin and St Anne. We hired (rented, for all our US readers) a car, as we need to pick up some stuff for the boat, of course, so we managed a little tour up to Le Jardin de Balata, which was very pretty. We also did a big stock up, in anticipation of our Pacific crossing, as this is the cheapest and easiest place to get tinned food for example.
We then sailed down to St Lucia to fly my Mum back to Antigua. We missed Dominca out which I think is such a lovely place but you just get hassled too much, it puts you off going back there.
Lucas was was very sad to leave his friend Marlin when we left Antigua, but loved having his Grandma here to twist around his finger when he could get away with it. He's still growing up too fast.
After Mum flew out we headed to Bequia in the country of St.Vincent and the Grenadines, but because customs would not clear us out the previous day we had a late start, so ended up arriving in Bequia in the dark. Thinking no boat boys would annoy us by that time, I lived in hope, but no, they were there, and one would not take no for answer - I almost got cross with one of them. We left the next morning to dash to The Tobago Cays, which are always lovely, nice to have my last fix of swmimming with the turtles, maybe? Tomorrow off to meet up with Yves and Dominique on Rusee de Jersey, then a dash to Grenada for the next guest. I am hoping we will pop back up to Tobago Cays and Mustique for the music festival in the next week or so, depending on the weather.
My first Moonbow sighting in Martinique it was aweome. There has been a lot of rain, so not unusual to get one with a big full moon. What has happened to the Caribbean weather this year?
One thing which was missed from previous blog was one night after too many beers in the BVI, we stopped off at Dragonfly on the way home but when we came to leave our dinghy had disapearred, some one not tied it on properly. Thankfully and very very lucky the wind just blew it onto the nearest sandy beach, if we had been facing the other way, we would be still searching for it. It also had the shinny new engine on it. The person who did not tie the boat up, will remain unamed but he is not allowed to tie up anymore!!!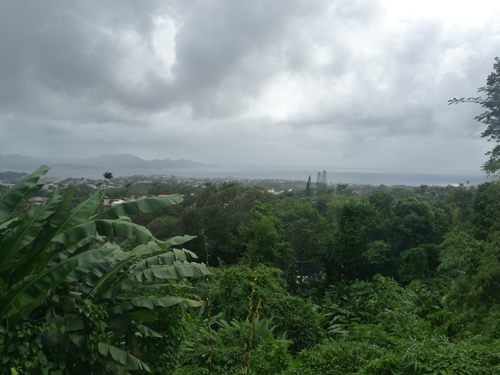 ---