Grenada

Catacaos
Graham Shaw
Tue 15 Feb 2011 21:38
I know, I know. No blog since almost forever: what are we doing with our time? Lindsay's formal complaint has been noted. So sorry to all you blog-reading folks, promise to make more frequent updates.
We last left off going to PSV (Petit St.Vincent, the southernmost of the Grenadines), meeting up with Rusee de Jersey, which was a lovely catch up. We had been hoping to go back up after picking up our next guest. We also took a wander on Petite Martinque (one of the islands of Grenada), which has a unusual amount of cemetries, and lots of goats and sheep. It was quite a unusual place, quite desolate. But perculiarly has some of the cheapest diesel in the West Indies.
After spending a lovely evening with Dominique and Yves, catching up with their travels, we had a fab sail down, the best this season so far. The wind was aft of the the beam, so for a change we were not banging into the sea, and we made it down to Prickly Bay in Grenada at good speed, just in time for Happy Hour at De Big Fish, and see the lovely Kim and Rikky. And yes, a number of cold Caribs.
Well it is lovely to be back here, we have a number of jobs to do before we take our next hop down to Bonaire, but first we had Kim for two weeks (Guernsey Kim, not Big Fish Kim). I knew I had to get in training, but I clearly underestimated how much training I needed. I feel the last two weeks have passed in a blur of drinking and partying, but it has been great fun. We have made the most of the live entainment in Prickly Bay, which included music as well as other boat antics. Our mornings usually consisted of trying not to catch sight of our neighbour, who strutted around his boat naked all of the time, therefore was known as the naked man. It just so happened one Friday night he ended up next to us at the bar, of course I could not contain myself to confirm he was the naked man, so a drop of his shorts exposing his bum confirmed all, and yes he did move the next morning, clearly thinking we are all perverts on our boat.
Prickly Bay is really one big family, where everyone knows everyone, and generally after a few weeks here, you are classed as a local to the Bay, as much as everyone else is. We have made some new friends, and met up with some old, and it has been lovely catching up with everyone.
Lucas has had a ball playing with lots of children from other boats, he always seems the youngest but not necessarly the smallest, I feel he will find it hard leaving here.
We were going to take Kim back up to Tobago Cays, but the wind was just not co-operating, so we decided to stay put. Kim was a big hit in the anchorage, specially with all the men, not so much with their wives and girlfriends though. One man, an artist, painted her a picture of his travels which was beautiful. Clearly you can see from the number of pictures most of the time has been spent in bars. Many scrapes and bruises are still unexplained, but I think the best one is Rikky from the Big Fish having broken a rib. Maybe falling off the bar??? No one has a picture of it.
The two weeks went fast, and although it was a drunken haze, it was lovely having Kim to stay. We shall miss her lots. Now time to detox and a few early nights. Well until the next happy hour?
It's now time to get fixing the boat up. Gray re-did the bathrooms, with wooden tops and new taps which are lovely, and he now just needs to fix the overheating problem on the starboard engine. We are waiting for parts for this at the moment. Ordered 3 weeks ago with a promise of a three to seven day delivery. This is the Caribbean after all - no rush man!!!!!! Hopefully this will all be sorted shortly, then up and away we go. We'll give the boat a good clean, as we have been here too long, and my cleaning duties on the underside of the boat have been very neglected. I feel the time we have stayed in Grenada waiting for parts will take it's toll on the amount of barnacles, etc.
It's a short blog this time, and I'm sure no-one wants to hear of our drunken nights. Well, apart from one. Gray was completely blasted on three rum punches. Be very careful of the rum punches in De Big Fish. He was very funny, and had to be helped home, after chatting up all the women in the bar (I had to go and appoligise the next day), decided to take a mid night dip, Kim was worried he was going to drown him self so went it also to make sure he was alright. Payback time the next day, and funnily enough he has not had one since!!!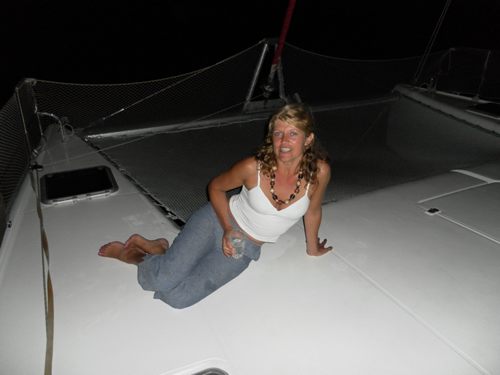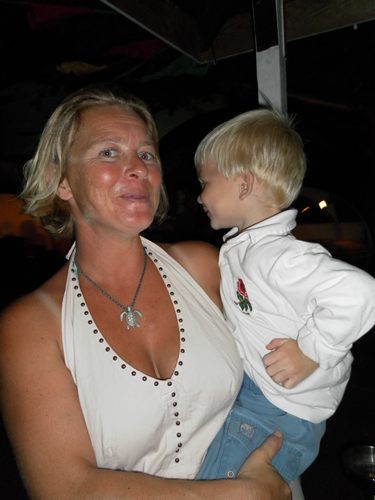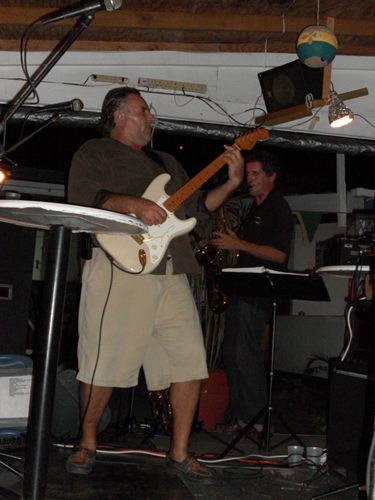 ---