Newport to Onset to Plymouth Massachusetes

Catacaos
Graham Shaw
Mon 5 Jul 2010 20:23
Well what a fun-packed time. On the Saturday before departing Newport we managed to go up
the river to watch an air display, which was very special. As you might know the
Americans do it big, or not at all. So we had a real treat. We arrived in the
anchorage early morning, with only a few boats about, including Discovery
Magic who actually informed us about the air display. Discovery Magic is
the newest design from the Discovery range of boats, this being their first catamaran. Discovery boats are very nice generally, so putting all their talent into a cat I thought would be
interesting. It is beautifully laid out, with good BDC. A lot of thought has gone into
this boat which will be showing at Annapolis boat show for anyone interested, if you
are looking for a 50 ft cat, have a serious look at this one. Anyway back to
airshow which went on for nearly 5 hours with a finale of the Thunderbirds,
which are a bit like the Red Arrows, just bigger and louder. Personally I think the Red
Arrows beat them hands down. By the end of the airshow, there were hundreds
of spectator boats; it was mayhem.

The following day we took Lucas on a train ride, which as you can imagine he did
not shut up about for the next 24 hours. The ride was through the navy yard
where the big aircraft carriers are decommissioned, and then sent down to
Florida to become a artifical reef.

Anyway time to move on, so off up the Cape Cod Canal. Stopped at Onset night
before transitting the canal. We worked out the correct time - sorry Gray
worked out - to transit the canal as the current is pretty strong. Had a
fine sail up to the canal entrance with the spinnaker up, first time in a
very long time. Lovely to have the wind behind for a change. We ended up
with almost 6 knots of current running with us throught the canal. This
canal saves us 175 miles round trip around the outside of Cape Cod. We then headed
for Plymouth, Massachusets (not Plymouth Devon.)

Plymouth is famous for the Pilgrims landing here on the Mayfower from
Plymouth, so basically Plymouth, Massachusetes is full of Plymouthians from
Plymouth Devon UK, just with an American accent. It's a lovely place, a lot of
history here. Another treat was live music that night too, and we did lots of walking around the
sights.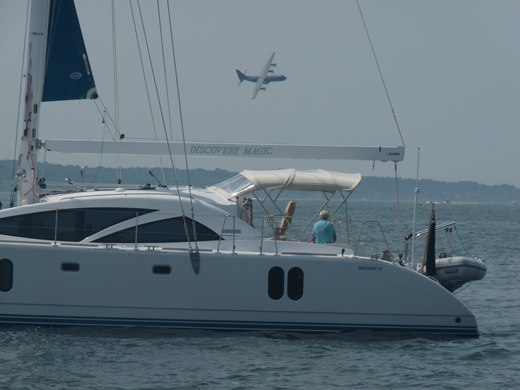 ---