Onwards and Upwards!

Catacaos
Graham Shaw
Sat 4 Apr 2009 02:10
15:58.8N 61:43.3W

We've realised we need to press on a bit now if we are going to get out of
the Caribbean before hurricane season, and up the east coast of the States,
as we intend. So, after a longer than planned stop in Marin, (partly due to
a cashpoint withholding one of our cards, and the bank being shut until
Monday morning!) we sailed round to St.Pierre (debit card in hand) on the
northwest corner of Martinique on Tuesday. This longer than planned stay
was good, however, as Lucas met a new little friend, James, who is on his
way down to Grenada with his Mummy and Daddy (Jaanna and Chris) on their
Moody 44. James came over to play a few times - the boys enjoyed playing on
the trampoline at the front of our boat, whilst the grownups embibed a
little too much in the cockpit!

Anyway, after seeing lots of dolphins on the way (Lucas was very excited),
we anchored at St.Pierre for the night, did some shopping at the 8 a huit
(which shuts at half seven!), managed to clear Customs and Immigration (only
just), and set off again on Wednesday morning bound for Dominica. For those
a bit lacking in Caribbean geography this is the Commonwealth of Dominica,
not the Dominican Republic - a whole different country altogether, and a
very long way away.

We decided not to stop at Roseau, the capital (due to the presence of cruise
ships - likely to be lots of people trying to con the tourists out of their
cash), and continued on up the coast to Portsmouth - a very pleasant little
anchorage, albeit with a heavy concentration of boat boys (some are very
professional folk with good boats with outboard motors who come and offer
good services - taxis, tours, laundry, ice, you name it; others paddle out
to you on half a broken surfboard and demand that you pay them to guard your
dinghy while you're ashore, for example). Anyway, we enlisted the services
of Andrew, aka Seabird, who came recommended by friends and also by the
Cruising Guidebook we use, to take us on a tour of the Indian River - see
photos below. This was apparently the location for some of "Pirates of the
Caribbean Part 2". It has been referred to as a mini-amazon (very mini, as
it took Andrew about half an hour to row us up the navigable part of it!).
It is absolutely stunning, and as no powered craft are allowed on the river,
it was incredibly peaceful. The was lots of wildlife which was very tame,
and lots of fish (no fishing is allowed). The river is saltwater at the sea
end, fresh at the top obviously, and brackish in the middle, so the variety
of fish was amazing. I was surprised to see mullet a long way up into the
freshwater bit.

Lorraine went horse riding again, this time in the rainforest, and it was
apparently the best riding yet - just her and the guide, with lovely
scenery, good horses, steep climbs (feel's like hunting again) and english
saddles! I think the guide was a little disappointed that Lorraine missed
the parrots - she thought they were just some random birds flying overhead,
and paid no attention! After a meal ashore, we made for an early night, in
order to make an early start this morning.

Today we have sailed on up to Guadeloupe, where we have anchored just south
of the Marina de Riviere Sens near the capital, Basse Terre. This is going
to be the only stop we make here, as we feel it needs more time than we have
at the moment, so will have to wait for the next time we pass this way
again. Much as in Martinique, it feels as if we are back in France again.
We have shopped in the 8 a huit (which shuts for lunch!), and had galettes
for lunch at a little creperie.

Tomorrow (Saturday) we plan to set off for Montserrat, an island which was
devastated by a volcano eruption in 1995. Much of the island, including the
capital, lies in ruins, and the population is only about a third of what it
formerly was, but they are trying to encourage visitors back. Wait for the
next installment to see what we make of it....

Pictures of diamond rock off martinique, what real sailing all about
brasserie Lorraine, also have a beer named after her, Lucas with James, indian river, rainbow in marin, cargo ship with
yachts.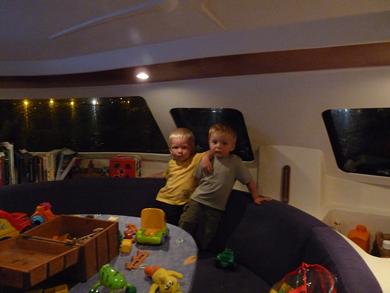 ---