Day 20: Fes

Soutpiel Safari
John & Jenny
Wed 24 Nov 2010 20:30
Day 20: Wednesday 24 November 2010. Camping International, Fes. N33 59.909 W004 58.117 Distance driven 0 km
This campsite is not terribly good, but better than the alternative in Fes. We haven't had a good camp site yet in Morocco. They all suffer from poor maintenance, poor cleaning and abominable plumbing. Toilet blocks always seem to be swimming in water from leaking plumbing, cracked tiles and normally no hot water. This one does have hot water, especially since I tweaked up the thermostat behind the water heater, trying to avoid being electrocuted in the dark on a wet floor! Still, everyone seems to be appreciative, especially one of the locals who slunk in from the woods for a shower! We met a group of Brits this morning who said that better sites do exist, but personally I'm looking forward to bush camping.
Today we engaged the services of Ameena, an English-speaking tour guide to give us a conducted tour of the old Medina. Before starting we established with her that we were not in the market to buy carpets, leather goods or souvenirs and that we didn't need the services of a personal taxi to wait for us at a cost of Dh 400! Once we got things straightened out she was pretty good, although she had obviously not come expecting to do so much walking judging by her shoes.
We had a fascinating tour of the medina and the souks within it. We walked along all the old alleyways and soaked op the atmosphere, often almost being knocked down by hand carts of building materials pushed at breakneck speed and over-loaded donkey carts carrying 20+ gas cylinders. We visited the madrassa (school of religious instruction) with it's wonderful zillig tiled decoration and the tannery, which was an amazing spectacle with working practices reminiscent of the chemical industry in Europe in the 1800's. Modern day Health and Safety and environment regulations seem unknown here. Men were working in circular concrete dye vats up to their knees in dye and others were working in similar vats in an ammoniacial solution which separates the skins from the hair. Apparently, they work with the same colour for a week and then on Fridays have a colossal clean out ready for the next week's colour. On Friday every vat gets washed out, untreated, into the local river!
Donkey transport in medina at Fes Oloive and dates stall in medina at Fes
Fabric weaving in medina at Fes Gate (bab) into medina at Fes
Outside the medina at Fes Window at Riyad Alhambra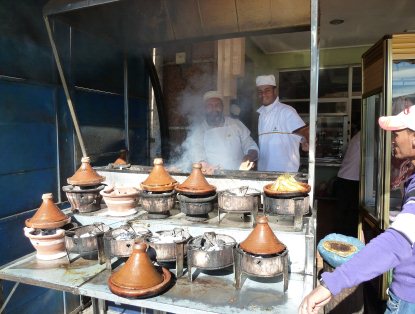 Tagine lunch at Khemisset Kasbar at Rabat
---