Two oceans, One (Very busy!!) day (MISSING BLOG POST)

Hamble Warrior
Jamie Hickman
Tue 25 Jul 2023 06:21
The Panama Canal
1st March - 22nd March

Transit of the panama canal for all yachts under 65ft requires a minimum crew; a canal transit advisor provided by the canal, the captain of the ship and at least 4 additional crew to act as line handlers (2 for the bow and 2 for the stern). As we were transiting at a busy time of year we knew it was highly unlikely that we would actually need 4 line handlers as the most likely scenario (as turned out to be the case) was that we would transit "nested" with other boats; which means 3 boats are rafted together and two lines are managed by each of the outer rafted boats. However, in order to comply we needed to have 3 additional crew to our usual set up of just the two of us; and apparently Meep didn't count as one!!!

We already had Lindy on-board and another friend of ours; Christina, was flying out to join us on-board. Christina is an experienced sailor and keeps her boat "Amy" in Torrevieja which is where we first met her. Christina flew out to Panama a couple of days before the transit and came out to meet us in Portobelo. This left us with one more crew place to fill and we advertised on the local Facebook groups and crewing pages to see if anyone would like to join us. Our hope had been that another cruiser would answer the call to gain experience before their own transit as we had heard that was quite common, but alas sadly not. However, we struck gold when we received a message from a lovely Danish lady called Mai who was arriving in Panama with her Dad just before we were due to transit and hoped to go through the Panama canal as line handlers. It turns out her Dad had done the transit on a big ship as a very young man and his dream was to do it again and share the experience with his daughter. We had concerns about 2 additional crew as we really only needed one and we didn't know how we were going to accommodate everyone but Mai was so keen to join us and even said she would sleep on deck; it seemed a shame to say no. We are so glad we took them both because they were so lovely and complimented our friendly little crew perfectly; they were also extremely capable line handlers as they were both very experienced sailors; and very handy in the galley as we soon learned making us Polynesian cocktails the night before our transit and serving up the most amazing crepes for our breakfast after we completed the first set of locks on transit day.

As luck would have it Mai and Borge (Bob) were in Portobelo the day before we set out to Colon where they were due to join us and happened to be sitting outside Casa Congo when we took the dinghy ashore to run our errands that day. Mai recognised us from our Facebook pictures and came to say hello. Having met them both we were in no doubt that we would get along brilliantly on the boat and we made our arrangements to collect them from the anchorage near Shelter Bay Marina ahead of the transit.

Christina arrived on the 27th February and we met her at Casa Congo with a large glass of wine and a hot meal on-board. It was lovely to catch up on all her news and felt nice to have all our crew in Panama at last.

We phoned the canal authority to confirm that our transit was still booked for the 1st & 2nd March and we were told that they would now like us to transit the canal in a single day rather than over 2 days with a night anchored in the Gatun Lakes as we originally planned. Apparently there was a shortage of transit advisors available and so to get everyone through they wanted us to be ready to leave at 4am on the morning of the 1st March and we would be through by that afternoon. We agreed to this new arrangement and the following day we said goodbye to Portobelo for the final time and set sail for Colon with Christina and Lindy. We arrived at the flats anchorage just outside Shelter Bay marina shortly after midday. Jamie and Christina went ashore to collect the lines and fenders that we were hiring for the transit and to drop some mail off to some of Christina's friends who were in the marina. Whilst they were ashore Lindy and I set about prepping the boat ready for our additional crew. Jamie returned with the lines and fenders and we got Hamble Warrior "dressed" for her big day. It was a busy few hours as we had to clear the decks to ensure we had plenty of space to move about; we also needed to ensure there was nothing that could easily get damaged when the lines were being thrown the following day. The canal line handlers send down "messenger lines" to attach Hamble Warrior's lines to and these land on deck with a "monkey fist" knot in the end of them, there is always a danger they can cause damage when they land on the deck so it's important to protect anything that could get damaged and also to ensure there's nothing unnecessary on deck that the lines may snag in. This meant we had to cover our solar panels to protect them and move any gear attached to the side decks such as our magma grill, stern anchor chain and life ring. The final job once we had all our crew back on-board was to lift our dinghy onto the foredeck rather than onto the coachroof where she usually sat. This meant Jamie had good visibility through the dodger although it took 4 of us to wrestle her into position!

Once we had Warrior ship shape Jamie went ashore to collect the rest of the crew and we enjoyed a lovely evening on-board with Mai, Bob, Christina and Lindy. We were already tired from all the preparations and had a very early start the following day so we all set our alarms and turned in for any early night. With bunk space at a premium and knowing the canal advisor would be dropped off shortly after 3am Jamie slept in the cockpit.

Mai's cocktail definitely helped me get to sleep but as soon as the alarm went shortly after 3am I was wide awake and out of bed with the adrenaline already pumping. Of all the different parts of our journey so far this was by far the one I was most nervous about. Far more nervous than crossing the Atlantic; far more nervous than the rough passage along the coast of South America. On the face of it there was nothing today would bring that we hadn't already done many times before; rafting alongside other boats and handling lines in locks was all stuff we had done hundreds of times before but this canal wasn't built for little minnows like Hamble Warrior, it was built for the enormous Panamax cargo ships and cruise ships; gargantuan vessels alongside which Warrior shrinks to near insignificance. Although many small yachts pass through the canal every year and damage is rare there is still a sizeable risk when small vessels are sharing the canal with these behemoths that damage will occur. Especially when the cargo ships put their engines into gear in a small body of water; the smaller boats get thrown around with such a force that cleats can get ripped out of the deck and masts can clash together with both fenders and crew put to the test.

Despite my anxiety I was still a little excited as we guided the pilot boat alongside by torchlight and our canal advisor "Lewis" leapt onboard in the early hours of the morning. Lewis wanted to get moving straight away so shortly after 4am we lifted the anchor in quite rough conditions and set off towards the twinkling lights of the bridge whilst Lewis explained the configuration of other yachts we would be joining to go through the locks.

Passing under the Atlantic bridge in the pitch dark with the sounds of birds and monkeys screeching ashore felt like the beginning of a truly amazing adventure and with Lewis' calm nature and clear instructions - and a competent and friendly crew - we were soon buzzing with excitement.

At 0530 we tied up to S/V Tui who were the centre boat in the raft with a smaller yacht already tied alongside their starboard beam. The canal advisors on each vessel worked together giving instructions to all three captain's and their crew and at 0543 we entered the first lock behind an enormous cargo ship "Cool Eagle". The shoreside canal handlers threw down the messenger lines and for this lock we had Christina handling the stern line from the cockpit and Mai and Bob on the bow. The messenger lines were attached to our lines and the shoreside handlers pulled them back ashore and secured them to bollards. Once this was all done the lock gates closed behind us and Hamble Warrior said farewell to the Atlantic.

These first three locks are the "upward climb" and the more tricky for it. As the lock fills the boats surge about and it is important for the line handlers to keep taking up the tension on the lines as the boat rises up in the lock in order to minimise the amount of movement and stop the boats smashing into each other. Mai and Bob did a great job of keeping up the tension on the bow line and in the cockpit Christina did an equally stellar job of taking in the stern line with Jamie assisting when needed and Lewis offering general guidance in his calm measured way. We completed the first three locks in this way with me taking over from Mai in the third lock to allow her to get down into the galley and start her crepe preparations for breakfast.

At 0718 we entered the Gatun lakes in the centre of the canal and untied from our raft allowing Tui and their starboard companion to motor off ahead of us. This was a lovely part of the day. With the difficult half of the locks now behind us we motored through the stunning Gatun lakes keeping our eyes peeled for the crocodiles which are well known to inhabit these waters in great numbers. Mai served us all up an amazing spread of sweet and savoury crepes and we all sat about happily in the sunshine taking in the surroundings.
At midday having re-joined SV Tui we entered the Pacific locks and began the process of lowering ourselves down towards the Pacific. For the Downward Passage our giant lockmate "Cool Eagle" followed us in to the locks so that we were in the front of the locks. As we passed her we spotted her crew all hanging from the upper foredeck waving and cheering us. The Pacific locks also have a large viewing area where tourists taking the "Panama Canal Tour" can view the boats transiting the canal and we could hear a voice over a loud hailer explaining what was happening as we lowered ourselves down. We also passed in these locks a huge target standing on the grass with a whole in the very middle. Lewis explained that the shoreside crews used this to practice throwing their monkey fist lines; apparently they used to have their own special "olympics" and compete for the title of most accurate throw.

At 1335 the gates of the third and final lock opened and we passed out into the Pacific Ocean. I went below and served the hot meal of Spaghetti Bolognese which I had prepared earlier whilst we motored through the lakes. Just as everyone started tucking in to their lunch a water taxi came alongside to collect our lines and fenders and we were able to sling these all down into the launch within just a few moments and away it went again; a perfect example of how efficiently everything had worked all day.

As we passed under the impressive and iconic Bridge of the Americas we heard a female voice over the radio that we had been hearing all day; we'd assumed she was working in the control centre for the canal but as she instructed us that she had a vessel ahead of her and was intending to "use her whistle" we realised she was infact the captain of "Cool Eagle". The small vessel in question was in her path and she intended to tell him to move; she was forewarning us as she didn't want us to think it was Hamble Warrior that was in her way and change course. When the "whistle" sounded it was multiple deafening blasts on her ships horn which, despite the warning made us all jump out of our skins!!! Fortunately it also got the vessel out of her way pretty promptly!

We finished our lunch and the pilot boat came alongside to take Lewis off. Again it was rather daunting having this huge pilot boat bearing down on us but they handled her as expertly as they had done on the previous 3 occasions and Lewis jumped smoothly on-board and was soon gone. We had enjoyed having him on-board and we were fascinated to learn that he actually worked for the canal security team and he did this job on his day off because he loved it so much. He told us all sorts of interesting facts about the canal and was rather disappointed that he hadn't been able to spot us a crocodile in the lakes.

Just before 4pm we had our anchor down in La Playita anchorage behind our old friend S/V "Viridian" that we first met in Antigua. We opened a bottle of fizz and some cans of beer and all toasted a successful trip. All too soon it was time to say goodbye to Mai & Bob who had plans to explore the city before flying home; we thanked them for their help and they thanked us for the experience.

That evening we had a cooling swim in the chilly Pacific waters and relaxed on-board. Our friend Greg joined us for the evening from Viridian and we had a lovely night celebrating our successful transit.

The next morning Christina left us to do some exploring and then join her friends at Shelter Bay to do the transit once again with them on their boat "Matador of Hamble".

For the next few days we explored our environs at Amadoras which is a very fun area with lots of Restaurants and street vendors where Panamanians come to relax. The long causeway is lined with grand marinas and expensive eateries and on the other side from our anchorage is the most incredible view of the Panama City skyline. From here we could use our rechargeable "rapi-pass" to ride the bus into the city for $0.25 each for a bus ride and $0.35 for the metro. The public transport is not only cheap but clean and with a regular service, we were able to take Lindy exploring the city a little before she was due to fly home. We visited the large fish market which homes dozens of brightly coloured and lively Restaurants all selling a variety of fish dishes, beers and cocktails. Our favourite was the "Cerviche" which is marinated fish and absolutely delicious. Before we left Panama this place became a firm favourite and we loved to head there at weekends and sit eating Cerviche and watching the bustling restaurants overlooking the beautiful fishing harbour.

Sadly it was soon time to say goodbye to Lindy too and we took her to the airport and said a teary goodbye once more before heading back into the city to console ourselves with fish and beer!

Now it was time to knuckle down and start getting Hamble Warrior ship shape and ready for her big Pacific crossing. Over the next few weeks we worked our way through a massive 2 page list of jobs including maintenance; upgrades and provisioning. We trekked around the city, the mall, supermarkets, car parts & hardware stores gathering the many items on our list to load up the boat. We topped our diesel tanks up with 100 litres to ensure we had full tanks and scrubbed out our water tanks and spare water cans and filled them up with nearly 800 litres of fresh water.

A few days before we left we visited the fresh produce market and spoke to a few stall holders from whom we ordered several kilos of green unripened fruit and vegetables and several trays of unrefrigerated eggs to collect the following week before we left. When we hauled it all back the following week we had about 40 kilos of fresh produce to stow on-board. We dragged it all across the city in backpacks and a large vegetable crate on the metro and once we reached the mall Jamie set me down with all the fresh produce near the bus stop and went off to lug another haul from the supermaket. In the end we got a taxi to bring us back to the Marina as we had so much stuff. It was only $6 and meant we got dropped right by the dinghy dock with all of our provisions. Because of the traffic the taxi took us on a very different route to the bus and we drove right through the edge of the city which was an eye opening experience. It was a reminder that despite the huge revenue from the canal (which in the last 20 year's or so has started going to Panama and not the Americans who ultimately funded it) which had built flashy metros and shopping malls, runs efficient buses and provides a wealth of other infrastructure... but despite all of this there is still huge poverty in much of panama city. It was a sobering trip.

We also had to make two final trips into the old town to visit the French embassy again. Our long stay visa for French Polynesia that we had applied for 6 weeks previous had now been approved and we dropped our passports off at the embassy to have the visa stamps put in to them. We arranged to collect them on the morning of Jamie's birthday as we decided it would be a good job to get done that would be a bit more fun than maintenance jobs or heavy provisioning.

We had a lovely day collecting our passports and wandering around the beautiful old town. We treated ourselves to an ice cream and browsed the shops and stores for the odd items still on our wanted list. Then we hit the fish market for lunch and in the evening joined Greg at our new favourite spot back in Amadoras which was the little bar area outside the "Tienda" (supermaket) where we could buy rum and cold cans of cokes or beers in the shop and then sit at the little tables looking out towards the cityscape of Panama over the water. This spot became our "local" whilst we were staying at the anchorage in La Playita and by the time we left the owner would lock up at 10pm and hand responsibility over to us to turn the lights out when we left!

Those last few weeks in Panama were an exciting and productive time. We had fallen in love with Panama the country already and during this time we fell in love with Panama City too. We worked hard getting ready to make our Pacific passage but we also enjoyed the city and spent a lot of time socialising with our friends from Viridian; Greg, Jan and their son Ed who had joined them on-board recently. It was fun to spend evenings drinking and eating together and talking about our Pacific preparations. We spent hours talking about what provisions we would carry, what we had packed in grab bags, medical stores, alcohol and fresh produce. We also spent many nights talking about weather and routing and when we would actually depart. Hardly surprising then that when it came to leave we left within 30 minutes of each other!! We hope to see each other again in a few weeks time when we all arrive into French Polynesia but as we watched Viridian on the AIS tracker when we departed it was likely they were going to arrive some time before us. Within a matter of hours their larger boat with its longer waterline had carried them ahead of us and out of sight. My lasting regret is shouting "last one there buys the drinks" as they sailed past us!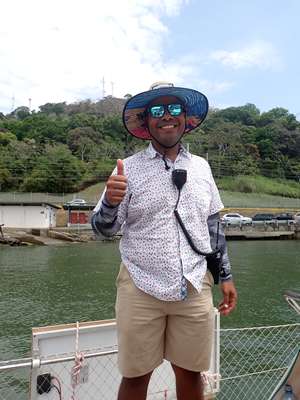 ---