Aruba stop over 12:30.534N 70:01.992W

Hamble Warrior
Jamie Hickman
Fri 9 Dec 2022 22:27
Aruba
29th November - 5th December
It took us a few days to decide what we would do once we left Bonaire. We had still harboured hopes of visiting Curacao but the health certificate we had obtained for Meep prior to leaving Martinique was now out of date for the authorities in Curacao. In the meantime we had speculatively chanced an application to import him into Aruba and been issued the appropriate paperwork within the hour. Therefore it seemed fate was driving us towards breaking up our trip to Cartagena in Aruba. This appealed greatly as a stop off in Aruba put us 100 miles closer to Cartagena and therefore meant the appropriate weather window we needed for that passage should be easier to identify.

Nevertheless we still had a couple of days procrastinating before finally slipping our lines and sailing out of Bonaire and reluctantly passing Curacao heading west.

We had good conditions for the first part of the trip; winds were force 4/5 and we had a bit of current with us as well so by the time the sun had set we were romping along the North East coast of Curacao enjoying the distant twinkling of lights. Annoyingly at 2am on Wednesday morning whilst about 15 miles off the bottom of Aruba our steering became sluggish, when we investigated it seemed we had what appeared to be some bamboo snagged about our rudder. We reefed down all the sails and Jamie spent the next two hours trying to dislodge it. When we finally managed to wrestle it aboard it was a massive tangle of woody tendrils easily weighing 15 kilos... and man is it strong stuff; you can see why they build houses from it! We had several squalls come through during this time and once we had cleared enough of the debris to get moving again we hand steered for a while until we were sure we could trust our windpilot to take over. We both got absolutely drenched and the rain was so hard it even penetrated the deck hatches and soaked our sea berths! Next morning once we were in the lee of the island Jamie went overboard and cleared the last of the bamboo so that we could be sure it was safe to turn on the engine and enter the port to check in. He found that he had cleared most of the debris during his night time "wrestle" but he dislodged a little more with his makeshift boathook "Trident" and checked that the prop was clear of any fouling.
At approximately half past 9 on the morning of 30th November we raised our Q flag; tied on our fenders and radioed the port authority of Aruba to gain clearance to enter the port. After a little confusion we tied alongside the customs dock and some deckhands from the commercial ships in the port kindly took our lines and welcomed us. Unusually Jamie took our paperwork and went to complete our arrival formalities alone whilst I set about trying to get us tidied up and start stowing gear away. When Jamie returned with us all stamped in he showed me his shredded and sore hands from wrestling the "tendril" the night before. He hadn't realised how sore they were until he had to hold the pen to fill in multiple forms and in my absence had to battle on alone... He noted it looked like we had been checked into Aruba by a five year old!! We didn't take long to sail the few miles Oranjestadt and hang out all of our wet clothes to dry off in the gorgeous Aruba sunshine and at 1130 in the morning went to bed for some much deserved sleep! As we headed down the companionway I noticed Meep was disemboweling something on the cockpit sole.. he'd found a flying fish from somewhere and was tucking in enthusiastically! I left him to enjoy it; he had earned this one, we all had! We had fought hard to gain those 100 miles closer to Colombia!

The anchorage in Aruba was a lovely little gem. We looked around and recognised several of the neighbouring boats - mostly catamarans - from Grenada or other anchorages of the east Caribbean. Although the boats changed regularly. It was obvious that with Aruba being free to clear in and with its proximity to Colombia; we weren't the only vessel using it as a convenient stop-over. It was also a very popular destination for cruise ships and there were three of these behemoths on the dock in Oranjestadt when we arrived and rarely less than two there for most of our stay.

To access the town we had a long row across the bay about a mile from the anchorage over a very shallow "no anchoring" zone in to the Renaissance Marina who kindly made their dinghy dock available for visiting yachtsmen free of charge. The only vessels we ever saw in the no anchoring zone were small wooden platforms with sunbeds set out which were towed out by a small powerboat for guests to enjoy an exclusive experience... possibly a massage! The marina itself had very few visitors berths but housed several very large day boats as well as a fleet of beautiful little launches which plied the waters between the marina & hotel complex to their own private island just beyond our anchorage and were responsible for ferrying guests of the Renaissance hotels between the two. We would often get lapped by the same launch as we made our slow steady progress by oar across the bay and exchanged a friendly wave with the skippers and their passengers who clearly thought we were a little eccentric in our funny little wooden rowing boat (well if the cap fits...??!!)

The dinghy dock in the marina puts you right in the heart of the Renaissance mall and a bustling collection of cocktail bars and fine-dining restaurants alongside fast food joints and designer clothes shops. Oddly enough this little marina also yielded some of the tamest of the islands wildlife with bright green lizards that looked more like Disney animations than real live creatures stopping to stare up at us from the paths; giant iguanas sunbathing on the breakwater; brightly coloured birds flitting between the palm trees and a pelican that strutted up and down the fishing-boat pontoon posing for photographs from the astounded tourists and throwing fish down his gullet with the swagger of a creature that literally does own the place!!!

We looked around the local environs and soon decided we needed to take our customary approach and "go a street back" to find our drinking hole.

We wandered around the town a little overwhelmed; it's a very smart place with a lot of designer shops and cocktail bars. There didn't really seem to be anywhere in our price point for an arrival beer. Eventually we made our way back towards the marina and found a small Asian supermarket with a few locals standing outside drinking beers. We went inside and bought ourselves a couple of cold cans and went out to join them. It didn't take long before we were talking to "George" we greeted him with our limited Papiemento and then enjoyed a lovely chat with him relying heavily on his limited - but still very impressive - English. George told us all about his family and his job working as a security guard. Then his friend came over and introduced himself as "Tom".. while we were talking to Tom, George disappeared back into the supermarket and returned with a box of cold beers for us all. We talked and drank for the next half hour or so as we went back inside and bought another round for everyone ourselves. After a while George started to prepare his bicycle for his long ride home and Tom told us he was going to his favourite bar around the corner; "Paris Bar & Restaurant" run by his good friend. It's where all the cruise ship staff would go to eat apparently but also a nice bar and a friendly place. We followed Tom there after finishing our drinks and he was delighted to see us and introduce us to his friend "Ting Kwok" who apparently everyone called "Cox" and later to his Italian friend "Mario" the plumber (of course we dubbed him super Mario for this reason). We passed a lovely evening drinking cold beers and talking to our new friends. When Cox finally closed up and we said our goodbyes he offered us a ride home.. We explained why that wasn't possible but promised to come back and see him again before we left.

The next day we went off in search of a local SIM card and data again... the usual arrival "pilgrimage" on every island! The digicel shop was well out of town and we took a lovely walk through town where we got to see the local - and very shiny & beautiful - tram in action. Passing the cruise ship docks and out the other side of town we finally located it and enjoyed half an hour of listening to Christmas songs in the cool of the air conditioned store while we waited our turn. We stopped at a few of the stores on the way back to look at the clothes - we'd spotted some rather cool Hawaiian style shirts with Santas on and treated Jamie to a new "Christmas shirt" more appropriate than his woolen Christmas jumper for the tropics! Whilst browsing the shops along the high street I got jumped by an enthusiastic sales girl outside a beauty store who I'd managed to skillfully evade on our walk in the other direction. She forced a free sample for a moisturiser in my hand and before I knew it I was seated on a cushioned stool surrounded by mirrors in front of her very beautiful colleague who instantly set about dabbing something under my eyes and asking me about my skincare regime. I tried to evade and avoid as much as possible.. dodging the usual shock horror bullshit that you get as standard from those in the skincare business who seem to treat an impassive response to a few wrinkles with the same horror as if you'd just announced that a flesh eating alien was bursting out of your stomach! Eventually after several passes at; you really don't use anything on your skin followed by several references to "we live on a boat and there's really other priorities" I just gave up and burst out with "I cut my own hair; that's really as far as a beauty regime goes for me". Her chin hit the floor and she fell about laughing. After that it was clear that she knew I wasn't going to buy anything but she still finished her demonstration and asked us dozens of questions about our sailing. It seems for the first half of the conversation she was convinced that the "boat" I was referring to was a cruise ship... no wonder the poor darling thought she might get a sale out of me! We left the shop with my new "facelift" and she watched us walk away shaking her head in disbelief!! On our way home we picked up a few groceries and returned for a swim and a quiet evening on-board.

Friday morning we went through our paperwork for Meep and realised that our linger in Bonaire meant we were now due to get his 2nd RCP vaccine booster (the first having been administered in Martinique 4 week's previous and the second we'd planned to have done in Cartagena). We found a vet that we could walk to; made an appointment and set off for our row across the bay with Meep in his little carry bag. It took about half an hour to walk from the dinghy dock to the vet and once we arrived Meep refused to come out of his carry bag and eventually the vet unzipped the back of the bag and gave him his shot without him even poking his head out. I think his last visit to the vet in Martinique where he'd had his blood tests done was still fresh in his mind and he was rather distrustful of ladies in white scrubs with big needles now. Still this should be his last visit to a vet until he reaches French Polynesia; that's all his vaccinations and paperwork up to date until that point so he gets a few months off now. On the dinghy ride home the conditions were very calm and I let him come out of his bag and enjoy the dinghy ride on his tether; sniffing the fresh air, eying up the cruise ships and posing for the passing launches! Rather bizarrely it all got to much for him after 10 minutes and he finished his row across the bay by climbing back in the bag!

That night we went ashore for Friday Night Work Drinks. We didn't know what to expect from Paris Bar so we took a little take-out; a couple of glasses and our trusty little flask of gunpowder proof "pure white" rum just in case. We found the bar to have a few drinkers in and of course our friend Tom was there. We had a lovely night drinking and chatting with him. After a while a couple came in the bar and we talked a bit with them. They were quite friendly; maybe a bit too friendly, Tom wasn't happy, he told us they were "hustlers" and to keep clear. The couple didn't like that and started to tell us it was Tom that was the troublesome one. Then a few of Tom's friends (who all seemed really nice) got involved and there was a proper little brawl brewing. We paid Cox our tab of the few drinks Tom had allowed us to buy as well as a few additional cokes and slipped away leaving everyone to it! Back down at the marina we settled ourselves on a pile of bricks under the enormous flamingos statues that were being installed and outside the old fashioned British phone box which seemed to be a bit of a tourist photo opportunity. We poured out our rum and cokes and finished our FNWDs in style!!! When it started raining we took our drinks into the phone box and sheltered inside until the rain stopped. It was funny to be in such a classy area drinking like a pair of bums but it was a good giggle. When the rum ran out we rowed ourselves home.

On Saturday we had a quiet day whilst we prepared ourselves to put to sea again. This was a similar drill to one we had followed in Bonaire and with similar results. We batch cooked food for several days and started to prepare the boat ready to put to sea; stowing any loose items and preparing sea berths. Saturday night we went to bed early. Sunday dawned and the weather forecast looked better for a Monday departure.. We weren't just looking for ideal weather to leave and good winds to get clear of the Venezuelan coast; we also wanted the best possible conditions for rounding the small cape on the approach to Cartagena so we were watching weather several days out. In the end we decided a Monday departure was better and we would hold off one more day (as I said we often did this when planning a big trip and it generally means I don't need to cook for several days as we eat the passage food we have batch cooked in advance!) Anyway after our quiet Saturday we decided to go for an afternoon drink and then get a reasonably early night ready for our Monday sail. We went along to Paris at 15:00 and found we had just missed Tom who must have started much earlier than us! Nevertheless the bar was very busy and we squeezed in and ordered a drink. I got chatting to a lovely old guy who I later found out was called "Oscar". He spoke no English but wanted to talk to us in Spanish and that proved to be really very hard! He clearly wanted to keep talking and as my phone has a translator app I tried to get him to talk into it; annoyingly it doesn't have Papiamento in the app but it did have Spanish and after a while I managed to get it under Oscar's nose as he spoke and what it translated to was that Oscar was really rather enamoured with me; he thought Jamie was lucky to have me, and he was "thanking the seven arts" for having met me... I kept screen grabs of the translations to remind Jamie how lucky he is!!

During this time Oscar kept trying to offer us his bar stool and I kept telling him no I was fine standing and he should keep it. Eventually the guy on the other side of him got up and left and Oscar moved along to his seat and gave me his own stool. We'd been happily chatting away for a while when his friend returned to the bar and started bellowing "what the hell" "where's my seat?"... I jumped up and gave him my seat back instantly at which point there seemed to be a big fuss and bar stools seemed to be appearing from everywhere. Keen to avoid any more brawling we refused the stools but Cox came round and forced us both to sit down stating "you have to sail tomorrow; you need them more"!! The guy who's stool was originally taken came and went a couple of times; bellowed a little bit about Dutch politics; complemented us on being English not American and then left with his parting words (on hearing about our onward travels) being "Colombia? Why would you want to go there?" .....I was quite glad when it was just us and Oscar once more!

We left the bar and went to find a spot to have a quick WhatsApp call with Jamie's parents before it got too late and decided where better than our little brick bar by the phone box. We finished our chat and our rum measure and returned to Hamble Warrior where we ate our dinner and sat enjoying the stars in the cockpit. We promised ourselves it wouldn't be a late night. As the rum flowed and we talked and talked and talked and the time ticked along and the rum kept flowing and we kept talking..... anyway as the sun started to come up it also dawned on us what fools we had been. We dragged ourselves off to bed to try and grab a few hours sleep before we set sail!!

At 1027 the captain woke and at 1030 we lifted our anchor and set off back to the customs dock to check out. While Jamie completed formalities I hurried around readying the boat and preparing for the next few nights at sea. It was just gone midday when we slipped away from the customs dock headed west for Cartagena. We had thoroughly enjoyed our few days in Aruba. We hadn't explored much of the island but we had enjoyed the beautiful view of the sandy white palm-tree lined beaches from our anchorage and the beautiful green peak rising from the middle of the island... mostly we had enjoyed our special phone box bar and of course Paris!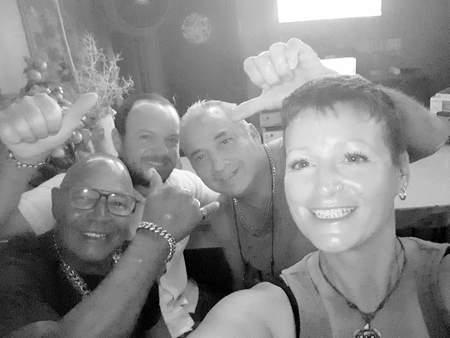 ---