First week in Martinique! 14:26:33N 60:53:38W

Hamble Warrior
Jamie Hickman
Sun 30 Jan 2022 16:39
Our first few days in Martinique we had our hook down in the busy anchorage off Le Marin where we were able to complete our check-in procedure and obtain our immigration papers; dispose of nearly a months worth of rubbish & recycling, buy a few groceries and after an insanely efficient and cordial half hour trip to the local hospital we had even obtained our Covid booster vaccines. We also treated ourselves to a machine at the launderette; and refilled our water tanks at the fuel pontoon - both, we hope, are luxuries we will be able to manage without in the near future if we can start to efficiently collect some of the ample quantities of rain that falls regularly in this part of the world.
We also explored the town by dinghy and on foot; checked out a few of the local bars and restaraunts, and caught up on some of the sleep we have missed in the last few weeks.
On 26th January we pulled out our headsail and sailed the short distance to Sainte-Annes back out of the "cul-du-sac" of Le Marin where we had a few nights and a fabulous trip ashore to spend a day on the beach and enjoy our first "Friday Night Works Drinks" in the Caribbean!
We found a lovely little local's bar with a view of the anchorage where we could drink our cold cans of beer and watch as the fisherman unloaded their catch straight onto the beach.
We made our way back to the pier to collect our dinghy and stopped off to pick up some fresh groceries on the way. Jamie also bought me a length of local fabric printed with the traditional Martinique design; bright bold green, yellow, red and pink... a fabulous gift to commemorate our arrival here and I can't wait to make it into a vibrant beach robe when I get my sewing machine out next.. with matching facemasks of course!!!!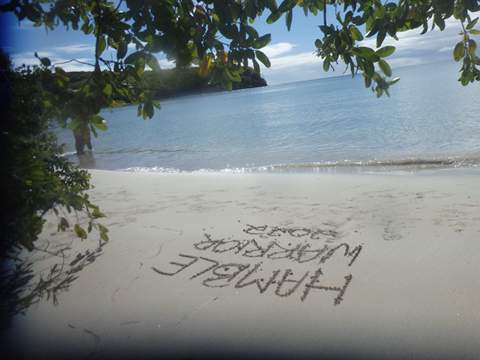 ---