Pink skies and turquoise seas 17:33.023N 61:46.147W

Hamble Warrior
Jamie Hickman
Wed 11 May 2022 19:56
7th April - 17th April

Barbuda

We had a tough start to our trip up to Barbuda. All in it took us 6 hours but the first couple of hours felt more like days!

We set off with decent weather forecast although there was a bit of rain about. This didn't concern us as we have seen a lot of rain during our time in this part of Antigua. However when we got out of the harbour we were battered by one squall after another after another. 7kts wind would become 28kts in a matter of moments and as squall followed calm followed squall we were putting in reefs and taking them back out again on a seemingly minute by minute basis. It was exhausting and we couldn't decide having battled our way up the coast whether we wanted to reach out across to Barbuda or not but there were no really appealing options for putting in to the north of the island that wouldn't have been a grim battle to get to so in the end we set a course for Barbuda and once we cleared the top of Antigua our weather improved drastically and we had a decent sail the rest of the way.

We dropped anchor once again next to Puff off Cocoa Point. It was a popular spot but there was a lot of space for everyone off the white sandy beach. There is not a lot here - an exclusive resort at one end of the beach and much further down a solitary beach bar belonging to the very entrepreneurial "Enoch" who serves a nice cold beer and will serve you grilled lobster or chicken if you place your order the night before. It was a popular service and came highly recommended but we only availed him of cold beers and a good sunset.

We also took beers ashore and enjoyed our own quiet little spot on the beach at sunset whilst the large gang of ARC boats that had gathered for a party before they all disbanded at the end of their season had their own celebration further down the beach. It was a reminder that it would soon be time for us to head south too.

After 4 nights we moved from Cocoa point to Low Bay south anchorage sailing past the "pink sand beach" and anchoring off 11 mile beach in a very quiet little spot. This time it was Puff's turn to follow us into an anchorage and soon it was just the two boats anchored off 11 miles of white sandy beach. The surf on these beaches is crazy and landing our dinghy was out of the question so we inflated our new kayak and took that ashore to explore whilst Kris and Ingrid preferred to swim ashore. We walked for several miles along the white sandy beach picking up conch shells and stopping to cool off in the surf. We reached the lagoon which separates this part of the island from the small town of Codrington and then turned and walked back the way we'd come. It's a strange place Barbuda. The water is the clearest and most amazing turquoise colour I have ever seen. The sand is impossibly white and the sky was always blue whilst we were there. But there's an odd kind of desolate beauty to it. The hurricane a few years back wiped out everything so there are no palm trees on the beach and it's such a flat island there are no hills or peaks. You can't even see the island until you are practically anchored off it. It really does feel like a "desert island". Whilst taking pictures from our walk Jamie found a ladder lying on the beach and when I posted a picture of it one of my friends commented that it was like the Truman Show... a ladder to where exactly??? ...she was spot on that's what it felt like; some surreal film set with everything having been painted impossibly perfectly. I was so glad we visited Barbuda but I was happy to return to the hustle and bustle of Antigua's Harbours afterwards.

We had far better conditions on our return trip to Antigua and stopped off for a very brief stopover in Jolly Harbour before sailing on to Falmouth Harbour and then on into English Harbour for Easter Sunday and to meet up with our friend Greg again.
[the photographs of Hamble Warrior under sail contained in this blog post and the previous blog post were kindly sent to us by our friends on S/V Puff therefore the photo credit for these is Ingrid Ottevaere]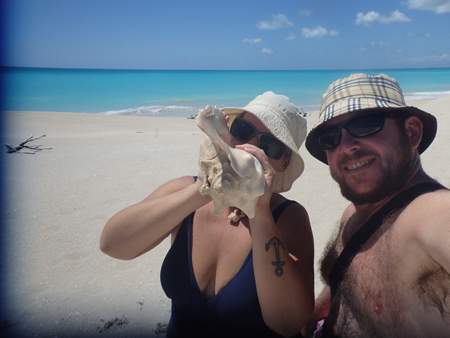 ---