FELIZ NAVIDAD! 27:48.65N 15:45.67W

Hamble Warrior
Jamie Hickman
Wed 10 Nov 2021 19:01
24th October - 9th November 2021
Anfi del Mar turned out to be a little gem and we stayed in the anchorage there for over 2 weeks.

We spent a very comfortable week visiting Jamie's parents at their apartment ashore which meant not only that we could have hot baths and showers literally on tap but also the use of two stunning swimming pools and; most exciting of all, a washing machine! We enjoyed a lovely week catching up and explored the neighbouring town of Arguineugin just to the east of Anfi and went to watch some very disappointing football; drink cheap beer and eat steak & chips in the sprawling holiday resort of Puerto Rico to the west. It was during the first of these football pilgrimages that we were introduced to England and Tottenham footballing legend Gary Mabbutt at the Irish bar he frequents as his local. Jamie's Dad had become quite friendly with him after Gary called him to send him best wishes on behalf of the club on his 70th Birthday. They got chatting about Gran Canaria and then Jamie's Dad met him when he started watching Spurs in "Gary's bar" as we now call it. He was a very sweet guy and his family were lovely too but we didn't win when we watched the game there so we started frequenting the "Sixty Nine" bar in the shopping centre instead where Spurs also never won but the beers were only €1.40!!

Soon it was time for Jamie's parents to check out of their apartment and we arranged with the small marina at the resort that we could pick them up from the ferry pier so that they could have the last night of their holiday on-board Hamble Warrior before flying home. We intended to take them out for a little sail and then return them to the ferry pier the next day to catch a bus to the airport. Unfortunately things didn't go quite to plan; we dropped the anchor whilst we settled everyone on-board and made a cup of tea and when we restarted the engine Jamie noticed it wasn't pumping coolant water and after investigating he diagnosed that the drive which turns the raw water pump needed replacing. The upshot... we weren't going anywhere.

As it was we enjoyed a lovely afternoon and evening on-board. We managed to cook Christmas dinner; set the table, put out a few decorations and get the Christmas hits album on without his parents noticing from their spot in the cockpit - so we surprised them with Christmas early as we won't be seeing them this year.

The next day we loaded parents and luggage into the dinghy and ferried everyone ashore to go and catch their bus to the airport. Fortunately it wasn't too bumpy and we managed to get everyone safely transferred in one piece!

A few days later the much needed engine part arrived by special delivery (along with a new inflatable kayak and a case full of parts and spares) courtesy of our friend Lindy. Whilst the captain tended his engine and bolted on the various bits of hardware that our lovely mule had hauled out for us Lindy and I drank cocktails; sunned ourselves by the swmming pool, ate ice creams, swam in the sea and caught up on several months of gossip! The day she was due to fly home we set sail for Mogan just a few miles up the coast; the idea being that Lindy got to enjoy a little sail and then we could drop her for the bus to the airport and we'd stay in Mogan for a night or two before our trip to Tenerife. We had good conditions and enjoyed a swift trip; I was especially excited to find that the new mast gate Lindy had brought out and Jamie had installed which carries the travelling cars on the mainsail up the mast was working beautifully. Previously the cars would jam in the gate as I lifted the sail and I would have to keep stalling to tap them with my winch-handle. Now for the first time in years I was able to lift the sail up cleanly in one go. It's incredible that such a small piece of hardware can make so much difference; we had debated if it was worth replacing this gate as we couldn't see how it had failed but it obviously was snagging and the difference with the new one installed is incredible. Most importantly now when I am trying the get the main up in rough conditions I won't need to keep stopping and hitting the mast with my which handle while hanging on for dear life like some kind of angry wet ape! Happy days!

We arrived into the pretty little port of Mogan to find the anchorage was swelly and uncomfortable with little room to anchor safely away from the incoming ferries. We found a spot as close to the marina entrance as possible and after a quick lunch I said my goodbyes to Lindy and Jamie loaded her case and bag into the kayak and paddled her ashore to go and find the bus. When he returned we decided to lift the anchor and sail back to Anfi. We would have loved to explore Mogan but we have both visited it previously (separately and a long time ago) and the thought of a nice sunny sail for a couple of hours and our lovely calm anchorage back at Anfi was so much more appealing than slopping around all night in swell. On our way back we both wondered at the number of boats which have been keeping us company in Anfi the last couple of weeks that disappear for a day and reappear in the late afternoon; we had been thinking they must have gone out for a day sail and returned to their original spot but now we wonder how many, like us, attempted to anchor in Mogan and then thought better of it and returned to Anfi for a peaceful nights sleep!

We set the anchor at 1639 and by 1657 we had placed our drinks order for one final happy hour at the pool bar ashore... the captain was still panting a little from the frantic paddle but he needn't have rushed - he had 3 whole minutes (and now 2 pints) in hand!!!

The next day we had a quiet day on-board getting Hamble Warrior ready to put to sea again; stowing and tidying up. We had a swim and spent some time scrapping barnacles and weed from her waterline. I made up breakfast and lunch for our trip the next day in anticipation of an early start and potentially lively conditions. We watched a cracking sunset over Anfi for what we expected to be the last time; then it was early to bed.

Anfi del Mar has been a pleasure. We had a few concerns about landing our dinghy when we first arrived as the marina didn't seem overly keen for us to use their pontoons and swim areas and surf prohibited us landing on either of the beaches. However we managed to muddle through and generally only used our dinghy to come ashore after the marina office had closed for the evening; otherwise we used our little battered old kayak which nobody seemed to care where we left it... and if they had cared we could have rolled it up and taken it with us!! However any concerns about landing a tender were more than negated by the comfort of a spacious anchorage with good holding and despite a little swell rolling in occasionally at night and rocking us to sleep it was generally pretty calm. It was also rather sociable; not so much that we particularly befriended any of the other yacht crews but we could enjoy the entertainment of watching the various water-sports coming and going from the beach and most days we'd have pedalos and paddle-boarders pottering through the anchorage and stopping by for a chat which was lovely.

Infact, my only criticism of the many watersports and activities going on in the whole time we were there is not of the Anfi Watersports enterprise but the neighbouring "Canary watersports" based next door in Puerto Rico. On our return trip from Mogan a powerboat pulling a couple on a parasailor decided to cross our path while we were under full sail putting both our rig and their two dangling paying customers at very high risk. We adjusted our course and speed and no harm was done but it is a concern that the operator of the boat didn't seem to think he had done anything wrong - and I don't know if the couple who had paid €80 a piece to be dragged around behind him knew how close they had come to decorating our rigging like a macabre Christmas tree. I think I'd stick to the pedalos for my money!!

Next stop Tenerife...

Photos:

1. View of the pool from Jamie's parents apartment with the small marina and anchorage in the background

2. View of the anchorage from the reception area of Puerto Anfi - Hamble Warrior is pretty central, the large party catamaran is visible to the right and the fleet of pedalos are on the beach bottom right

3. Ferryman Jamie taking his parents ashore

4. Captain's view from the mast; rigging checks in Anfi whilst the anchorage is calm

5. Setting Lindy & luggage ashore in Mogan

6. A little too close for comfort!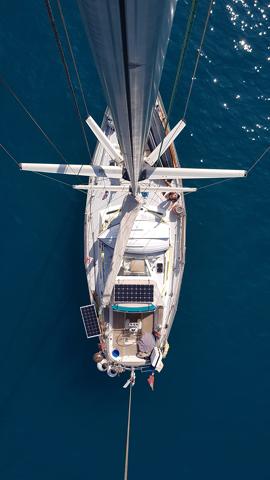 ---