Challenge Anaga 28:29.68N 16:12.59W

Hamble Warrior
Jamie Hickman
Thu 16 Dec 2021 12:34
15th November – 10th December
The day arrived to lift Hamble Warrior out for the routine maintenance we wanted to complete before setting off into the Atlantic. There was quite a swell rolling into the harbour which made Warrior serge back and forth in the loading dock. It made for a bit of a challenge for the lift operators and we watched nervously from our deck as they loaded us into the slings and adjusted them to hold Warrior's beamy hull snuggly. Finally they had her set and as they took her weight we stepped off her bow onto the concrete quay and then watched with stomach clenching anxiety as she came up clean out of the water swaying in the slings and they manoeuvred her to the boatyard to begin pressure washing her off.

This was our first opportunity to inspect the hull properly up close since we last launched in Leros (eastern Greece) approx. 18 months previously; other than with snorkel masks in clear water. It's safe to say we were pretty gutted at what we found. The copper coat we had painstakingly applied 3.5 years ago was blistering and peeling off in many places and even some of the patches we had repaired in Leros were now failing. There was also some tiny blisters in the gelcoat on the bow; the bootstripe was fouled where we were sitting so low in the water (all those parts & spares on-board!!) and despite my attempts to remove the barnacles during my last few swims there were still plenty clinging to our waterline. At the stern the prop was also thick with various crustaceans.

The actual coppercoat itself had not fouled and therefore the product was clearly doing a good job but it would seem we had A LOT of work ahead of us.

We spoke to the boat yard manager - Javier - and motioned to Hamble Warrior that there was more work than we could do in the week we had booked; he looked concerned, this is a small working yard, we could stay a little longer if neccessary but he was clearly worried if the work ran into weeks and months we would be obstructing other boats that needed launching.

That night we climbed the ladder up into Warrior's cockpit and had a troubled nights sleep. A gust of wind rattled the rigging over our heads but Warrior remained perfectly still chocked up on her props and blocks... there is nothing as unnatural as the feeling of being on a boat out of the water!

The next morning Jamie woke with a grim determination and strode off to visit Javier in his office returning with a dust extractor (big industrial vacuum that you can attach to electric sanders) and set about the task of sanding back the coppercoat and layers of epoxy beneath it - right back to the original gel coat. The few days that followed were pretty tough. We only had one set of equipment and Jamie insisted on doing the sanding himself which relegated me to the roles of cooking, provisioning, attempting to keep the boat reasonably clean, making tea on a near hourly basis and trying to be positive and upbeat enough for two of us. Jamie sanded for hours on end each day and finally after a week he had fully stripped the failed copper coat; he also drilled out the blisters on the gel coat at the bow and epoxied them; sanded back the waterline and bootstripe and prepared all of these areas for repainting.

That first week or so was intense and exhausting but finally it felt like we had broken the back of the work a bit and were making some serious progress. The next couple of weeks we would start to see Warrior's hull restored to it's former glory but not without one further frustrating hurdle; and one us Brits are far too familiar with.... rain!

It literally rained pretty much daily for the best part of 2 weeks. Despite being a reputedly dry part of the world. To a certain extent we were unlucky; but we soon realised the climate in the north of Tenerife is very different to the south. The topography of the area with its high peaks held cloud constantly. Each day I would look towards Santa Cruz and see the clouds hanging low over the city. On just one day; the week we were to launch, it was clear enough to see all of the volcanic peaks beyond Santa Cruz including "El Teide" the tallest peak in all of Spain's territories rising 3,717m and capped in snow. The following day it had disappeared once again into the cloud.
Despite the rain we managed to get all of the work done; some days we had to re-order the "to do" list to accommodate the weather and Jamie was very nervy every time he applied paint to the new bootstripe (and even more so on the day he applied the copper coat) but nevertheless he got it all on.

In the final week before launch as Jamie finished the work to the new bootstripe (raised a few inches to accommodate our newly "ladden" profile); cut and polished the hull, serviced the saildrive and restored the prop to its former glory I got the sewing machine out and began fabricating courtesy flags for the next few destinations on our itinery. This involved a combination of recycled and reclaimed fabric as well as some freshly purchased during our stop in Torrevieja earlier this year; and a blend of stitching, sticking and painting to try and replicate the images and descriptions in "Collins book of flags". After Cape Verdes, Antigua & Barbados I took a break to make us some fresh facemasks as it seems we will need to continue wearing these for sometime yet and the last batch I made some 18 months previous are definately looking a little worn now.

On that final week before launch we also hired a car for a day and visited the local industrial estates hauling back a car-load of plywood; acrylic, welding gear & provisions that would have taken several days to amass by bus or on foot. Although it was a treat to have access to a car for the day we still had to get everything back on-board and having arrived back late and due to return our car with Jamie wanting to do some final prep to the hull before copper-coating the following day it left me with the job of getting everything out of the car; up the ladder and on-board, which I am enormously proud to say I managed without dropping anything on Jamie or any of the other Boatyard workers that were coming and going under our hull as I lugged it all up into the cockpit!!

Despite our 24 hour car hire we did also utilise the local bus service on several occassions which was both efficient and very reasonably priced; with a rechargeable pass we could travel between Santa Cruz and our stop at Darsena Pesquera for just 75 cents each way. This was particularly handy for getting Meep his rabbies booster and various other vaccinations that he was due. After I spent a full day travelling around Santa Cruz talking to vets while Jamie sanded we then took him to the San Antonio Veterinary Hospital where the wonderful Vet "Colleague Hodei" spoke immaculate English and helped us ensure Meep had all he needed for his upcoming world tour. We took two visits to see Hodei with Meep in total and on both occasions Meep rode the bus in his carry crate and didn't make a peep the whole time - he really has become a cat who travels by any and all modes of transport!!

As launch day approached we made a few more provisioning trips into town with backpacks and our trusty trolley to haul back more groceries.

On the 9th December, on another typically wet day the crane operator at Varaderos Anaga finally dropped a clean, shiny, fresh-looking Hamble Warrior back into the water after 24 days on the hard. It was a photo finish to the end with burnishing the fresh coppercoat to ensure it does it's job once the boat is wet again and trying to spray her down to get rid of all of the Boatyard filth before she went back into the water.. plus we wanted to fill her water tanks and every available spare water can while we still had access to the water supply. We were literally still stowing gear and tying on fenders as the crane surrounded our hull and they began once again fitting her into the slings.

We were delighted to finally be back afloat - apart from the work involved in doing all of our own boat maintenance and refit there are also several aspects to life aboard when not afloat which are pretty challenging. Many onboard facilities such as heads and fridges are out of action on the hard as their systems rely on saltwater. We are lucky enough to have a small electric cold box that we could plug in and use as a fridge while we lived on the hard but it was very small and we frequently had to sacrifice food for cold beer ;) as for other "needs" well of course we became quite fit going up and down the ladder and trekking to the facilities but we also had a handy bucket aboard... but enough of that detail! Suffice to say we were glad to be back in the water and with all of our meagre facilities back in action.

Before leaving Varaderos Anaga we had one more day on their visitor pontoon while we had one final trip around the local chandleries and one last trip into Santa Cruz to visit the fabulous fresh produce market where we loaded our bags and trolley with fresh fruit and veg, 30 eggs, 2.5 kilos of Jamon which we had vacuum packed into separate pieces to last for several months and a few last "essentials" from the supermarket including 30 kilos of cat litter and a final 10 kilos of cat food!

Our next stop would be the bottom of Tenerife to drop anchor for a few days and organise our boat a bit; have a swim and a well earned break.

We said our goodbyes to the Boatyard crew that had now become friendly and familiar faces and set out on our travels once again.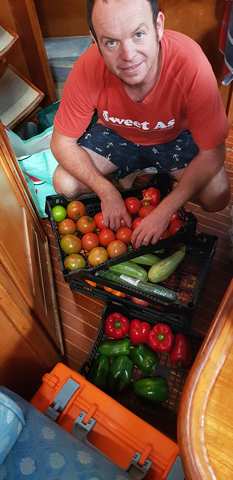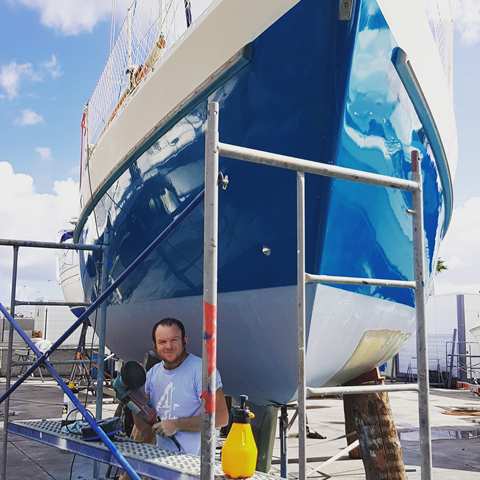 ---