Last days of Antigua 17:00.320N 61:45.652W

Hamble Warrior
Jamie Hickman
Wed 11 May 2022 20:41
17th April - 3rd May

Freemans Bay - English Harbour

We sailed in to English Harbour on Easter Sunday and managed to find a spot to set our anchor tucked in just ahead of Viridian in Freemans Bay. It's such a lovely spot surrounded with steep hillsides and with a beautiful beach (Galleon Beach) that we could swim to or take our dinghy ashore and land on the sand. It has palm trees and a huge anchor still set in the sand and cannons pointing out to sea - all left over from a bygone time. It's also only a short row in to the heart of Nelson's Dockyard where there is a dinghy pontoon and a very short walk into town.

From here we were able to enjoy some fantastic hiking trails - over the goat path between English Harbour and Falmouth that I mentioned previously and also several different hiking trails that lead up to Shirley Heights - the fortifications that form part of the same national park and Nelson's Dockyard and afford the most incredible views out across both harbours and out to sea.

We enjoyed our evening hikes immensely whilst we were here and chose to visit Shirley Heights when there wasn't one of the twice weekly parties up there. This meant we had the place to ourselves to look around and enjoy the views and on Sunday and Thursday night's when they had their parties we sat in the cockpit on Hamble Warrior and enjoyed the fabulous sounds of the steel drums from our own little private spot.

Freemans Bay also provided us with the best snorkeling we have experienced in the Caribbean so far. The reef at the South end of the bay is home to all kinds of bright and beautiful tropical fish and as we snorkeled a little further into the bay we were joined by turtles and Stingrays which was the first time either of us has seen these whilst underwater ourselves. It was incredible. We probably saw about 6 turtles and a similar number of rays over the course of about an hour or so of swimming. The turtles were massive and each had a large fish which attached to it's shell and seemed to accompany it everywhere; only moving to hang below the turtle's "undercarriage" when it's host surfaced to take in air. Neither the turtles nor the fish seemed to mind our presence and we were able to watch them and take pictures and videos with my underwater camera for ages. The stingrays were a lot more skittish and shy and didn't hang around for photo opportunities. We saw large flat stingrays and some brightly spotted smaller ones that I have since been told are called "eagle rays". It was an incredible experience made all the better for just being able to amble to the end of the beach with a snorkel mask and go exploring! I had no idea we had so much exciting sealife practically under our hull!

We saw another stingray in the shallows off the dinghy dock one day when we were coming ashore so there must be a good number of them in that bay.

Whilst we were anchored in Freemans Bay we had a few drinks and dinner with our friend Greg whilst he waited for his wife Jan to return from a trip back to the UK. We discussed onward travel plans and traded Jamie taking a climb up his rigging to retrieve a Wi-Fi aerial for a loan of some of his pilot books for the South Pacific. It was exciting to start thinking of the next leg of our adventure.

We also met several people who were out for the big "Antigua Sailing Week" which we stayed to enjoy the start of. We met loads of nice people and it was so lovely to talk about our trip so far and our onward plans. One of the things we have enjoyed about being in an English speaking island again is to be able to chat to people. I don't think we ever expected to meet quite as many people and make as many new friends as we have but it has made Antigua even more special than we anticipated.

In this final week we met two large crews out to race for the week. One of these invited us to join them for their beach party and as we bobbed around sipping rum from cups on floating cup holders in the sea and talking about where we were from and where we are going it transpired that the lady who had invited us to join the party was from the same part of the world where I grew up and we had several friends and acquaintances in common... again it is weird how small the world can suddenly feel at times like that!
A few days before we left we took the bus to St Johns once more and provisioned fresh fruit and veg from the amazing fresh produce market there. We left our bags of groceries in the care of the stall holder and went for one final trip up to the old cricket ground and ate another fine lunch from the kiosks at the back of the ground. Then we loaded up our backpacks at the large supermarket behind the bus station and just about managed to squeeze on to the bus back to English Harbour with all of our bags, bottles and cans of fresh goodies; Rum and Beer.
It was with great reluctance that we finally lifted our anchor from Freemans Bay on 3rd May - the last day our renewed cruising permit was valid. Sailing week was in full swing and we had to try and squeeze out of the entrance to English Harbour avoiding the racing yachts bearing down on us and get out of everyone's way. Our first port of call was back to Jolly Harbour one last time to complete our checking out procedure; fill our water tanks and then point ourselves south towards Dominica.

As we sailed our way south we were well over 20 miles offshore and having watched a spectacular sunset it was now dark and I was staring at the distant mass that was Antigua shrinking away from us. There was phosphorescence bouncing in our wake and all of a sudden I could see distant fireworks coming from the south of the island. I sat and watched the firework display imagining the party going on with all the racing teams enjoying the music and fireworks and had to smile to myself - they are either sending us off in style or celebrating that after 2 months we have finally gone!!! Either way it's been a blast - thank you beautiful Antigua.

Onwards to Dominica!!!!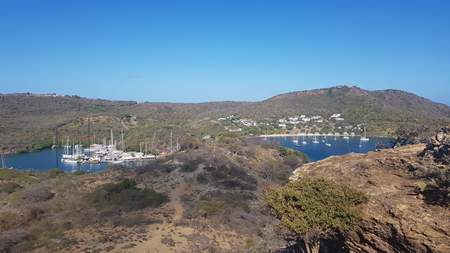 ---