Grenada's Islands 12:27.410N, 61:29.275W

Hamble Warrior
Jamie Hickman
Sat 26 Nov 2022 20:48
Carriacou - Tyrrel Bay
30.09.22 - 13.10.22

We set sail from Prickly Bay in Grenada shortly after 1pm having filled our water tanks at the marina fuel dock and waved goodbye to Shayden.

We had a considerably faster trip along the bottom of the island than we'd had when we tacked our way here against the current all those months previous! We set out a fishing line and sailed up the leeward side of the island passing St George's and listening enviously to the sounds of everyone enjoying the last Friday of the month; a good excuse for a jump up and one we could hear from 8 miles offshore! It had been a tiring week getting ready to leave Grenada and we were ready to get our anchor down and relax now.

As we left the top of Grenada we had a foul current against us pushing us well off course and lightening to the west of us. Eventually at about half past nine we got into Tyrrel Bay and furled our sails and put our engine on. Arriving into an unfamiliar bay in the dark is never ideal and yet often the case. Jamie handed me the strong torch and I swept the light across the bay ahead of us to try and identify where there were moorings and where we could drop anchor. From the moment we entered the bay a boat off to the south side of the bay was flashing a torch. We ignored it and carried on feeling our way forwards trying to identify a suitable spot to drop anchor that would not leave us too close to any moorings. The flashing on the boat became more frantic as we got closer (to be clear we were not ever close to this boat) and as we found a suitable spot to drop anchor a couple of hundred metres away the flashing torch became a screaming apoplectic American male. I can only assume the flashing was to "warn" us of their presence and the shouting was him panicking we were going to plough in to him or something. I don't know I really don't; we were nowhere near them. A quieter female voice seemed to be attempting to calm him down which makes me think someone had taken more Friday night then they could handle; lucky them we were still to start our Friday night rituals!

We got our anchor down and our friendly neighbour took himself off to bed and we were able to relax at last.

The next morning we woke up to the sight of Tyrrel Bay laid out before us. It really is a beautiful spot with the luscious green hills of the island sloping off in the background and a small selection of shops and bars curving around the bay flanked by a marina and boat yard at either end.

We had a really lazy day on-board and with Carriacou being a part of Grenada we had no arrival formalities to complete. Early evening we took our dinghy across the bay to a tiny rickety little pier that very nearly ran right on to the beach (but not quite!) and tied up in front of the "Crazy beach Corner" Restaurant and bar. Here we met Michaela who told us she was from the neighbouring island of Petite Martinique. We chatted about the islands and she told us all about her Open University degree and asked us about our travels and we drank Rum and watched the sunset over Tyrrel Bay. It was a perfect welcome to the island.

Over the next few days we explored the area and checked out the chandleries and the little shops and supermarkets. We drank cold beers at the shack on the beachfront and Rum & cokes with Denise "D'Empress" who invited us to graffiti her wall with Hamble Warrior's details which I duly added to the many other boat monikas - although after several rums Warrior somehow ended up ketch-rigged with a mizzen mast... I am no artist but apparently there is a budding boat architect in me just bursting to get free!!

We took the bus across the island to Hillsborough which is a beautiful little town that I instantly fell in love with. We needed to visit the immigration department at the police station and extend our visas. On arriving into Grenada we were given a 3 month visa. We had extended this by a further month at the offices in St George's for a very reasonable $75ec per person and now we needed a further one month extension if we were to enjoy some time in Carriacou and visit Petite Martinique. We presented ourselves and our documents at the immigration department and followed the instructions to go wait for the official to return from their break, then to go and pay the relevant dues at the post office across the road, then to wait while the documents were processed. Some further questions were asked. Finally the heavy thunk of the stamp into each of our passports in turn and the details were inscribed across each. We took our passports and thanked the officials and went out into the sunny afternoon. That was it we were all official - Jamie for another month and me for another...... YEAR! Seems that for all the stern-faced officialdom I had been inexplicably granted a 12 month visa. Such a shame that with all our onward plans I was unlikely to use even a single full month of it! I can certainly think of worse places to spend a year of my life!!

We spent the rest of the day exploring the many shops and businesses of Hillsborough and then enjoyed a lunch of stewed chicken with all the local trimmings and some cold beers at Lorens bar and restaurant before taking the bus back to Tyrrel Bay.

Provisioning in Carriacou was pretty straight forward and although the supermarket prices were a little higher than Grenada - which justified our decision to provision heavily before leaving there - we found most things easily between the shops in Tyrrel and the many small supermarkets of Hillsborough. We met Rufus who ran a fruit and vegetable shack on the beach and he supplied us with all sorts of wonderful produce; fresh and locally grown. We visited him several times for all of our usual staples but also managed to procure from him a breadfruit which Jamie later used to make our first ever home cooked "oil down" (or "steam down" as the people of Carriacou call it). It was absolutely delicious and now a firm favourite.

Petite Martinique

13.10.22 - 19.10.22

We had a lovely 5 hour sail from Tyrrel Bay along the leward coast of Carriacou passing Hillsborough and the beautiful nature reserve of Sandy island and the busy little anchorage at Anse La Roche before tacking our way towards the attractive little island of Petite Martinique just off the top of Carriacou with its towering Piton peak and large fleet of fishing boats.

We dropped anchor off the beach where we could hear the music from Gary Sauces & Snacks Bar. We stayed just a week on this beautiful little island and fell hopelessly in love with it from the minute we stepped ashore. Anyone that has ever visited Alderney in the British Channel Islands will know what I mean when I say it was the Caribbean's own little version with everything to recommend it from the tiny close-knit community with each family having a fishing boat in the harbour to the warm welcome we received from everyone we met. PM doesn't receive a lot of visiting yachts and by the second day most people we met knew that we were from the teal coloured sailing boat anchored near Gary's bar.

The day after we arrived in PM we took our kayak and landed it on the beach next to Gary's bar and met Gary for the first time. He gave us a warm welcome to the island and we told him our plans and promised to come and see him for a drink later. We walked along the beautiful white sandy beach past the other bars; a small supermarket, the little boatyard where boats were being built from wood right on the beach and to the far end of the bay which looked across the water to the tiny private island of Petite St Vincent (technically part of the St Vincent Grenadines). From here we turned inland and walked into the village stopping at the Petite Martinique Welcome Centre where we received a warm welcome and a map of the island before passing the local primary school and taking the trail marked past the little church up towards the Piton.

The hike up the Piton yielded stunning views right out across the Grenadines which provided the perfect excuse for me to keep stopping to take photographs and take in the incredible panorama; but mostly to get my breath back! To reach the very peak of the Piton there is a rope by which you can pull yourself over the rocks - also very useful for swinging yourself back down again afterwards! In actual fact the descent back down the Piton was every bit as high octane as the climb up had been exhausting! It was so steep that trying to stay on your feet as they seemed determined to run away from you took a huge effort and we were so preoccupied by this that we very quickly ended up off the trail by which we'd arrived and racing through long grass trying not to imagine what could be hiding in it!

Once we were safely back at the start of the trail again we headed back towards civilisation and had a cold beer and a bite to eat at GGs before making our way back along the beach for a refreshing swim and to visit Gary.

It was Friday night and as is our little ritual we had "Friday night works drinks" courtesy of Gary's generous measures of rum! We got to meet some of Gary's lovely family, several island locals and also a lot of guys from the neighbouring Grenadine islands of Union and Mayreau who would blast across in their Pirogues with their powerful outboards. I was fascinated by the casual nature of hopping between islands for a Friday night drink and a burger (although to be fair Gary's burgers did look and smell incredible) and they were fascinated by our journey and the distance we had travelled under sail. These guys had all known Gary for years as he used to work dispensing fuel for the local fishermen and as Gary told us his story we learned of the tragic loss of his father who went to sea when Gary was still just a baby and never returned. Gazing out across the waters with the twinkling lights of Union island just across the way and knowing beyond that lay hundreds of miles to South America with nothing in between it is easy to imagine how 30 years ago an outboard engine failure could inevitably end in tragedy. I imagine the fishing boats now all carry VHF radios but even modern mobile phones would be capable of raising the alarm quickly enough to have local boats out to help an ailing comrade. As sobering as it was to think how many islanders had probably been lost to the seas that were their livelihood in years gone-by I couldn't help but again think of the fishermen of Alderney going out for days on end battling the elements of currents and stormy weather all year round to bring home their catches and musing that it is hardly surprising that these islands bear such resilient individuals.

One of the friends we made that night was Pappa Sans who lived on Mayreau in the Tobago Cays across the waters. He told me all about his many children and we talked about Mayreau at length. We promised to try and stop off at the St Vincent Grenadines on our way north again but sadly this wasn't to be. We made our application to the authorities for the import permit we'd require to arrive with Meep on-board and after a couple of weeks of messing around and still no paperwork we reluctantly sailed past the St Vincent Grenadines once again and I was never able to fulfil my promise to visit Pappa Sans. It was such a pleasure to meet so many of the SVG guys though and I feel like they brought the St Vincent Grenadines to us in Petite Martinique!

Our Friday night finished up very late with Gary; his cousin and ourselves all singing karaoke.. to varying degrees of competency! Gary's family have been more blessed than us in the vocal department!! I did however introduce them to The Cranberries and was delighted that for the duration of our stay I would regularly hear both of my favourite Cranberries albums blasting out from the beach on a regular basis. I'm glad we were able to leave a little legacy behind us!

We spent the rest of our time on the island walking and exploring; swimming and making our onward plans. As we wandered around the island we noted that several households would have large burial plots alongside their homes. There were, of course several names that appeared in many of the plots including the name De Roche. Later in our travels when we were back in Carriacou we met Chillian De Roche who ran a bar in Hillsborough that became our favourite drinking hole in town. Chillian told us a little about her family history and her Scottish grandfather who came to Petite Martinique after the first world war and settled there having a huge family with descendants now in the neighbouring islands of Carriacou and Grenada.

On one of our walks we visited the area known as Madame Pierre and walked along the cliffs on the rugged north side of the island where the Daren Bay cave provides an interesting little photo opportunity. Here there are thousands of conch shells deposited by fisherman presumably; or perhaps washed here from wherever they are deposited. Whilst staring down at these we spotted a Barcelona FC football rolling about in the wash. After spending a few minutes eyeing it up Jamie scrambled down the cliffs and waded along the waters edge to retrieve the ball. When we got both him and the ball safely back on dry land and inspected it we could see it had been repaired dozens of times by needle and thread.. clearly this was somebody's pride and joy; whether that somebody was here on the island or whether it had washed here from somewhere else we didn't know but we decided a good place to start would be Gary's football-loving nephew so we set off in that direction. We stopped off at a small store opposite the playing field where the local school children were having their sports lesson. It was a matter of moments before we were surrounded by a large group of school boys one of which was very keen to tell us that we had his football! Once happily reunited with his ball he and his mates made off at top speed to resume their match.

All too soon we were waving goodbye to Petite Martinique and heading back to Carriacou where we would make our preparations for our trip north.

Carriacou - Hillsborough

19.10.22 - 31.10.22

It was a short sail back to Carriacou and this time we anchored off Hillsborough looking out at the charming little town to one side of us and with the white beaches of Sandy Island National Park behind us. It was a lovely spot that we had pretty much to ourselves most of the time we were there with boats generally favouring the moorings at the National Park or the more protected option of Tyrrel Bay. We did experience quite a bit of swell whilst we were there and became quite accustomed to rolling around onboard but there was so much that we liked about it that we tolerated the motion and if it became too irritating we'd take ourselves ashore in the kayak; surf up onto the beach and take a walk along the fine white sand. Unfortunately not every kayak landing was a success and on one occasion when conditions on the beach were particularly lively I managed a very inelegant exit from the kayak straight over the side and landing on my knees in the surf. On that occasion we had been heading to the shops and I spent the next hour or so walking around the supermarkets of Hillsborough with a wet bum and bleeding knees!

On another of our trips ashore we attempted to walk to Paradise Beach. We walked to one end of the beach where we were able to take a closer look at the shipwreck resting in the sands. From here we had a nice view across to Sandy Island with a large colony of pelicans resting on the rocks between us. We then cut across the island hoping to reach Paradise Beach by crossing the airfield at the tiny airport but when we arrived we learned that this was no longer allowed (unsurprisingly) so we stopped for some water and had a nice chat with the security lady instead.

At the weekends we headed into Hillsborough for evening drinks. Our first stop was the tiny little makeshift bar on the beach next to a small boat yard where the local fishermen drank cold beers at the end of the day. The young guys that hung out there were happy for us to sit and enjoy our beers there while they smoked in silence but we decided we'd try and find somewhere a little more lively. There is a small row of wooden rum shacks in the centre of town leading down to the beach and these we'd labelled Hillsborough's "sugar mill". We headed there and selected one at random that was to become our "local" and that is how we met Chillian Chase (maiden name Chillian De Roche). Chillian's bar was in the middle of the row and behind her counter the shelves lined with bottles were lit up with colourful little lights. We said hello to the only other patron at the bar and took a seat. Something that we would come to learn about Hillsborough is that it's very much a working town and come the evening and weekends everyone returns to their homes out of town. So it was never busy during the evenings but Chille opened her bar and welcomed whoever wanted to drink and we enjoyed her company greatly. On the first night we went in there the gentleman at the bar was Benjamin who, it turned out was the local policeman. I don't think there is much crime in Carriacou and most days we could see Benjamin standing at the end of the pier fishing which was his favourite past-time next to drinking rum! From Benjamin we learned that the local way to enjoy rum was not from the many bottles behind Chille's bar but from the huge keg of 70% "Jack Iron" which she kept filled under the bar. This is dispensed into 200ml Lambrusco bottles and then mixers can be purchased to suit yourself. Benjamin favoured an occasional splash of lime water that Chille kept on the counter. These rum measures were a very reasonable $12ec (about £3.50) and one measure was enough to get the both of us singing all the way home... on the occasions we had a second serving I'm really not sure HOW we got home!! Most of these nights we met locals from Carriacou and more guys visiting on their pirogues from the neighbouring Grenadines. The night would usually end with karaoke and a perilous visit to Chille's bathroom facilities before the trip home. On the first occasion I used her toilet I stumbled around in the dark and managed to find the requisite hole without using a torch. Jamie however used the torch on his phone and returned from his trip with tales of a toad the size of a saucer! On my next trip I decided to use my phone and realised to my horror that the hole was suspended directly over an open cesspit... thank God I never dropped my phone!! We loved our nights at Chille's and when we left we went to say goodbye and purchased a gallon of Jack Iron Rum in a plastic water container from under her counter to see us across the South Pacific!

With a weather window to sail to Martinique at the start of the week we took a Sunday walk across the island back to Tyrrel Bay to check out at the port authorty there. On our way back we finally stopped off at Paradise Beach; reported to be one of the finest beaches in the Caribbean. This beautiful little spot is located inside the Sandy Island National Park and here we spent up our very last $20 East Caribbean Dollars on 4 ice cold Carib beers and savoured what would be our final few hours in this part of the Caribbean before the next leg of our trip.

Shortly after 9am on the morning of Monday 31st October we lifted our anchor as a 25kt wind blew across our bow. We motored clear of Hillsborough and set both sails with reefs in them. Conditions were gusty until we cleared the top of Carriacou and became more consistent as we passed Union Island where we had a brief stand-off with a three masted Brigg that was determined to motor directly into Chatham Bay leaving us with very little sea room. Eventually they dropped back and passed astern much to our relief. I imagine there was a frustrated millionaire on-board ready for his lunch to be served!!

Our Halloween night-sail was perfectly uneventful. As we passed St Lucia the winds died and we turned the engine on for half an hour to keep us going until the winds filled back in again. There was a little excitement when the headsail sheet managed to work itself off the winch whilst the captain was having a snooze but it was later agreed that just because this happened on Magpie's watch didn't mean it was Magpie's fault!

We had a tough end to the sail tacking our way into the Rade du Fort de France in strong winds. We saw mid 30s at one point and struggled to make our way to the anchorages off Trois Islets. However at quarter to four in the afternoon on November 1st we finally dropped anchor once more off Anse Mitan... for the third time this year we were back in Martinique.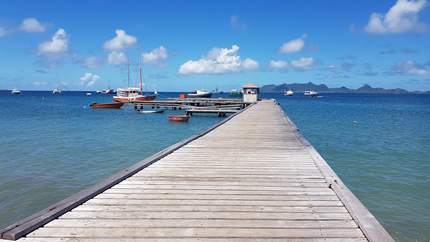 ---