00:37.765'S 88:47.215'W Sailing the South Seas

Hamble Warrior
Jamie Hickman
Sun 2 Apr 2023 22:47
Day 12

At exactly 0800hrs local time (1400hrs GMT) on Sunday 2nd April we crossed the equator and we are now officially in the South Pacific Ocean.

We adhered as best we could to the old seaman's ritual of slapping each other around the face with a fish (we used Meep's toy fish for this) and toasted Neptune with a Mango and Pineapple smoothie that was fermenting slightly and therefore tasted like it could be alcoholic!!

We are delighted to have reached this significant point in our passage and are looking forward to passing the Galapagos islands within the next few days and hopefully finding the trade winds a little further on.

We had a couple of questions as to why we aren't stopping off in the Galapagos, so for anyone wondering these are the reasons. Firstly and most importantly; we aren't allowed to stop there with Meep on-board! So that is the short answer. They no longer allow any vessels carrying animals aboard to stop even if the animal remains confined to the vessel at all times. They did at one time permit you to stop provided you kept your pets on-board but apparently this rule was flaunted by someone walking their dog on the beach and a blanket ban on bringing in any animals was introduced. It is perfectly understandable. These islands are so unique and the significance of their nature and wildlife is so important that they need to protect it with whatever measures necessary. This also extends to strict regulations on preparing your boat for stopping off in these islands which I understand includes providing certificates to say the hull has been cleaned and the interior of the boat fumigated before departing your last port of call. Finally there is an absolutely astronomical charge for boats and crews which amounts to somewhere between $2.5 to $3 thousand dollars per vessel for stopping off. The overwhelming sense is that really the Ecuadorian authorities fundamentally want to discourage yachts from visiting the islands. I think they prefer guided tour groups brought in by plane that can be monitored and managed closely rather than boats full of visiting yachties bringing in unknown entities that might disrupt their precious and delicate eco-system. So we have never planned to stop off on these islands and much as we would love to see them and experience the natural wonders that they home we are at peace with passing them by and hoping that the measures that are taken succeed in protecting this special little place of natural history.

..and basically; if Meep isn't welcome we don't want to go there anyway!

It does feel like we have had a little of the "Galapagos experience" brought out to Hamble Warrior with our colony of Red-footed Boobies on-board. They continued to hang around the boat all night and as we crossed the equator this morning a pair of them sat on the pulpit watching us with curiosity as we performed our rituals and paid our libations to King Neptune!

Today's sailing has been fantastic; force 4 winds and speeds of 5, sometimes 6 knots. We are even traveling in the right direction - dreamy conditions!

This afternoon I spent quite a bit of time in the galley preparing a special meal for tonight to celebrate our first night in the South Seas. The "vegetable lottery" has drawn aubergines as the next product that needs eating so I prepared my first ever "Moussaka" which is now in the oven ready for later. I also prepared a sachet of Jamaican Peanut Punch and have put it in the fridge to chill. I endured a sustained aerial attack from Meep in his hammock for the entire duration of my time in the galley. He clearly thought casually batting at my head every time I passed under his hammock was a great game. Eventually I had to resort to putting on a hat to protect myself while I worked. Little monkey! We have tried to attach a photo of me with the pie, if you look carefully you will see Meep prepared for his next aerial assault!!

I have just finished my latest book and started a new one called "Nala's world" about a guy who cycles around Europe with a stray cat he has picked up along the way. It's really good. Honestly though, can you imagine anything more ridiculous than picking up a stray cat and taking it traveling with you??!!! ;)

That's about all for today. It's been a good one it really has. As I finish the post we have calculated our 5pm to 5pm daily run at a whopping 103nm!! Our first run over 100NM since our second day out. We are just 31nm from the Galapagos Islands; we haven't spotted them yet but may do before the end of the day; maybe we will see the lights of the islands tonight, now that really would be exciting! Either way we have reached an important landmark in our passage (can it be called a landmark at sea? A seamark maybe?) To be across the equator and closing the Galapagos Islands at last is a huge nautical mile stone (see what I did there?!)

Hopefully the conditions remain as they are and we are able to enjoy a relaxing evening and our party isn't interrupted by squalls; there is currently literally not a single cloud in the sky; so fingers crossed that lasts!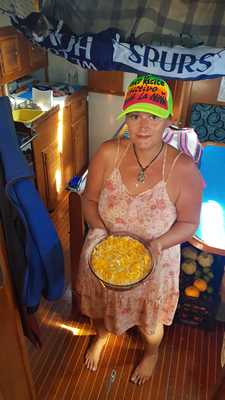 ---