Arrival in Bermuda

Tikka
Tue 22 May 2018 16:31
32.22.733N 64.40.350W
> We arrived in Bermuda after 5 days at sea. After our last post the wind and waves died down; particularly the last two days were calm and in the end we had to motor as there was barely any wind. We had decided to take down the Bimini (cockpit cover) as it was getting battered about in the high winds, but whilst this made night watches great as we had an uninterrupted view of the stars, daytime was rather too hot with no shade from the sun so it has gone back up before we all end up looking like lobsters.
>
> We had some visitors on the way - first one, then three large brown seabirds flew along with Tikka for a while (we were over 350 miles from land).

>
> We filled our days in anymore of ways...
> Augustin climbed up onto the boom

>
> We needed to attach a strop to the front of the boat so stopped and all went for a swim in the Atlantic in 5km deep water - very blue and clear but we couldn't see the bottom

>
>
>
> After our previous success with fish we were hopeful of catching another - but a few hours out of Bermuda both fishing sticks (renamed from rods in honour of our fishing Frenchman) bent over and we had a large fish on each one - very excited crew and a freezer full of fish for the next passage.

>
> The fish eyeball got thrown around and then Augustin ended up with the bucket in his head (slightly crazy after 5 days at sea with the boat permanently over at 30 degrees)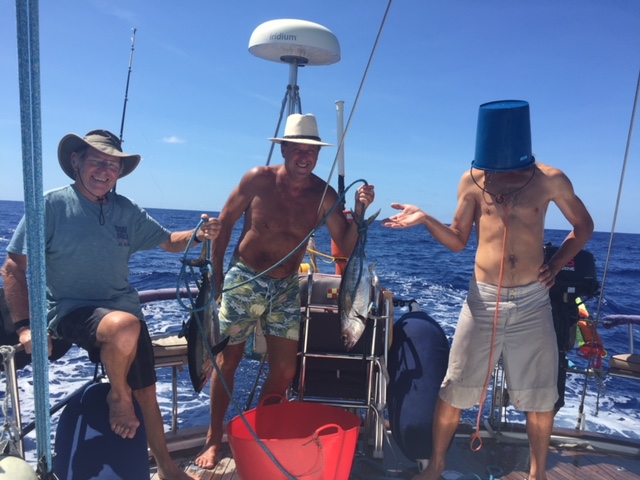 We contacted bermuda on the VHF and gave them our life history (not quite but it felt like it - details of liferafts, EPIRBs, satellite coms, people, health etc), then entered into St George's and completed customs paperwork.

We now have a few days to explore Bermuda, do some jobs and laundry (looking forward to not salty clothes!), before Loz has to fly home and Tikka starts the next passage. We are lucky - on Friday it is a public holiday and festival here on Bermuda so looking forward to that.
X
---