Iles des Saints

Tikka
Tue 27 Mar 2018 17:58

> 15.52.061N 061.35.254W
>
> After Dominica we decided to spend a couple of days in Iles des Saints at the bottom of Guadeloupe (partly on the recommendation of Tom Jones).
>
> We picked up a mooring buoy (Loz's arms only just long enough but we managed it). Customs was easy again in Terre d'en Haut and we got a good WiFi signal in the office so caught up after being in the dark in Dominica.
>
> A very pretty artisan village and we had a good look round, and decided to hire a golf cart or scooter the following day to explore the small island.
>
> The following day we couldn't get a golf buggy and they only had their largest scooters available which required a motorbike licence so we had a very happy Martin, so we set off on our tour of the island.
>
> We visited Fort Napoleon and had great views...

>
>
> And found a lovely beach at Baie de Pompierre. We had lunch and a cold beer at a small snack shack on the edge of the beach in the company of some chickens and their chicks, plus a couple of goats.

>
>

>
>
> The afternoon was spent on the beach and snorkelling, oh and watching (laughing at) a women trying to stop the goats from eating her straw hat (unsuccessfully).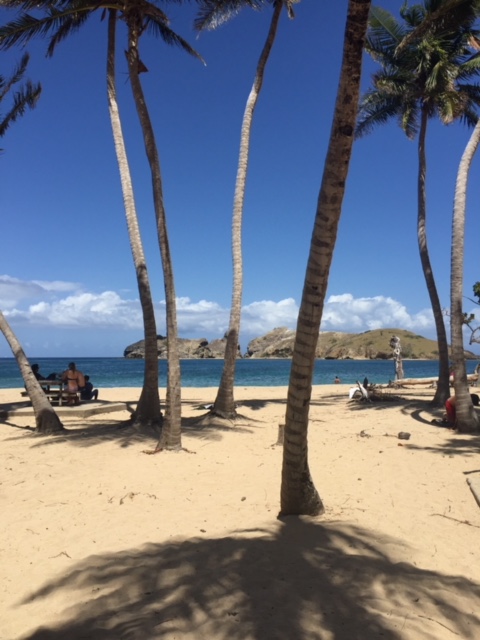 >
>
> Soon it was time to return the scooter after a whizz around the rest of the island including a trip past a bizarre house in the bay that looks like the bow of a ship.
>
> Sunday morning we picked up a fresh baguette ashore sailed to Guadeloupe dropping anchor in Deshaies in the north. We were heading ashore in the dinghy when we saw Brian and Agnes on Brag (who we met in Dominica), and they invited us to join them for a quick G&T. We ended up staying for several as the heavens opened so we never made it ashore.
>
> Early start on Monday morning heading up to Antigua, we were sailing with Brag so amazed to take pictures of each other and they got a great shot of Tikka with the code zero up

>
>
> Martin & Loz
---