What wat is that?

Storyteller
Fri 18 Mar 2011 09:30

Position, 07.57N 098.26E


Storyteller's first three months in Thailand started with a bang, with an exciting trip with Jackie and Michael from Lady Kay, en route from the UK to their yacht in Mackay. On our trip up the Andaman Sea from Phuket, to within a couple of miles of the Burmese border, we were surprised at how few yachts we saw. Thanks to local knowledge we knew about the 'hippie' island of Ko Phayam where we were amazed to see the beach decorated with green and yellow balloons. And then it dawned on us--it was an Australia Day Party! Xmas until the end of February is the peak tourist season in south-western Thailand, with thousands of Germans, Dutch, Swedes and Russian flocking here to avoid the worst of the northern European winter. Many come for several months, and it's quite unusual to hear English spoken--the Aussies come in the southern hemisphere winter. Due to the recent pirate activity, and in particular the shooting of four Americans, many yachts are stuck in Thailand as no one in their right mind would contemplate the voyage through the Red Sea back to Europe.



On the trip back to Phuket we stopped at the Surin and Similan Islands, famous for snorkelling and diving. The water was as clear as gin, but unfortunately the coral has been bleached, a victim of unusually high water temperatures. These islands are National Parks, and, unlike Indonesia well managed and free of rubbish. The islands are closed during the south-west monsoon, from May until November.



A typical Andaman fishing village.




At the end of our trip north, we took a land trip to some of the famous spots north of Bangkok. Having four of us made it very economical to hire cars and drivers and do our own tour, staying mainly at simple and extremely inexpensive guest houses. We were astonished when we flew into Sukuthai, a one-time capital of Thailand, to find a resort-like airport with staff dressed in Bombay bloomers and pith helmets!




Thanks to Michael for the photos--John managed to delete all his from the computer. The wats we visited at dawn were lovely, but after a couple, we were a bit watted out.




One of the highlights of our Sukothai stay was being able to ride around the sites at dawn and dusk on rented bikes.In this pic, John, Jackie and sue trailing behind.





North of Sukuthai we thoroughly enjoyed our visit to an elephant training centre. Here the mahoots are taking the elephants for their early morning bath. A couple of weeks later, near Phuket, an elephant ran amok, trampling a tourist to death.



At Chiang Mai the four of us did an all-day cooking course where between us we cooked (and ate!) 28 different dishes. We are now experts on rice and noodles. We couldn't possibly eat it all, so we took the leftovers back to our very glamorous hotel and had them for dinner. Eating out in Thailand is excellent and incredibly cheap. A really good European meal is about one third of what we would pay at home, while a good Thai meal is about three dollars. Wine is expensive, so we mainly drink beer--except at the very good resort happy hours where a decent cocktail costs about five dollars. Even the most 'exclusive' resorts welcome anyone, so we have become connoisseurs of the happy hour in Phuket.




The gorgeous Rachamanka Hotel in Chiang Mai where we splashed out for three nights. Owned by an architect, it has a library where we would retire after dinner in order to enjoy the free decanter of cognac. Most places we stayed cost no more than $35 a night, including a decent breakfast.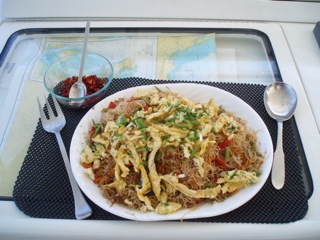 Back in Phuket on Storyteller we have enjoyed hosting many guests. Local fishermen offer us live fish, crabs and prawns. Thanks to Leng and Eugenia we feasted on Singapore and Penang specialties, including the best chilli crab we have ever tasted. The pictures show Bee Hoon, a simple lunch Leng whipped up one day.

Compared with our trip through Indonesia last year, we are having a pretty easy time this year, and enjoying quite a bit of land based travel on the Thai mainland, including staying in tree houses in national parks, listening to the howling of gibbons. The weather is HOT, so we've joined the health club of the Marriott, only 15 minutes drive from Yacht Haven marina where we have a berth until December. As well as a nice airconditioned gym, it has three lovely pools, excellent restaurants where we get a discount of 20%, and a very good happy hour.
I'm writing this at anchor while we wait for the tide to take us into Boat Lagoon where Storyteller will be hauled out on Monday to have her bottom anti fouled, and her born again auxcillary engine reinstalled. (We had it shipped up from Singapore where it was repaired.)
For those interested in technical details, John will elaborate...During the very rough trip across the Gulf of Carpentaria some sea water must have found its way back through the exhaust system into one of the cylinders. Yanmar in Singapore removed the engine and repaired the damaged cylinder. The intention was to have it installed next time we were in Singapore. However, since
it is unlikely we will be there for a year or so the engine has be sent to Yanmar in Phuket and they will reinstall it next week.

While Stoyteller is up on the hardstand, we'll stay with Anne and Don on Harmonie and take a trip down to Singapore and Melaka, which will no doubt be another foodie adventure.

Anne's blog at http:blog.mailasail.com/svharmonie has some excellent photos of the spectacular rock formations just a couple of hours out from our marina berth
---