Fakarava - Birthday - Goodbye to Tuomotus

Lovesail
Wed 10 Jun 2015 11:00
16:25.427S 145:22.794W
10 June 2105
Somehow the gods were with us again and we had another amazingly calm passage from Tahanea to Fakarava, arriving at the pass at 0745 on 8 June. We went straight in and found a good spot to anchor on the right hand side with two or three other yachts spaced far apart. On the way we passed close by the village of Tetamanu and were rather amazed by the sight of holiday bungalows built over the water, a restaurant with motor boats tied up outside, dive shop and so on. In other words – tourism! However, on closer inspection, this turned out to be pretty rudimentary accommodation built among the remains of an abandoned village and there were only a few guests anyway. But there were over 20 yachts moored to the South, on the left side of the pass in shallow water over sandy bottom. What a crowd!
Fakarava is the second largest of the Tuomotu atolls – over 30 x 10 miles. There is an airport and a village in the North but we were in the South, so all these folk (in the bungalows) had made their way by plane and then a 30 mile ride in an open boat to get here. Why? Well the diving in the South pass has quite a reputation. And the atoll itself (or part of it, no one could tell me for sure) has been declared a UNESCO Biosphere Reserve on account of the pure waters and wonderful corals.
After a fry-up brekky we set off by dinghy to check out the lay of the land and quickly arranged to make a guided drift snorkel in the pass during the afternoon. Nicky and Jenny from Top Dive provided lots of reassurance to Elizabeth who was rather concerned about the renowned "wall of sharks" that awaits anyone in the pass. Whoops! Did I mention the S-word? How could I not? There were S's cruising around our boat, at the restaurant, in the pass – everywhere! Fins slicing through the surface and dark shapes patrolling beneath the surface. "Don't worry", says Jenny, "They are not méchant (naughty)!" So off we go and drop into the water on the ocean side of the pass and there below us in the water wonderland are the most beautiful fish you can imagine as well as coral, coral everywhere. It's perfect; just past slack water in the pass so we drift very slowly, stopping wherever we want, keeping close to the coral bank while in the deep water, those naughty (no, pas méchant!) S's sat lazily on the bottom. Well, not all of them. Look over your shoulder and there's one (a black tip) right in the shallows only a few metres away. Never mind, Jenny is holding E's hand and giving her confidence. L too is holding the other hand. E is doing just great and loving it. Very brave, well done E!
Before we know it, the current picks up and we are passing schools of fish, a huge Napoleon wrasse, more fish, more sharks, then we are flying past the corals. It's shallow and we are just flying over the top. It's like an Imax movie experience. Bungles is doing somersaults. I've got my arms outstretched. We are all whooping. And it goes on, and on. Eventually the current runs out and we come up to the dive boat that has been following us and climb out. What an experience! Even Lucy, who has been diving in all sorts of amazing places, reckoned this was "up there". As for the sharks (there, I said it again), we had survived the black tips, white tips, grey reef sharks, lemon sharks and even the tiger sharks. They were just a bunch of puppies. Sorry, no photos of all of this.
Two days later and it's 10 June – E's birthday. The bunting was out, there were balloons in the saloon and cards and presents to open.
Lucy provided a special breakfast of cods roe on toast and a fruit platter. Then it was time to up anchor and head to Raimiti lodge, some 8 miles away inside the lagoon. But first, our new friends, biologists, Alison and Randall with whom we had been snorkelling together, dropped by and sang an impromtu "Happy Birthday" in al capella harmony from their dinghy, also bringing the gift of a recipe for mango chutney – plus the ingredients to make it. So kind.
All the while E looking just gorgeous and not a day older that she was the day before.
Now it's time for the Birthday Challenge – one that E has set for herself – to go up the mast in the bosun's chair! You would have thought the swimming with sharks was challenge enough, but no, she was determined. So after a thorough briefing from her life coach (Bungles), up she went, had a look about and then came down again. Again, very brave and well done E! Now we can crack open the champagne and tuck into foie gras followed by tuna fritters. Yum.
Before the hoist
Up the mast
Down again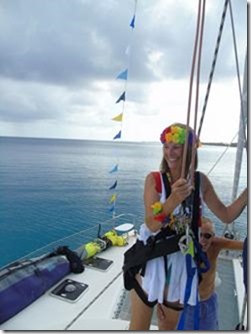 Congratulations from life coach B
Finally M&E transfer to the funky hotel and check into our bungalow on the ocean side. What is this? Running water? Flushing loo? Hot and cold shower? What comfort! The hotel advertises itself as "Crusoe Chic" and that's a good description. Run by Eric, a French man who first started work on the site 25 years ago, it has grown into a delightful oasis of calm and beauty, and culinary excellence. It offers only 9 bungalows but there were never more that 4 other guests present during our stay. L&B join us for dinner that night and then we settle into a few days of separate existence – we in the hotel and they on LS. What a lovely change. The wind got up and the ocean became pretty nasty so we were not encouraged to move on, deciding instead to stay where we were and, after a few days, exchange places so the L&B were in the hotel while we returned to LS. In the lagoon we were perfectly protected from the weather outside with no worries whatsoever.
Raimiti Hotel
Some wild life at the hotel
A week after our arrival, things improved and we all came back on board and we sailed northwards, again inside the lagoon, to the village of Rotoava where we found another excellent anchorage off the village in company with about 20 yachts, including some old friends such as Sabir, Let It Go and Calypso. Two days later after, shopping and refilling our gas cylinders (miraculous) we made our way to the North pass and made a swift exit with the outgoing stream into the overfalls outside and then set course for Toau.
This was a 40 mile passage, most of it quite close to the coasts of the atolls so I reckoned this would be good for fishing. I was not wrong: after some time we landed a whopping mahi mahi, 1.4 metres long and weighing 17 kg. That's definitely the biggest fish I've ever caught. The team swung into action and an hour later this beautiful fish had been filleted and bagged.
Just in time too, since we had now arrived at the Anse Amyot, our destination. Conditions were perfect for our entry to this remarkable spot. The pass gives entry to a pool protected by the reef but it doesn't provide access to the lagoon since the way on the inner side is blocked by large coral banks. Space is a bit restricted and mooring buoys had been laid, so we picked up our mooring and sat down to our fish feast.
And now, two days later, we are on our way again, headed for Moorea 240 miles away. After a perfect day of calm and sunshine closed with a spectacular sunset we have said goodbye to The Dangerous Archipelago – for now.
---