James and Claire Short - our new friends

Lovesail
Fri 23 Jan 2015 17:24
14:43.6N 070:16.8W
1200 23/1/2015
We met a lovely couple, Claire and James Short on Ocean Rainbow when we were both waiting for repairs and fine weather at Rodney Bay in St Lucia a few weeks ago. We then bumped into each other again in the beautiful Grand Anse d'Arlet in Martinique.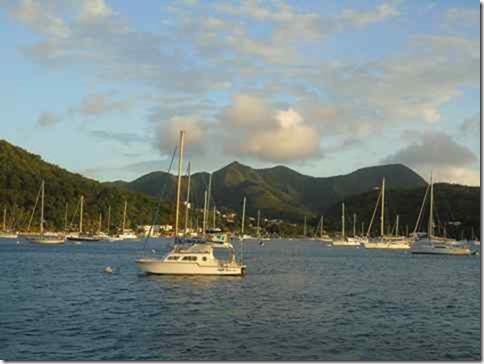 We discovered that we had many friends in common including John and Lizzie Wilsey [General James ski-ed with John in the army ski team!] the Broomfields, the Hodges and the Morris'.
They came to the start in their dinghy to wave us off with his regimental flag (9th and 14th Lancers) and a Welsh Flag (Claire) and then sent us this kind email message.
Dear Love Sail
We think you deserve first prize for style – so lovely to see the spinnaker pop just after the start! We watched you pass Diamond Rock and waved you over the horizon. Hope all well and you have settled into a comfortable routine. We raised a glass to you over supper and wondered what you'd be eating!! We shall follow your blog and hope that we can catch up with you in Tahiti.
Very best wishes to all the crew and safe sail
Claire and James
James and Claire will be sailing to the Pacific next year, so we very much look forward to meeting up again in Tahiti, the Cooks and onwards...........
---