Buzis - Sao Vicente revisited

Lovesail
Mon 30 Jan 2012 13:36
17: 30.5N 33:09.8W
1200 UT Mon, 30 Jan
Because Miles will be visiting Sao Vicente shortly and because Sao Vicente is on Monica's bucket list we thought that you might like to hear about the most delicious local delicacy! Buzis!
Before Michael joined Lovesail, Lulu and Bungles kindly took us out to supper at a very sweet little open air cafe in the port of Mindelo.
The language in Sao Vicente is Portuguese and the second language is French so we managed the menu with the help of Madame– except – the mysterious Buzis where the only clue that we got was that they were 'coquillages'. Cupped hand signals indicated a bivalve. Never mind what they were because we all agreed that they were the most delicious things that we had ever tasted. We had guesses amongst ourselves . Were they razor clams? Abalone?
The next day Skip and Mrs Skip decided the crack the mystery of the Buzis and set off to search the fish market. There they spied a large bowl of unfamiliar shell fish but with no shells around to give them a clue. The lady selling them confirmed that they were indeed Buzis.
Undeterred Mr & Mrs Skip toured the island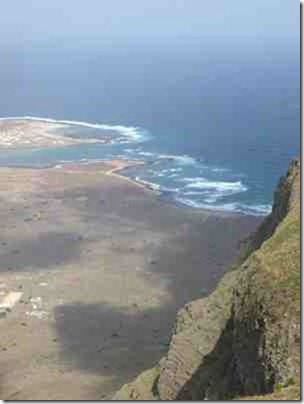 until Skip spied a large shell midden on the sea shore. Stop the cab! What are these shells? Buzis was the reply.
And there you have it – Buzis = Conch!
---