Wellesley Cruise - Isle des Saintes

Lovesail
Wed 25 Apr 2012 11:00
15:52.444N 061:35.801W
25 April 2012
It's ten days ago that we met Louise and Rosanna in London and flew out together from City Airport to Martinique via Orly. On arrival LS was looking good and we got ready as quickly as possible so as to leave the marina without delay. We were off at 1715 and motored for 30 mins back to Ilet Gosier where we dropped anchor, poured the drinks, E produced dinner and then bed and lights out by 20000. It had been a long day but it was great to be back aboard and to have Wellesley's on LS for the first time.
Next day, Sunday, we set off for Les Saintes in light winds and calm sea. We enjoyed the comfortable sail knowing that it was forecast to blow starting Monday and were planning to hunker down for a couple of days. A quick trip ashore in the afternoon just to take a look around and have a fruit juice in the evening sun. It's lovely.
Our couple of days turn into a week in Les Saintes. We move our mooring from time to time – to the Ilet a Cabrit where the snorkelling was superb, to the Pain a Sucre and even to Anse Fielding on Terre den Bas for a lunch stop. But the weather was not conducive for a sail in any direction, so we just enjoyed it where we were. Louise took us for a lovely dinner at the Hotel Bois Joie where we had baked Alaska for pudding – Rosanna's first experience. It was also here that our new inflatable kayak had its maiden voyage, so we had another toy to play with. There was much browsing in the boutiques in the Bourg but not much in the way of shopping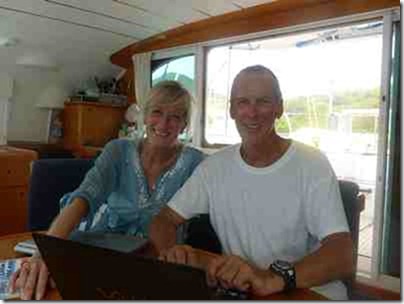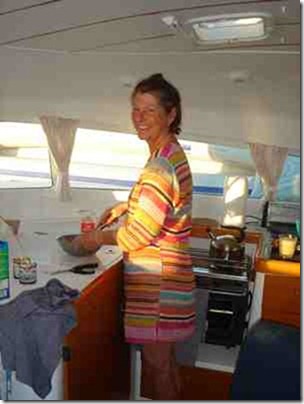 Far too quickly the week passed and it was Saturday again. At 1200 we left Ilet a Cabrit and motor all the way back to Pointe a Pitre under grey skies. There we anchored outside the marina in very soft mud and dark clouds. We took the Wellesley's to the marina to meet up with their taxi to the airport. Bye bye and boo hoo. Minutes later it was raining cats and dogs – at least the Wellesley's were dry – we were not!
Then the next morning E and I set off back to the Saintes where we cleaned up, did laundry, etc. and then checked out on Tuesday, 24 April. Finally, we had a blow out lunch of lobster and cingale de mer (bugs) in the charming Restaurant Fringale. What a way to go.
We had loved our stay in the Saintes. Caribbean with a large dose of France thrown in. The islands make a perfect haven, the scale is small and charming, there were few tourists in spite of the daily tripper boats, the swimming was brilliant and they deliver fresh croissants to the boat each morning!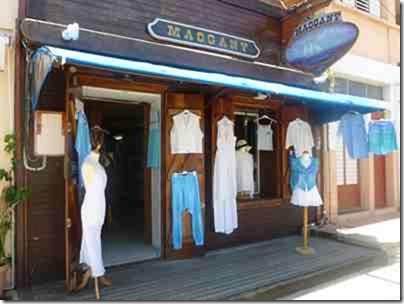 ---