Lazy Times - Mustique, Tobago Cays, Mayreau, PSV, Union, Canouan and back to Mustique

Lovesail
Wed 13 Jun 2012 12:00
12:52.653N 061:11.336W
Lazy, lazy! Yes, it feels almost as if we had run aground, sitting so long in the same place. But what a place is Mustique! Why move? We have swimming and snorkelling in beautiful clear water right off the boat, fantastic beaches ashore, shops for all our needs, and Basil's Bar for entertainment. We really slow down and enjoy all that Mustique has to offer during a quiet season. We're lucky to be able to visit one of the houses – Opium – owned by the daughter of friends of ours. No pictures here (private) so you'll have to imagine the spectacular views and exotic design. And if all this was not enough, Chelsea win the Champions League! We searched for TV coverage but for some reason all the sports fans were watching the Windies Test in England. Nevertheless after the result, some blue flags appeared and I made some new friends.
But we couldn't sit around forever, especially with some five star tourist spots close by. On 26 May we slipped our mooring and headed for Tobago Cays, arriving at about lunchtime. This is one of those "must see" places firstly because it gives the taste of a deserted cay with only the reef to protect the anchorage from the incessant surf, and also because this is a place full of turtles. Jump over the side and you are swimming with turtles! You are also in company with 100 other yachts, numerous boat boys, kite surfers, tripper boats etc. Not so deserted after all but still it's hard to take away all the remote beauty of the setting.
Next was Mayreau, Salt Whistle Bay, which would have been near perfect apart from the water which was rather murky, a result of too many yachts and their effluent, we suspected.
Salt Whistle Bay, Mayreau
So we quickly moved on to Petit Saint Vincent (PSV), passing by Palm Island and Union on the way. Now this is more like it. Only about 6 yachts around, beautiful water (but not coral, only sand), views to Petit Martinique (PM) and Carriacou and a luxury bar/restaurant ashore. Also we arrived to witnessed the final races of the Petit Martinique regatta for local boats. Some great seamanship and bravado on display in these exciting craft.
Petit Martinique regatta
We also hooked up with Richard Voswinkel, his son and other crew aboard Windspiel II. Richard and his wife Diana are great friends of the Spiegelbergs. We've been missing each other for weeks so it was good to finally meet up and we enjoyed a meal ashore together.
Richard Voswinckel
Later we took the dinghy across to PM (which happens to be part of Grenada, while PSV is in St. Vincent) and took a look around.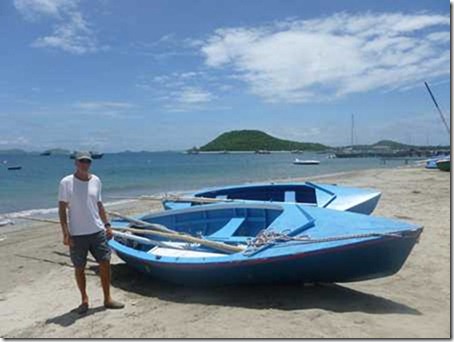 Not a lot to see, but the people were very nice and we were able to get some needed provisions.
And now for our new friends on their little motor yacht:
Yes, this is the M/V Katara, the second largest private motor yacht afloat which came to pay a little visit to PSV. It's owned by the Qatari royal family so there was some serious bowing and scraping as they came ashore. Unfortunately the weather was not kind and a big squall came through just when they (and we) were having lunch and we all got soaked!
Anyway, PSV has got our vote and we'll be back. But on 2 June we start to head back to Mustique, stopping at Union Island and Canouan and we catch a small tuna on the way. And that bird, by the way, is the Grenada dove.
Then it's back to lazy, lazy mode in Mustique. We celebrate Elizabeth's birthday, take a day trip to Baliceaux, mix with visitors and locals and get ready for Emily's arrival on 13 June. Here's a little scrap book of snaps.
---