Emily cruise and Grenada layup

Lovesail
Sun 24 Jun 2012 17:00
12:01.259N 061:40.795W
13 June: Emily arrives in Mustique from London, via Barbados almost straight from her stage run of 8 stranglings a week. We are so happy to have her with us where we can nurse her back to normality after her ordeal. First couple of days spent in slow time, relaxing and exploring the island then on 16 June we set off to retrace our steps around Tobago Cays. We got a tuna on the line but only managed to land about half of it – a shark or 'cuda got the rest. Nevertheless, plenty for the 3 of us.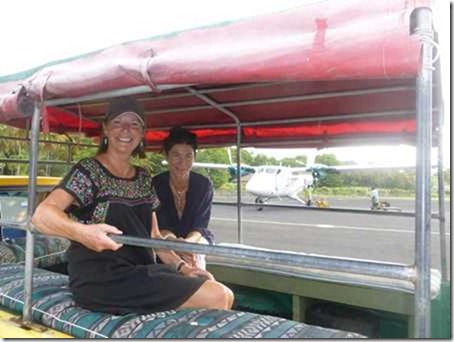 This time there were only 13 yachts overnight so it was a somewhat different, and better experience. The turtles were there, as was a very large fish (the monster of the deep) which spooked Emily and hung out under LS waiting for titbits. We took the dinghy to the outer reef and had a quick snorkel there in "gin clear" water. The vis was fantastic even in the shallows.
18 June and we are on our way to Union and PSV. We check out of St. Vincent in Clifton and have a quick lunch at the Bougainville. Emily has her first taste of conch and likes it. We take Crazy Corrigans Crooked Passage under sail to PSV and navigate the narrows without incident. In the evening it's outdoor movie night – "The Mirror Cracked" and then drinks with Jeff the owner/skipper of Beauty. We finally extricate ourselves and hit the hay.
Next day, and we are treated to a drug bust shoot out! The background is this: 10 days earlier (in fact just after we were last in Union) the police raided a Venezuelan fishing boat in Clifton which left 3 men and a policeman dead. This time it was a suspicious small boat moored only 100m from LS. The hotel had noted this (as had I), sent their boat to pick up the police from Clifton and upon their return the small boat set off with the police in pursuit. Shots were fired, the small boat stopped and was boarded, then taken down the shore of PSV for investigation. Then more shots were heard although we couldn't make out was was going on this time. We had ringside seats of all of this, sipping our lattes at the beach bar!
Later we set off and have a gentle sail across to Carriacou and then down the West coast to Tyrrel Bay where we anchor for the night. Next morning we have another gentle sail, later motor to Grenada, passing Kick 'em Jenny underwater volcano. We stop for lunch and then the night in Dragon Bay, a marine reserve area. We thought we were alone but two other cats arrive late in the day. Next morning and we motor the short distance to St. George's and moor in Port Louis Marina. Then it's time to start cleaning up and getting ready to go home. Elizabeth flies first in the afternoon, and the next day Emily leaves LS but rejoins on Sunday, 24 June, for the sail to St. Davids, home to Grenada Marine where LS will be laid up. It's upwind most of the way so we motor and fortunately the conditions are good. We have our last supper together anchored in St. Davids then Em returns to her hotel. In the morning, we get hauled out. End of cruise.
Since Anguilla, approx. 750 miles and 100 engine hours and lots of great times.
---