Goodbye Grenada

Lovesail
Tue 20 Jan 2015 15:32
14:28.5N 064:03.9W
1200 20/1/2015
It's another calm quiet day after another calm quiet night. A bit cloudy with the occasional shower around. Basically, rather blissful. Progress remains slow but who's complaining? So in the absence of any news of note, a moment of nostalgia.
We had four seasons in the Caribbean, starting with our arrival in Anguilla in 2012 and came to love the "down islands" – the Windwards. Grenada and it's people are our favourites. That's where we laid up each summer and so we spent quite a bit of time laying up and then re-commissioning. We stayed in the hotel near the boatyard called La Sagesse. After our several visits it began to feel like home and the staff were like family. A charming hotel on a charming bay all to itself. Coincidentally the property used to belong to the family of our friends Edward and Shirlie Brownlow but was expropriated when Grenada went through its revolution many years ago.
Then there is the boatyard – Grenada Marine – where we had a few issues over the years but generally they provided the service we needed with skilled workmen and careful gardienage. Again, this was located in its own bay just next to the hotel bay. In fact it was about a 30 minute walk from one to the other. Here is Lovesail laid up next to the beach/office/cafe, Andre, our project manager, and shots of the carpentry shop and sail loft.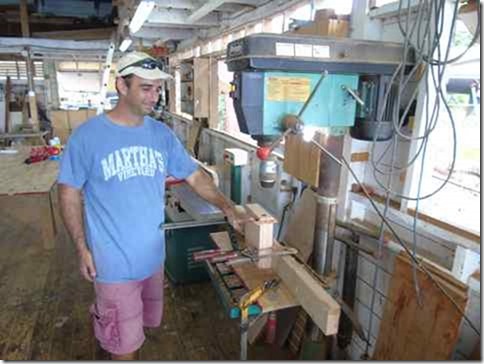 If you like marinas, then Port Louis in St. George's is as good as it gets. Run by Camper Nicholson and catering to all sorts, but including many super yachts, the service and facilities are impeccable. The interior of the island is exotic rain forest and famed for the spices grown there, not to mention the monkeys.
.
Up on the north coast there is a beach where the leatherback turtles come to lay their eggs and we went in 2014 to witness these monsters by the light of a full moon crawl out of the sea to dig their nests. This is it by day and a life size model of one of them.
The island of Carriacou is also a part of Grenada. It lies to the north and is a quiet haven with little in the way of tourist development but yet still has beautiful beaches and safe anchorages. It has a charm of its own. We had a taste of local culture here when we visited the carnival in 2014. This carries on for three days of music, dancing and partying. It features an event called "jouvert", a get together starting before dawn and seems to be a celebration/memorial to the days of slavery. Pretty wild stuff with lots of individual costumes and body painting. The music volume is enough to burst your eardrums. By the way, the lady in the nun's costume has a piece of salt fish in her mouth!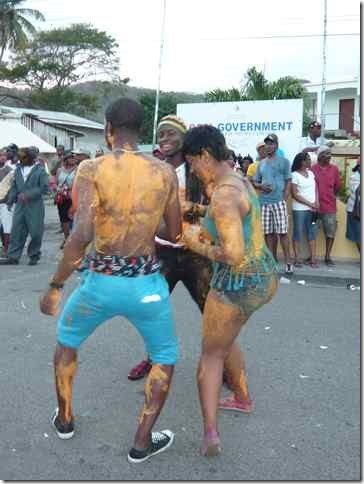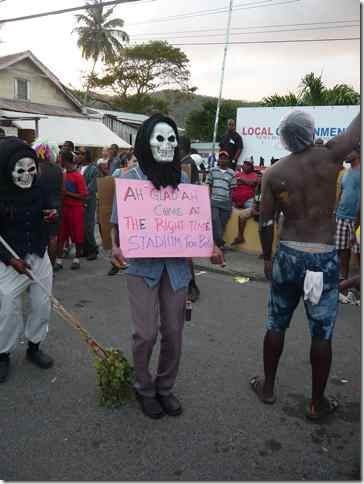 That's enough for now.
M
xx
---