TimTams

Lovesail
Wed 8 Feb 2012 22:54
18:28.4N 055:00.1W
1200 UT Wed, 8 Feb
before leaving Australia, craig's mum, ann gave us a golden box to deliver to mum and dad for chrismas. upon receipt they discovered that it contained bountiful packets of Tim Tams! for those of you not familiar, these are favourite aussie chocolate biscuits which are a little like a very very super duper Penguin, but better, and come in a range of assorted varieties.
Mum and dad kindly offered to share the tim tams with the crew on lovesail
and this has now become one of the highlights (and great moments of discussion and contest) on the boat. everyone has had a chance to choose a packet of tim tams that they want to open next, these are then put in a tuppaware box and are the highlight of the night watch!
the manner and mode of who gets to choose has been an on going issue. also, we discovered that there are an uneven amount of tim tams per packet per people on the boat. this means that there is an extra layer of discussion at tim tam choosing time. (this may all sound rather trivial to you, but this is really important stuff on the boat).
so here is the unfolding story of the golden box of tim tams.
first lulu chose the honeycomb crunch ones...
then 'someone' chose the mint choc ones without proper consultation with everyone else. to make it worse they were snaffled very quickly in a single night (usually they last 2) all except for one which Skip enjoyed.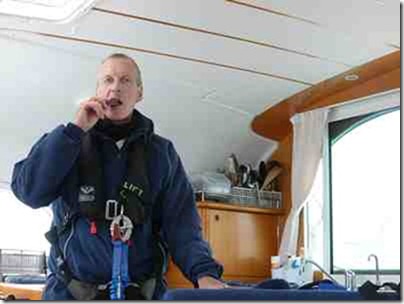 Because Mrs Skip missed out altogether on the mint tim tams, she was the next to choose – the dark chocolate.
then it started to get rather technical, who should choose next? was there a fair way to decide? luckily, michael taught us a game called Spoof which by process of elimination produces a) a winner who chooses the next packet b) another round of spoof decides who shall forgo their second tim tam (as per mention above about there not quite enough in 1 packet for 2 per person)
so using Monica's counters
so michael won the first game of spoof
and chose double deluxe chewy caramel (nice choice)
then bungles won the next game of scissors a couple of days later,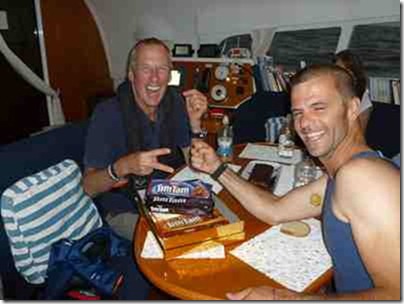 and being a traditionalist, chose orginal flavor
leaving dad to chose the white choc packet
we are waiting for those to be finished before the next installment of the tim tam saga.......
---