Lilli Mae - En route to Long Island Sound - EPIC journey, speed records and cool locations!

Lilli Mae
Linton
Wed 31 May 2023 22:35
Hi Everyone, hope you are all well?




It has been a while since we last reported in; sorry about that. We have been going through a period where in some cases nothing is happening and so there is nothing to report or everything is happening and there is no time to do anything else apart from sail Lilli Mae. Anyway more about that later.




We have just dropped our anchor in the Hudson River, New York City just behind Liberty Island.



These pictures above are the view from our window right now. How cool is that! We motored and sailed a little up the river this morning from a place called Sandy Hook, New Jersey which is where we arrived last night (Tuesday 30th) at about 1600 hours local time.
The journey from Sandy Hook to Liberty Island took us about 3 hours; we motored up and under the Hudson River bridge which in total was about 15 miles.
However the river is busy with big ships and ferries speeding around all over the place. Eyes in the back of your head are required to navigate these waters!
The journey up from Morehead City to Sandy Hook was (as Rick described) EPIC! Big seas, sea sickness (Howard), fast, scary electrical storms, sea water everywhere. Lilli Mae looked after us really well and has probably never sailed so fast; but she did arrive in Sandy Hook with a few "cuts and bruises".
We left Morehead City at 0710 on Sunday 28th May after a week of waiting for the wind to turn and to ease. Overall we covered 531 miles in 57 hours; average speed (which includes to time manoeuvring from the fuel dock in Morehead City and anchoring in Sandy Hook) was 9.3 knots. Our tracker recorded a max speed of 15 knots and our boat instruments were regularly recording speed over the ground between the 11 and 12 knots. This is the fastest we sailed in Lilli Mae!
We were able to track our position within the Gulf Stream and managed to "ride to wave" for most of the way. This certainly helped with the passage times. However even when we left the stream we still managed some fantastic speeds.
We were well reefed all the way although we did have our main, genoa and stay sails all deployed. The wind was just forward of the beam for most of the way with a strength between 20 and 25 knots. The wind gusts were above 30 knots and above for a squall encountered en route. The wind itself was not so bad. The sea state was the main issue. In the week we were stuck in North Carolina the wind had blown strong easterlies for over a week. As a result the sea really did "pile up" and our route took as a long way out to sea to get into deep water where it was a little easier to handle. In 30 minutes between 0459 and 0529 on Monday (29th May) our tracker measured our speed over the ground between 10.6 and 11.8 knots; even more interesting the tracker measured our elevation in the same period between -9.8 m and 12.5 m below and above mean sea level. Not entirely sure this is measured accurately but it gives an indicator what we we dealing with.
Lots of water over the deck as Lilli Mae buried her bow coming down the large swells. All the window and hatch seals got a good test; needles to say a few more jobs have been added to the jobs list for this summer!
We were all really happy to find a great flat and peaceful anchorage in Sandy Hook and we got some good rest last night (Tuesday 30th). Oh and by the way we (Rick) did manage to catch a couple more Mahi-Mahi on the last leg of the journey. There is a lot of fish in the freezer!
So now we have "broken the back" of the journey to Long Island Sound. We are out of the official "hurricane zone" and well on the way to Stratford, Connecticut where Lilli Mae we stay until the new season. We have two options for the last part of the journey. If we sail back toward Sandy Hook and around Long Island it is 171 miles and will take us about a day and a half. We are considering a route through New York on the East River which is a much shorter passage to Long Island Sound. We will figure this out over the next few hours; our plan is to get moving tomorrow (Thursday 1st June). We are estimating our arrival in Stratford on Sunday 4th or Monday 5th June.
Anyway that's it for now. We will leave you with some more pictures through our window just now …..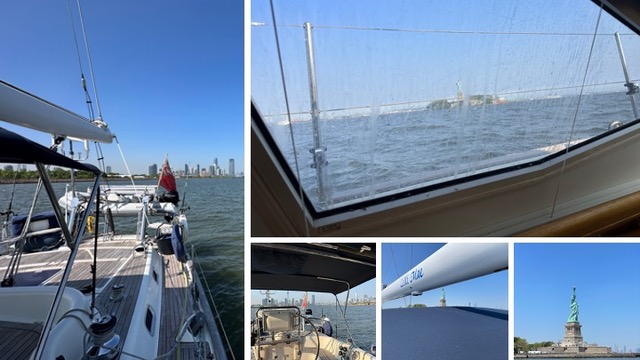 and of Lilli Mae's crew enjoying the views…..
Take care everyone wherever you are.
All the best from the Crew on board Lilli Mae
---