Lilli Mae - On the way to Mo'Bay

Lilli Mae
Linton
Wed 5 Oct 2022 07:53
Hi All,
We made it to Las Palmas! We arrived, checked-in, fuelled-up and parked and entered our last entry into the ships log at 1459 UTC. We still have not tidied and given Lilli Mae her well earned wash down but we will do that today. You can see Lilli Mae in berth T-26 looking small next to a Jeanneau 64.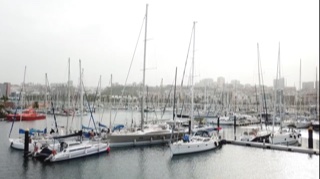 Our journey was 745 nm and average speed was 7.1 knots. We were at sea for 4 days and 9 hours. We are now in a position to really start our Atlantic preparations.
We cleaned ourselves up and went for dinner at our favourite restaurant Pier 19. Whilst we were reminiscing about our trip and knocking back the sangria and honey rum we realised that we had sailed into in Las Palmas (on Lilli Mae 1) on exactly the same day (Oct 4th) 3 years ago.
Today we start the list of fixes and improvements and catching up on work things so we have a busy couple of days before we start heading home on Friday (7th Oct).
We are going to sign off for a few weeks now. We will be back on line around the beginning of November when we will be back in Las Palmas preparing for the "Big One".
Thanks for your feedback and encouragement. If there is anything you think we can do to improve or topics you would like to know more about then do let us know.
Hope you are all keeping well?
This is the crew of Lilli Mae signing off for now.
---