On the way to Mo'Bay - Sint Maarten, BVI, Police and Superyachts!

Lilli Mae
Linton
Sat 18 Feb 2023 03:07
Hi everyone. Hope you are all well?

It has been a while since we last updated you on our journey so apologies for that. Lot's of things have happened over the past few days and so there is a lot for us to "catch-you-up" on. We are currently in Nanny Cay Marina on the island of Tortola in the British Virgin Islands (BVI). We arrived here a couple of days ago (Wednesday 15th) and we are due to leave on Sunday (19th Feb). We are having a couple of days in the marina after being at anchor for nearly 2 weeks!




On our way into Road Town Harbour, BVI (15th Feb) we were greeted by the BVI Police who boarded the boat and asked us lots of questions. All was in order and they were nice enough to oblige with a couple of pics!






Interestingly enough the day before (14th Feb) just as we were departing Simpson Bay, Sint Maarten we were boarded by the Dutch Border Police. They too were very pleasant and didn't mind us taking pictures for our diary.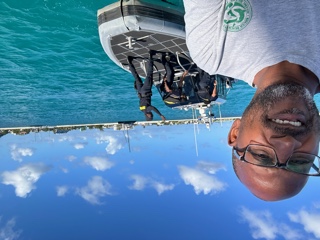 In between our last update on the 8th Feb (from Dominica) we have sailed 200 nm and enjoyed Jolly Harbour, Antigua and Simpson Bay, Sint Maarten and now Nanny Cay, BVI.
When we set sail from Jolly Harbour bound for Saint Martin, our plan was to head for Marigot Bay on the French side of the island. Mainly because of the wind and the sea state we ended up heading for the Dutch side of the island and anchored in Simpson Bay.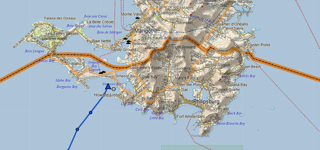 The trip from Antigua to Sint Maarten was about 100 miles and we sailed overnight and arrived at about 0800. The trip to Sint Maarten was windy and a bit bumpy. We sailed on a broad reach most all of the way; the wind was between 35-40 knots and 3 metre seas which made for interesting sailing. We were well reefed on both the main and head sail and closer to our arrival we set the staysail. We were keen to arrive in the daylight and so we had to reef the sails more to slow the boat down. On occasions we were sailing at between 8 and 9 knots!
Sint Maarten was great. We really enjoyed the island which has the highest concentration of superyachts we have ever witnessed. We shared the anchorage in Simpson Bay with quite a few of them!
Simpson Bay and Simpson Lagoon were separated by a swing bridge that opened at specific time of the day to allow yachts in and out of the lagoon. Queues of superyachts lined up to get in.
We even spotted the superyacht Skyfall; by this time we had had enough of seeing them and so we didn't bother snapping a picture!
We visited Philipsburg (the capital of the Dutch side) and Marigot (the capital of the French side). Lovely places and recommend for a visit for those considering vacationing in the Caribbean.
We had a really great sail up to BVI overnight from Sint Maarten on the 14th and 15th Feb. The wind was light and the sea state was slight. We set our twin headsail configuration which worked really well. There were a couple of squalls overnight but nothing too stressful. We cruised at between 4 and 5 knots and sometimes in the gusts and squalls we hit nearly 6 knots. However by comparison to our journey to Sint Maarten this was a very relaxing trip.
After checking in at Road Town we moved to Nanny Cay marina for a couple of nights and get a break from being at anchor and to get Lilli Mae's batteries fully charged up.
Yesterday (16th Feb) we had a day trip from Road Town, BVI to Charlotte Amalie, St Thomas (USVI). We had to get our visa waivers approved before we sailed into the USVI and Puerto Rico. So we took the ferry and spent the day over there.
We snapped a few pictures of the sea plane taking off and landing in Charlotte Amalie whilst we were in the "pub" having lunch and a cocktail. And we did some more superyacht spotting!
The very distinctive superyacht "Excellence" was in the harbour; can be yours for charter for a week for a cool US$1.1m!
We are 770 nm from Mo'Bay. We are planning to sail into Mo'Bay Yacht Club on the 7th March after stops in Port Antonio (famous Ian Fleming bay) and possibly Ocho Rios all of which are on the north coast of Jamaica. We leave BVI on Sunday and we are heading west toward USVI. The plan is to picked up Clare Linton (Michael's Daughter) in Ponce, Puerto Rico and the 26th Feb. In between now and then we are going to do some day sailing and take in some of the beautiful achorages and bays in the area.
That's it for now. We won't keep it so long before we update you next time! In the meantime take care of yourselves.
All the best, Crew on Lilli Mae.
---