Lilli Mae - On the Way to Mo'Bay

Lilli Mae
Linton
Fri 30 Sep 2022 09:34
Hello everyone, it has been a while since the crew of Lilli Mae has been in contact. The last time we spoke Lilli Mae was in St. Thomas, USVI on her way back to Southampton. It was March 2020 at the beginning of the COVID nightmare. Many of us have re-evaluated the important things in life and possibly even decided to do something different and so 2021 and 2022 has been a period of change for lots of us.
As you may remember our plan for our family in Montego Bay. We didn't make it in 2020 and so the Lilli Mae "Journey Home" is unfinished business. And so we are now in the process of setting sail again to complete the mission. Lilli Mae is now "On the way to Mo'Bay". We are currently in Gibraltar and we have set sail (Friday 30th September) aiming to reach Las Palmas Gran Canaria. We will be at sea for 4-5 days. In November 2022 we will set off to cross the Atlantic to the Caribbean (St Lucia) with a view to making a grand arrival in Montego Bay, Jamaica in March 2023.
Since 2020 however a lot of things have changed. Lilli Mae has morphed into a larger and more "sophisticated" yacht. In October 2021 we were very lucky to take ownership of an Oyster 56. Since taking ownership we have been working on the "new" Lilli Mae (known to us as Lilli Mae 2). Sitting in Queensway Quay Marina Gibraltar, Lilli Mae is gleaming and ready for her new adventures. We have lots of people to thank for their help and guidance in Premia de Mar (where Lilli Mae was initially based), Mataro, Majorca and Estepona which are a few places we have enjoyed with people we have grown to love. They have helped us enormously in getting Lilli Mae into her gleaming state and for getting us capable of sailing her.


Prior to arriving in Gibraltar we sailed Lilli Mae between Barcelona and Palma Majorca and then from Barcelona to Gibraltar stopping in some lovely anchorages and marinas mentioned earlier on the way south. Mike, Joan and I took the month of August (2022) to do the journey.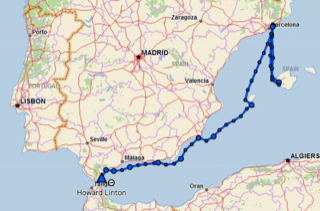 Now we are focussed on the journey to the Canary Islands. Lilli Mae now has a crew of 5. If you recall Mike, Peter and I sailed across the Atlantic in 2019 with the ARC. The 3 of us will repeat the ARC journey along with Andrew Linton and Emily Kerr.
Andrew and Emily are on board for the 730 nm trip from Gibraltar to Las Palmas.
We plan to sail west to get into the Tradewinds and then downwind sailing all the way to the Gran Canaria.
The plan is to send pictures and stories of our journey to Las Palmas and then on to Montego Bay and beyond. We understand if anyone has had enough of us going on about our adventure. If this is the case let me know and we will remove you from the circulation list.
The link to our blog page where you can recap on our journey to-date in 2019/20 and where this and future stories will be stored.
We have also attached our satellite tracker that enables you to see where we are at any moment!
We will keep you updated on our progress.
Best regards, The Crew on Lilli Mae
---