Lilli Mae - On the way to Mo'Bay - Tuesday 6th December

Lilli Mae
Linton
Wed 7 Dec 2022 09:50
Hi everyone, hope you are all well?
It is 1740 Lilli Mae time (2040 UT) and we are in position 14 deg 36' N 053 deg 34.4' W. The is approximately 432 miles due east of Rodney Bay, St Lucia.
It has been a bit of an up and down sailing day; we have been sailing upwind! We packed away all the downwind rigging and took the main sail out for the first time since the day we set off. It was great and we took to opportunity to fly the drone again to get some cool pictures of Lilli Mae in this sail configuration.
Andrew (now drone pilot extraordinaire) commented the videos from this flight are "his best work". All the videos that have been taken on passage are fabulous!
It is a little frustrating at the moment; "what right do the Lilli Mae crew have to be frustrated?" I hear you cry! You are right of course. We have no rights in this regard! However it would be great to have little more wind and not to have to burn fossil fuel!
We have encountered a lot more squalls over the past few days and particularly today. It might have been mentioned that so far on this trip the squalls have not had the same force as those we experienced in 2019. However there has been enormous amount of rain in those we have encountered this time.
This is what the squall looked like today. We got drenched but Lilli Mae enjoyed the freshwater wash!
Everyone on board is in good spirits. Secretly though there is a keeness to get to St Lucia. We have approximately 3 days to run. I am sure some exciting things that will keep us busy over the last few days. We will certainly keep you "in the loop".
In the meantime Team Lilli Mae wishes you all the best.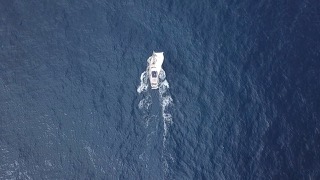 ---