Lilli Mae - En Route to Long Island Sound - In for repairs, food and beer, Charleston, SC (Resend with pictures)

Lilli Mae
Linton
Sat 20 May 2023 22:16
Hi Everyone, hope you are all well?




We arrived in Charleston, SC on Wednesday early morning (17th May) after our fast sail up from West Palm Beach. On our way into the harbour the headsail furler hydraulic pipe burst whilst we were in the process of stowing it. It was not too much problem getting it furled; we had practiced the process of using the winch handle on the hydraulic curlers for just such an event. Fortunately there was plenty of sea water on the deck which meant the sprayed hydraulic oil did not make too much of a mess. Anyway after 2 nights in Charleston we are on the move north again.




The temperature and weather we are now getting means we (Mike and Howard) are wearing long trousers and jumpers for the first time for quite a few months!




We had planned to be in Charleston until Monday (22nd May, 4 nights). However the weather has been a little difficult; we managed to get tied-up in a marina just 5 minutes before a major blow and lots of rain came through Charleston. In addition to this the forecast for Monday until next Thursday is for high winds from the north east (30 knots) just at the time and place we were planning to be sailing north-east. So we decided to make an early run for it so we could make some progress toward Long Island Sound before this weather came in. We are heading for Cape Lookout / Morehead City, North Carolina.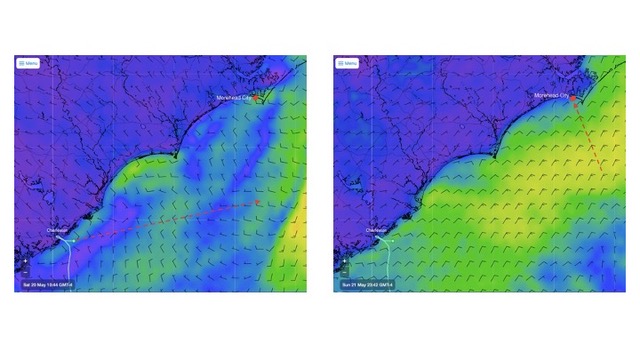 In a straight line this passage is only 200 miles. However right now we are motoring east north east as there is not much wind and we need to get as far east as we can so that we can take advantage of the stronger north easterly wind forecast on Sunday evening so that we can tack and sailing into Morehead City.
Ultimately we are trying to get around Cape Hatteras but the timing of the wind and its direction means that we may not make it there before the weather. Our current plan is to sit out the forecast strong north easterly wind forecast in Cape Lookout / Morehead City; we could be there for quite a few days!
We didn't see very much in Charleston mainly because we cut short our planned stay. The bits we did see are very nice and we used mainly public transport and Uber to get to the places we needed to. We ended up in a nice marina called Charleston Harbor Marina which is situated at Patriots Point, Mount Pleasant. We managed to get a temporary fix to our furler hydraulics, restock our food (and beer) stores and do all of our laundry. We almost made it to the USS Yorktown museum which is located right next door to the marina. We did have a couple of meals ashore in what were called the marina resort bars.
Right now we are motoring with the main sail out at around 8 knots. Our course heading 72 degrees (east-north-east). The weather is fair and the sea state is quite calm. We have not got the benefit of the Gulf Stream as we too far inshore. Fishing operations have resumed with renewed optimism! Our current Morehead City ETA is late Sunday evening. We will keep our eyes on the forecast to see if we can make a break for Cape Hatteras. We will let you know.
In the meantime take care of yourselves.
All the best.
The crew aboard the good ship Lilli Mae.
---